© IDAHO global Facebook Page
This is the famous first sentence of the Universal Declaration of Human Rights, adopted almost sixty years ago by the General Assembly of the United Nations.
Although the world has gradually accepted that individual human beings have different sexes, racial or ethnic origins and religions, and that these differences must be respected and not be used as reasons for discrimination, many still do not accept other aspects of human diversity: that people have different sexual orientations and different gender identities.
So you say It's not okay to be gay Well I think you're just evil You're just some racist who can't tie my laces Your point of view is medieval - Lily Allen*
Refusal to accept and respect that two women or two men can fall in love with each other, and that a person's identity, as female or male or neither, is not always determined by the type of body into which they were born, means that oppression of Lesbian, Gay, Bisexual, Transgender and Intersex (LGBTI) persons is still a daily reality in most parts of the world. In some countries discrimination and violence against LGBTI people are getting worse. In fact same-sex relations between consenting adults are still criminalised in around 76 countries, and punished with the death penalty in at least five. This is incompatible with international human rights law. And even in progressive countries, Homophobia and Transphobia still exist in the form of discriminatory laws, unjust representations in the media, unfair treatment by employers, negative social attitudes, and so on.
Cuba © IDAHO global Facebook Page
The High Representative and Vice President Catherine Ashton, on behalf of the European Union, states: "Today, people around the world celebrate the International Day against Homophobia and Transphobia. On behalf of the European Union, I am proud to join this celebration."
Catherine Ashton goes on to explain: "We are sometimes told that sexual orientation and gender identity conflict with traditional values. Let me be very clear: when we speak about the rights of Lesbian, Gay, Bisexual, Transgender and Intersex persons, it is not about introducing new rights for one group of people. It is about the same human rights being applied to every person everywhere without discrimination. I call on all States to make this a reality for everyone."
Vice President Viviane Reding, the EU's Justice Commissioner, stresses that: "Homophobia is a blatant violation of human dignity that goes against the founding values of the European Union. The European Commission, and I personally, are firmly committed to using all the powers at our disposal to fight against such phenomena."
The EU calls on all States to end acts of violence, criminal sanctions and human rights violations against individuals because of their sexual orientation or gender identity. As part of its commitment to promoting and protecting human rights, in June 2010 the EU adopted a "Toolkit to Promote and Protect the Enjoyment of all Human Rights by Lesbian, Gay, Bisexual and Transgender (LGBT) People

".
Also, through the European Instrument for Democracy and Human Rights, the EU supports several organisations defending the rights of LGBTI persons or protecting LGBTI human rights defenders.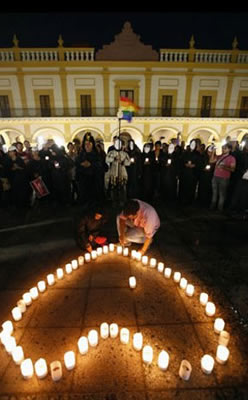 Mexico © IDAHO global Facebook Page
International Day against Homophobia and Transphobia – Background
The International Day against Homophobia and Transphobia ("IDAHO") was created in 2004 to draw the attention of policy makers, opinion leaders, social movements, public opinion, the media or any other influential people/institutions to this issue, and to promote a world of tolerance, respect and freedom regardless of people's sexual orientation or gender identity. Besides being a day against violence and oppression, it is a day for freedom, diversity and acceptance.
Following other initiatives such as the National Day Against Homophobia created in 2003 in Quebec by the Fondation Emergence, Louis-Georges Tin, a French university lecturer, campaigner for Black and LGBT Rights and chief editor of the «Dictionary of Homophobia», launched in August 2004 an initiative to create an International Day Against Homophobia with a global scope. The date of May 17th was chosen to commemorate the decision taken by the World Health Organization in 1990 to take homosexuality out of the list of mental disorders.
Malta © IDAHO global Facebook Page
The International Day Against Homophobia and Transphobia offers an opportunity for all to fight for sexual diversity and gender freedom according to the context they work in. It is an occasion that everyone, even beyond the LGBTI movement, can take advantage of to take action. The International Day against Homophobia and Transphobia is now celebrated in more than 70 countries across the world, in the several varied ways and expressions.
Bolivia © IDAHO global Facebook Page
The purpose of the International Day Against Homophobia and Transphobia is to:
• Draw media attention to the issue of Homophobia and Transphobia• Organize events which mobilize public opinion • Demand attention from policy makers and engage in lobbying activities • Network with like-minded organizations and develop new partnerships, at home or beyond • Mobilise existing constituencies and address new audiences
IDAHO Campaign 2012
School is often the most difficult environment for LGBT students throughout the world. Bullying has been found to reduce school attendance and lead to early dropout and poorer academic performance and achievement. It can also adversely affect young people's mental and psychological health, leaving permanent scars and often leading to suicide.
To this end this year's IDAHO campaign – "Fighting homo/transphobia IN and THROUGH education" - is placing the issue of bullying into the spotlight and mobilizing global support to raise awareness and promote a safer and better environment for students the world over.
Read the full IDAHO Media Release here

Honduras © IDAHO global Facebook Page
What can YOU do?
Take action!
Join the movement. If you have a Facebook account checkout the Day's Global info page and add the Day's picbadge to your profile picture. See more you can do here
Brazil © IDAHO global Facebook Page
Sources and other related links:
*Disclaimer: use of this extract bears no intention for controversial implications whatsoever