#BuildBackBetter, a promise that becomes reality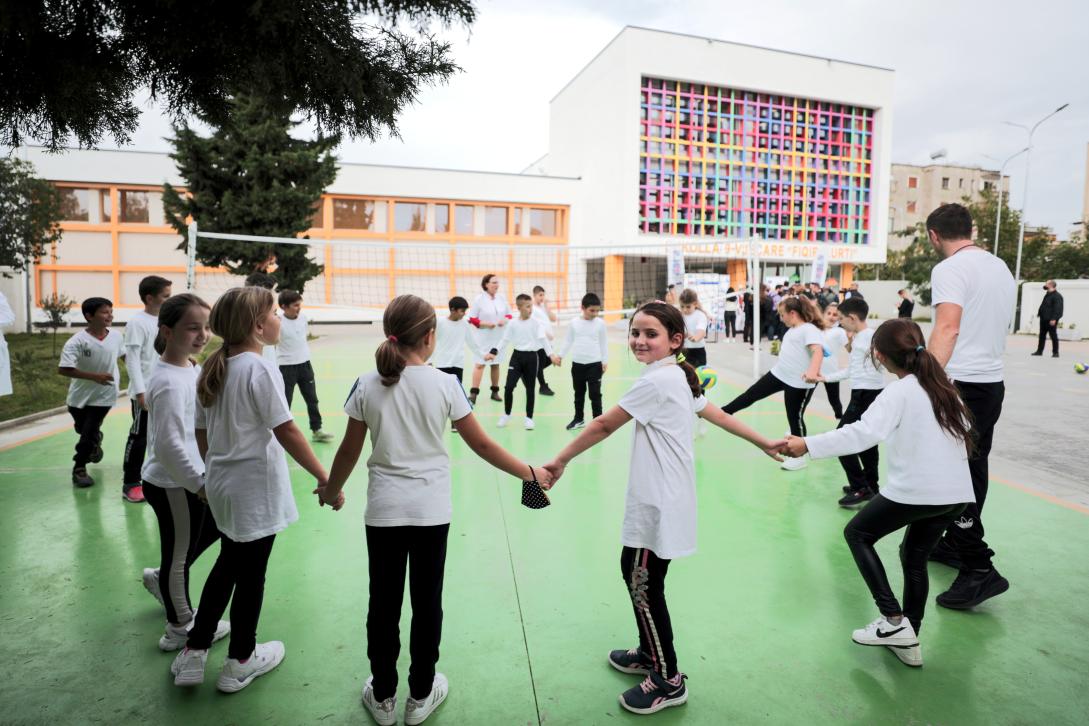 The EU mobilized EUR 115 million in two programmes: EU4Schools, implemented by UNDP, an investment of EUR 75 million for the reconstruction or rehabilitation of educational facilities and EU4Culture, implemented by UNOPS, an investment of EUR 40 million for the rehabilitation of cultural heritage sites.
The reconstruction work started immediately following a comprehensive damage assessment in 60+ schools and 27 cultural sites, and now we can see the results of the intervention and the impact of this great assistance. 
"The EU and its Member States reacted immediately in helping Albania to recover from the terrible earthquake. Today, I am proud to see dozens of new, modern schools welcoming thousands of children every day and important cultural heritage sites being revitalized. The EU support is already making a difference on the country's education system and its cultural heritage. It is offering better education opportunities to the younger generation, Albania's future EU citizens. It is helping Albania to preserve its rich heritage and boosting its local tourism and local economy," EU Ambassador Christiane Hohmann said.
EU4Schools
Three years after the earthquake, thousands of children in 11 municipalities affected by the earthquake are using modern facilities according to the highest standards of quality and safety. All schools offer new laboratories, sport halls, libraries and dedicated spaces for children with special needs. So far, 38 schools, kindergartens and crèches benefitting over 9,000 children as well as over 650 teachers are fully operational, and 14 others are under construction.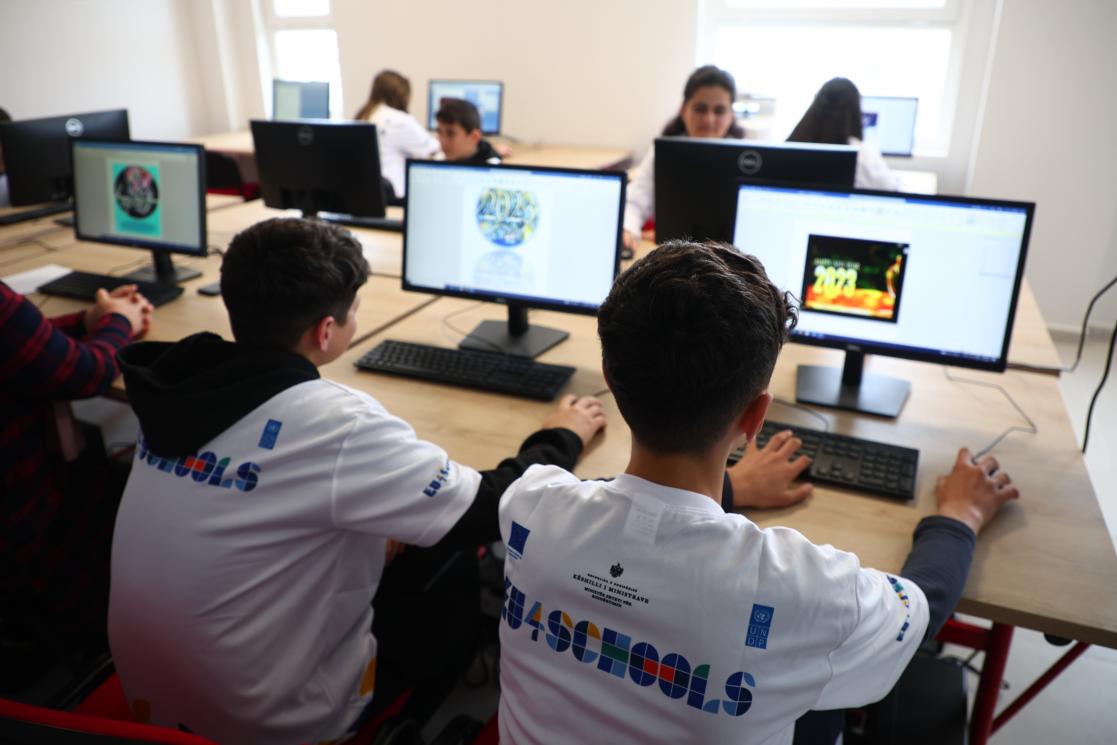 The EU4Schools build back together by ensuring inclusiveness and transparency throughout the implementation of all programme's cycles. The #BuildBackTogether principle offers a unique opportunity to engage children, teachers, parents, and the community to have a say in the reconstruction process through consultations.  All the process followed over 60 consultation meetings, where more than 1,700 people participated.
 "Today my school is a dream come true," says Dea Hetaj, student at Demokracia School, Mamurras in Kurbin.
"The number of children in our kindergarten has considerably increased. Every parent wants to bring their children in such a beautiful setting," says Fatbardha Karaj, teacher at "1 Qershori" kindergarten in Durrës.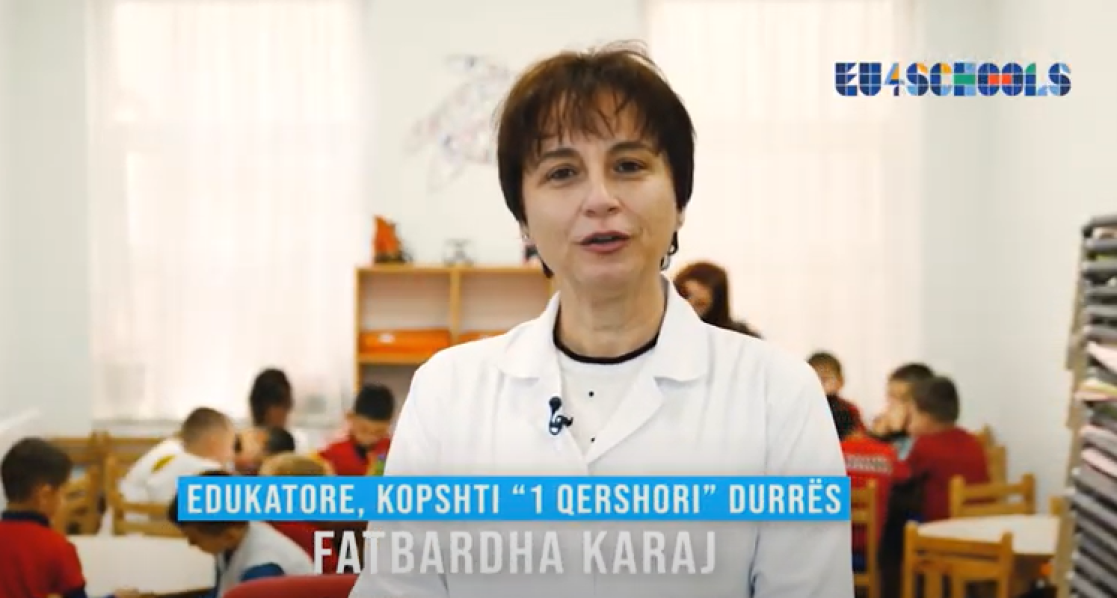 "I'm so happy at my new school. There are no more evening classes at our school thanks to our new facilities," says Xhemi Shefiri, student at the Berxulle High School in Vora.
Implemented by UNDP, EU4Schools deploys the #BuildBackBetter principle. #BuildBackBetter implies stronger structures, resistance to earthquakes and natural disasters and in line with the highest international standards of quality and safety.
EU4Culture
The November 2019 earthquake affected dozens of cultural heritage sites. To help Albania restore and revitalise these sites the European Union designed one of the largest cultural heritage programmes, EU4Culture, with a budget of 40 million Euros.
Restoration and rehabilitation works are currently completed in three sites: the St Mary Church in Rubik, the St Ndoj Church in Rodon and the Kurcaj Bridge in Kruja. The rehabilitation work is ongoing at the Mosaic of the National Historic Museum in Tirana, National Puppet Theatre and the Institution for the Formerly Politically Persecuted in Tirana; the Ethnographic Museum of Kruja; the Venetian Tower, the Hamam and the Archaeological Museum in Durrës; Bashtova Castle; the Ethnographic Museum of Kavaja, the Castle of Ishmi.
Implemented by UNOPS, in a close partnership with the Ministry of Culture, the EU4Culture programme also aims to increase the tourism potential, directly contributing towards Albania's socio-economic recovery. Local entrepreneurship, artisanship and creative creation evolving around selected sites are being supported through grants, providing a direct boost to local production and social wellbeing.