Strengthened Civil Society Protects and Promotes Women's Rights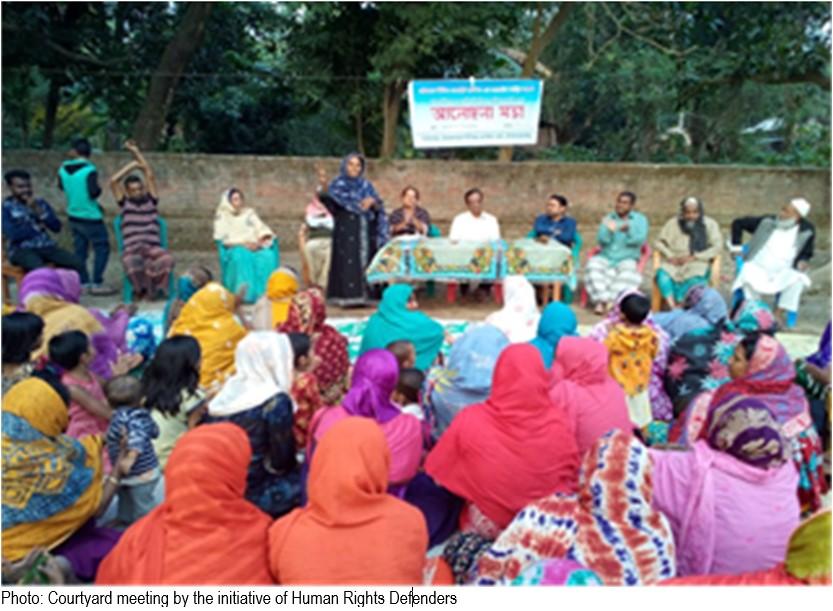 PROJECT FACTSHEET
 

Title

Strengthened Civil Society Protects and Promotes Women's Rights

The action contributes to enhance protection and promotion of human rights (HR) and democratic culture in the society of Bangladesh. Women, religious minorities, indigenous peoples, other minority groups and economically marginalised people are the most vulnerable to fall victims of violence, discrimination and deprivation. Establishing effective and functional dialogue platforms of citizens and public authorities from local to national level will contribute to improved compliance of HR policies and delivering of public services.

Duration

From 1 January 2018 to 31 December 2020 (36 months)

Budget (Euro)

EUR 1,000,000.00, EU contribution EUR 900,000.00

Locations

Chapainawabganj, Naogaon, Pabna & Sirajganj

Implementing Organization (s)

1. NETZ Partnership for Development and Justice – Lead partner

 2. DASCOH FOUNDATION

 3. Amrai Pari Paribarik Nirjaton Protirodh Jot (WE CAN)

Objectives,

 

 

 

 

 

Outputs and Outcome

Overall objective: Civil society, democracy activists and human rights defenders proactively enhance protection and promotion of human rights and further democratisation in Bangladesh.

Specific objective: Civil society organisations promote and protect gender equality and women's rights and prevent violence based on gender and other identities.

1: Local and regional HRDs and their civil society organisations (CSOs) are capacitated to enhance their operational space, to prevent gender-based violence and to promote women's rights.

2: An effective partnership between CSOs and public authorities is established to raise accountability of decision makers on women's rights and to prevent discrimination and violence against women and religious and ethnic minorities.

3: CS alliances systematically monitor the implementation of policies affecting women, in particular the Child Marriage Restraint Act (CMRA) and the Domestic Violence Act (DVA), and strategically contribute to policy advancement.

Target group(s)

3200 local HRDs organised in 128 CSOs and 44 regional CS alliances with 1240 members. 4800 students and 640 SMC members and teachers.

Final beneficiaries

285,000 final beneficiaries to get access to social services. National policy reform on Domestic Violence Act (DVA) and Child Marriage Restraint Act benefit all women and girls in Bangladesh.
PRACTICAL INFORMATION
OVERVIEW