Sustainability at One | "Swedish Design Movement – Leading the Way" Showcases Real-life Sustainability
(Swedish Design movement. Photo cred: Adorno)
In 2021, Sweden completed the construction of Sara kulturhus, a timber development and the world's second-tallest wooden tower. Designed by White Arkitekter and located in Skellefteå, northern Sweden, Sara kulturhus is a multifunctional, 20-storey building which is constructed from wood from the forests surrounding the town. It houses a theatre, gallery, library, museum and a hotel.
As Sara kulturhus is a major showcase of how great design can marry sustainability with the development of modern society, Sweden decided to use its virtuality as the key platform for supporting its participation in the renowned Milan design week this year.
Entitled "Swedish Design Movement – Leading the way", the virtual exhibition was organized by Svensk Form and the Swedish Institute through the Swedish government initiative Swedish Design Movement (https://swedishdesignmovement.com). It featured the works of 18 sustainability-driven Swedish brands working across the fields of product design, architecture and fashion. Virtual visitors from across the globe were able to tour a hyper-realistic digital version of Sara kulturhus that allowed them to walk up the grand staircase to views the exhibits of these brands.
The exhibits, including furniture, product design, fashion, and architecture, were displayed as 3D models. The exhibition also included a selection of films. Visitors could click their way through images, texts and videos to learn more about the projects and companies.
"Swedish Design Movement – Leading the Way" exhibition has delivered a strong message: Sustainability is in action – All the exhibits as well as the building do exist in Sweden instead of being prototypes. The format of staging the exhibition also adheres to sustainability principle. With just once click, visitors can view these gorgeous Swedish design products whenever and wherever they are without making transportation and travel generating emission.
Late this year, the Swedish Embassy to China is going to have a second bit of the cherry on promoting its sustainability advocacy. It is going to showcase the country's innovation on wooden constructions to China by bringing its "Woodlife Sweden" exhibition to the Beijing Design Week.    
The exhibition was produced by the Swedish Institute and Architects Sweden in collaboration with Swedish Wood, the Swedish Wood Award and the Swedish Forest Industries Federation in 2020. The exhibition presents 40 projects, in various scales and from all over Sweden. They have been selected to visualize how architecture, design and urbanism can help reduce the climate impact of buildings and products, and impact future development in line with the 17 Sustainable Development Goals (SDGs).
Choosing wood over other building materials favours our planet's health. Timber is also proven to help regulate humidity and improve air quality because of its ability to absorb, store, and release moisture. Timber is also hypoallergenic because it traps less dust than soft materials like carpet. Along with the physical health benefits of timber, people generally find the appearance of timber calming, which researchers believe could reduce blood pressure, lower stress levels, and improve emotional states for occupants.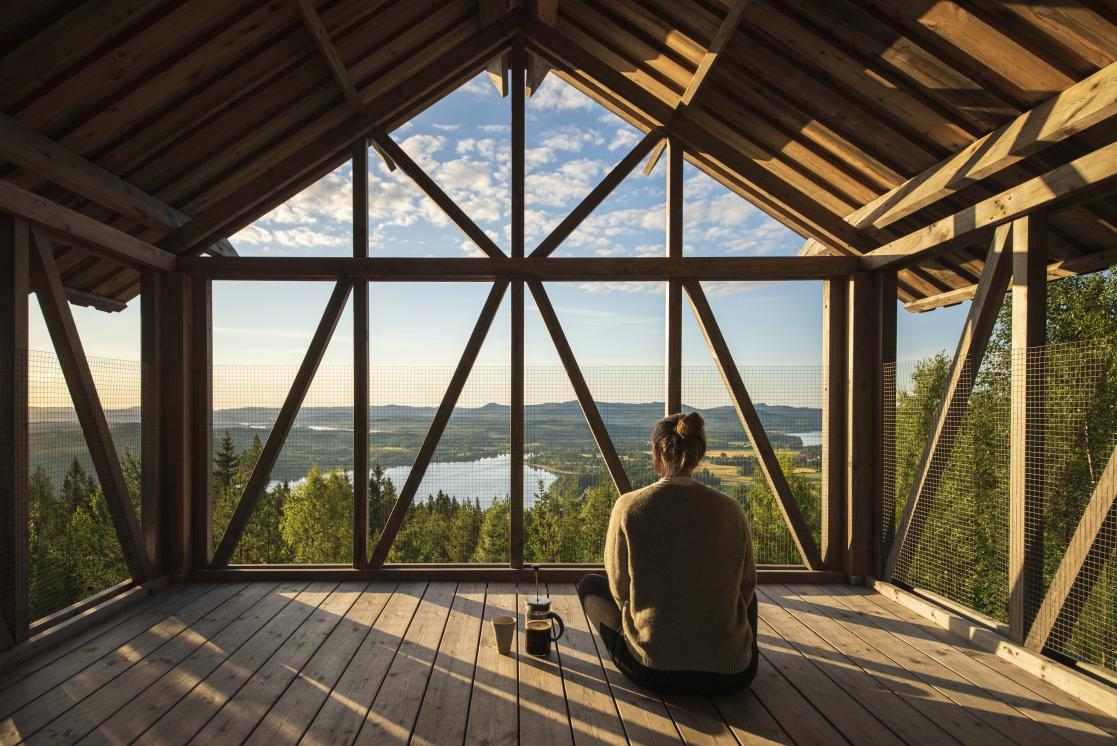 (Woodlife Sweden. Photo cred: Martin Edström)