Sustainability at One | Decade-long Efforts of Belgian-European and Chinese Architecture & Engineering Experts to Support Rebirth of Shougang Park
Shougang Park is a big area in Shijingshan district of western Beijing occupying a space of 8.63 square kilometers. If one had been there once before 2005 and revisits it nowadays, you will hardly believe this is the same place.
Established in 1919, Shougang became the first state-owned iron and steel enterprise of the People's Republic of China and commenced its production in Beijing – the Shougang Industrial Park, once dubbed as "a city within a city".
At the beginning of the new millennium, Beijing won the bid for the 2008 Olympic Games. Shougang embarked on a massive relocation program of moving to Hebei Province starting 2005 for ensuring air quality in the capital.   
Once the relocation process had been completed in 2010, Shougang Park began another journey of urban regeneration which aims at transforming this iconic city landscape into more amiable, citizen-friendly and greener spaces.
From conservation planning, development planning, action planning, to the launch of the first renovation project, countless arguments and discussions have been held to explore how this iconic urban landscape can be transformed into an engine to drive the construction of western Beijing as well as how to give a solution based on the revitalisation of the city's stock of assets.
The transformation approach of Shougang Park is crystal clear: Any building there deemed structurally safe would be kept intact but re-purposed. The rejuvenated Shougang Park was a success and was highly regarded as an excellent case of environment protection.           
There is an architectural and engineering consulting company from Belgium, with a strong European influence, that has been supporting this ambitious transformation of Shougang Park along the way since 2012 – NICOLAS GODELET Architects & Engineers. Its architects from Belgium, France, Spain, Italy and China worked hand in hand with the engineer team to drive the transformation of Shougang Park. Their works include:
Shougang Desulfurization Factory (Photo 1) 
The original Shougang desulfurisation factory with a space of 8,280 square meters was transformed into a complex multifunctional project. The completed complex consists of a tramway station, an exhibition hall, Shougang heritage management offices and a smart-city control room. The project is classified LEED platinum. It uses the landscape and new building technologies to minimise its energy consumption, for instance, air-layer windows fir reducing thermal conductivity, 2,000 sqm of solar panels, a radiant ceiling heating and cooling system, and a lighting system controlled by light sensors.       
Image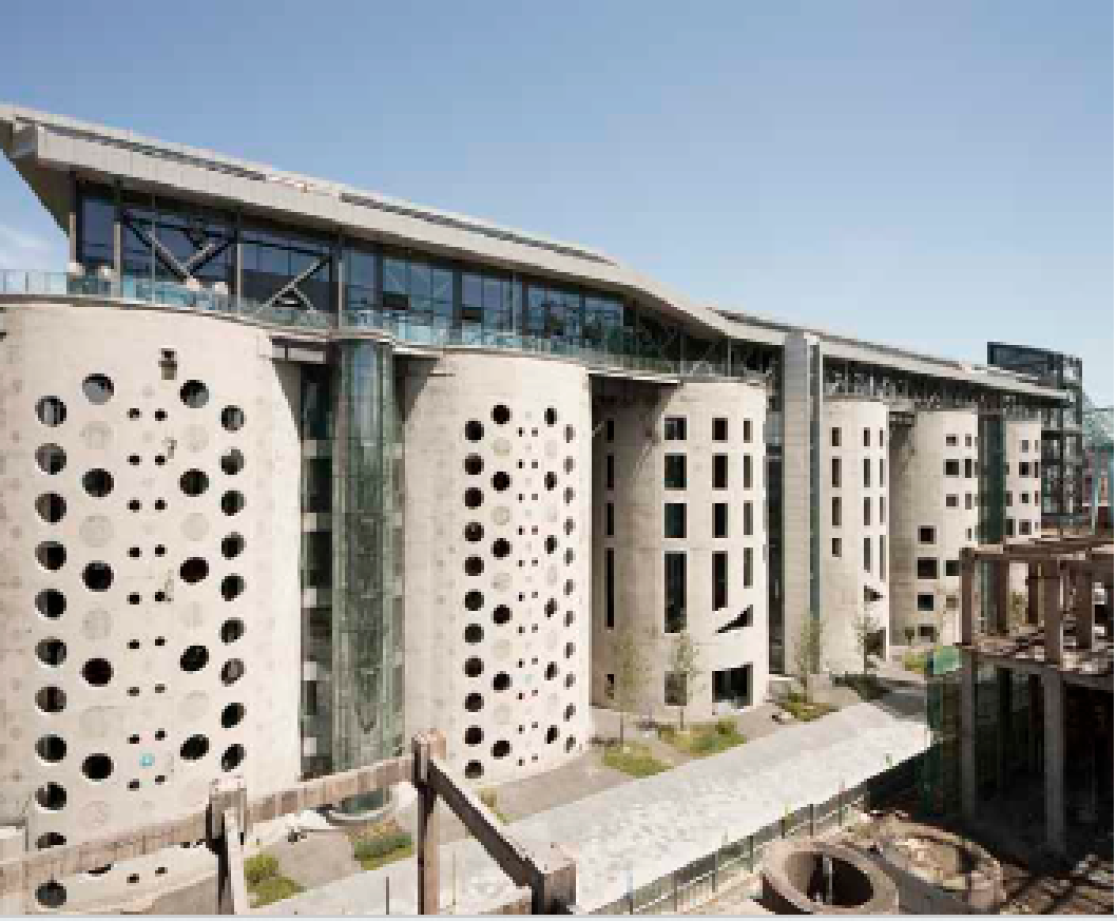 Renovation of Shougang Silos (Photo 2) 
These silos were previously used for storing minerals for steel manufacturing. The renovated silos have been used as the office of the Organizing Committee for the 2022 Olympic Winter Games. It now accommodates the needs of businesses, workshops and retail in Shougang area. The silos are grouped into pairs to allow for efficient vertical circulation. A new steel structure offset 1.2m from the original concrete walls consists of hollow round columns and concentric box beams with 18m span. This façade minimises the strain on the original structure and allows in more natural light.
Shougang Lianshuichi East Road (Photo 3) 
This is a 1.8-kilometre avenue connecting the major heritage sites of Shougang Park. The European and Chinese team created a smart way to serve its users. Bicycle and pedestrian pathways are designed as coloured ribbons, winding between relief islands which are planted with 84 local species of flowers and herbs. The planting techniques deliberately give a rural appearance, reducing management and irrigation works.                 
Image
Shougang Big Air (Photo 4) 
Shougang Big Air is located at the southwest corner of Shougang Qunming Lake. It is the only new outdoor sports venue in the city for snow sports for the Beijing 2022 Winter Olympics. With the four cooling towers built from 1970s to 90s sitting as landscape background, and using the old oxygen factory as service area, the beauty and power of industrial heritage is fully embedded in Shougang Big Air. Shougang Big Air is the first permanent venue for Big Air in the world. For its uniqueness, traditional Chinese elements were integrated into architecture, also pursuing an innovative structural system in accordance with the spirit of Olympics. As a post-game legacy, it hosts all sorts of events and provide training opportunities for young athletes.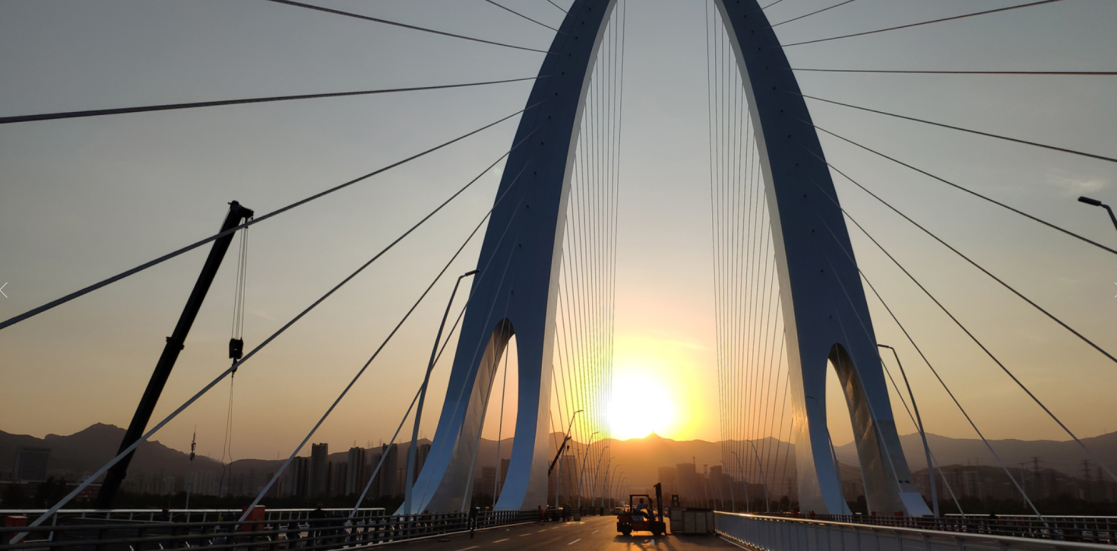 XinShougang Bridge (Photo 5) 
This is arguably the jewel in the crown of the team's support of transforming Shougang Park. Connecting west Beijing, Shougang Area with Yongding River Ecological Development Belt, the bridge is an unprecedented piece of art totalling 1,350 m in length. Its 638-metre deck with the maximum span of 280-metre is shrouded by two asymmetrical arches symbolizing two gates. From a particular angle, the structure looks like the Chinese character "ren" (human being), resembling a man making big strides towards a bright future.   
In early 2022, Shougang Park was used as the venue for hosting the Beijing Winter Olympic Games. Since the XinShougang Bridge offers a panoramic view of the park, crowds gathered and stood on the bridge to watch the games!