People should be free to be who they are or choose to love, says EU Ambassador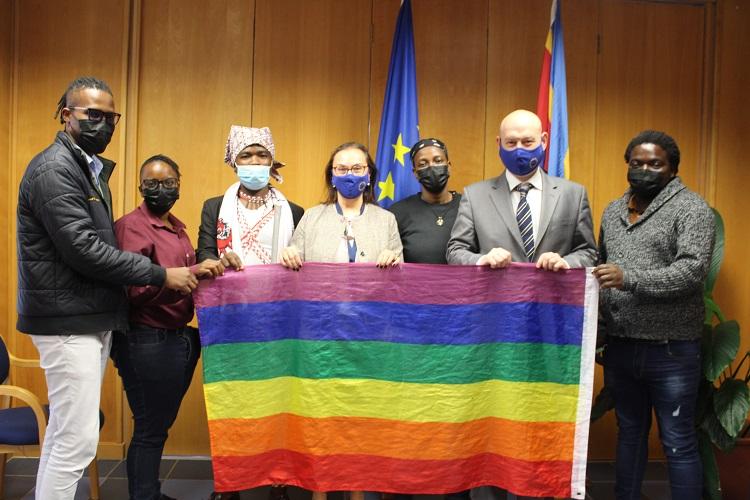 On 17 May, the International Day Against Homophobia, Transphobia and Biphobia (IDAHOT), the European Union (EU) reaffirms its strong commitment to respect and protect the full and equal enjoyment of the human and fundamental rights of all, including lesbian, gay, bisexual, transgender and intersex (LGBTI) people. As an expression of this commitment, the EU Delegation to the Kingdom of Eswatini hoisted the rainbow flag alongside the EU flag in front of its premises in Mbabane.
Solidarity, diversity, equal rights: these words are key today and we draw the attention of government, policymakers, religious leaders, social movements, the general public and the media to the violence and discrimination that LGBTI people still face in many parts of the world, including Eswatini. Conflicts such as Russia's unprovoked and unjustified war against Ukraine have a severe impact on members of the LGBTI community who are targeted by Kremlin's heinous disinformation campaigns.
The EU leads by example, showing solidarity locally and abiding by our commitments internationally. According to the LGBTIQ+ Danger Index, six out of ten world's safest countries for the LGBTI people are EU Member States. We are working hard to advance the rights of the LGBTI people globally. The EU supports the "Out & Proud: LGBTIQ+ Equality and Rights in Southern Africa Project" aiming at improving the legislative frameworks and non-discriminatory environment in favour of LGBTI people in Eswatini, Malawi and Zimbabwe. The project seeks to strengthen the capacities of and opportunities for LGBTI Human Rights Defenders and their organisations to defend, advocate and promote their rights and fight discrimination.
In this European Year of Youth, the EU stands with young people who face intolerance, harassment and rejection both online and offline due to their sexual orientation and gender identity. Young people need to be valued and accepted for who they are!
"Today (17 May 2022), I received a delegation of representatives of the LGBTI community in Eswatini. The Rock of Hope, the Eswatini Sexual and Gender Minorities, Health Plus 4Men Eswatini, House of Our Pride, Men Without Borders have been at the forefront of the struggle for equal rights. Freedom of association is a constitutional right, in Eswatini as well as in the EU, and the LGBTI people should enjoy it freely, alongside all the other citizens," said EU Ambassador to Eswatini, Dessislava Choumelova.