EU Provides Reusable Masks and Hand Sanitizers for West Communities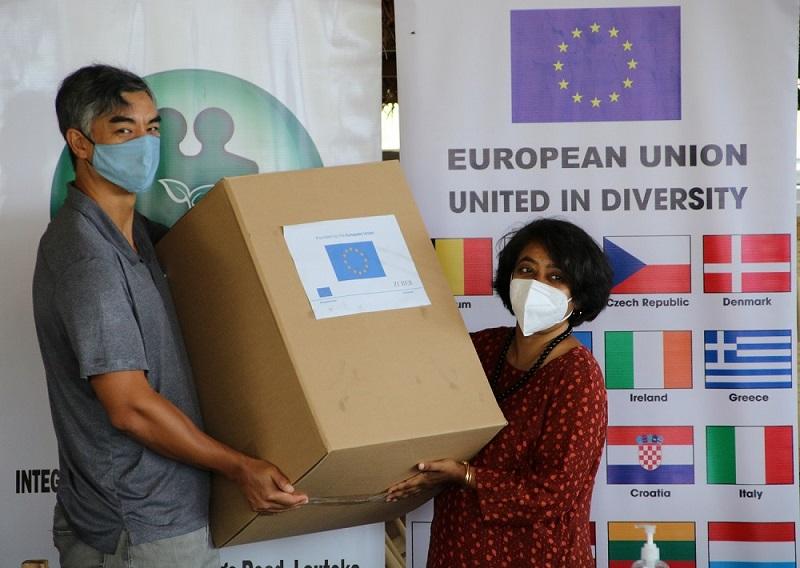 The support provided to the Foundation for Rural Integrated Enterprises & Development (FRIEND) Fiji and the Nadi Muslim Primary School will enable them to provide free reusable masks and hand sanitizer to the most affected communities to protect them and their families from the coronavirus.
At the handover ceremony at the FRIEND Fiji Head Office, the European Union Ambassador to Fiji and for the Pacific, HE Sujiro Seam said: ''The European Union is proud to provide these reusable masks and hand sanitizers for the most vulnerable communities in the western division.  Although more than 90 percent of eligible Fijians are fully vaccinated, wearing mask and regularly cleaning hands with alcohol-based hand sanitizer, together with keeping distance and avoiding crowds, prove effective in suppressing the transmission of this deadly virus and saving lives. However, access to masks and hand sanitizer may be a challenge for the most vulnerable communities. This contribution by the European Union aims to alleviate their burden.''
''I am happy that we were able to source the masks locally from Zuber Fiji and hand sanitizer from Fiji Chemicals and work with civil society partners in the distribution of the masks and hand sanitizer funded by the European Union.'' concluded Ambassador Seam.
FRIEND Fiji Director Sashi Kiran said: ''FRIEND has been providing masks and sanitisers to various vulnerable communities on request throughout the pandemic and now we are receiving lots of requests from schools that are opening. The support from the European Union is very timely and very much appreciated. These items will be distributed through various community based organisations and schools to ensure they reach the most vulnerable in need.''

"We have collaborated with the EU mission previously, and their timely assistance to complement our efforts of distributing food packs is highly appreciated. With schools to open soon, this has added advantage to protect the school children, who can also be vulnerable without adequate protection.  Our sincere appreciation to the Ambassador and his team" said the National President of the Fiji Muslim League, Hafizud Dean Khan.
Ambassador Seam commended the Fijian people for achieving high rates of vaccination and urged everyone to respect the protocols put in place by the authorities to fight against COVID-19.
Following the hand over of masks and hand sanitizers, Ambassador Seam held a Talanoa Session with Non-Governmental and Civil Society Organisations based in the west.
(ENDS)
Mohammed Nazeem KASIM, EU Press & Information Officer Suva, Fiji  Tel: +679 3313-633 Email: Mohammed-Nazeem.KASIM@eeas.europa.eu or delegation-fiji@eeas.europa.eu