European Film Festival 2023 - Suva & Lautoka | Fiji
© Delegation of the European Union for the Pacific
The second European Film Festival is a FREE public event showcasing 8 films from 11 different countries with a variety of styles, genres and stories. They provide a window to the vibrant world in Europe — from Finland to France, Lithuania to Luxembourg, and also a film from Ukraine. They give an insight into the lives of Europeans from all backgrounds and show that we all have our own unique stories to tell, but that our humanity is what unites us all.  
Programme:
Films:
| | |
| --- | --- |
|   | Easy Living |
|   | |
|   | A fourteen-year-old kid, a young woman who smuggles medicines up and down the Italian border with France and a bizarre American tennis teacher who dreams of being a painter. Their lives turn when they come across an illegal migrant. All together, they come up with an absurd plan to help him sneak across the border. |
| Country: | Italy |
| Directors: | Orso Miyakawa, Peter Miyakawa (2019) |
| Genre: | Comedy |
| Rating: | A16+ |
| Run time: | 93 mins |
 

 
Champions
 

 

Marco is a coach for an important team in Spain's national basketball league, burned out in both his professional and personal life making him arrogant and bad-mannered. During a match, a fight sees him kicked out of the stadium before he crashes into a police car. Marco is sentenced to community service, forcing to work with a team of players with disabilities.

Country:
Spain
Director:

Javier Fesser (2018)

Genre:
Comedy, Drama
Rating:
Y13+
Run time:
119 mins
| | |
| --- | --- |
|   | Belleville Rendez-vous (KIDS FILM) |
|   | |
|   | Madame de Souza is worried about her young nephew, Champion. Nothing interests him and he's bored to death. One day, she discovers a pile of photos of the Tour de France and various cycling champions that he's been hiding. She then buys him a bike and gets him training to be the future winner of the cycling race. It's a bad move, for her nephew becomes the prey of the French mafia. |
| Country: | France, Belgium, China |
| Director: | Sylvain Chomet (2003) |
| Genre: | Animation |
| Rating: | G |
| Run time: | 95 mins |
| | |
| --- | --- |
|   | Never Gonna Snow Again |
|   | |
|   | A masseur from the East enters the lives of the rich residents of a bland, walled off community. Despite their wealth, the residents emit an inner sadness, a longing. The mysterious newcomer's hands heal, his eyes seem to penetrate their souls. To them, his Russian accent sounds like a song from the past, a memory of their seemingly safer childhood. Zhenia, for this is his name, changes their lives. |
| Countries: | Poland, Germany |
| Directors: | Małgorzata Szumowska, Michał Englert (2020) |
| Genre: | Comedy |
| Rating: | A16+ |
| Run time: | 115 mins |
 

 
Invisible
 

 

Jonas pretends to be blind and enters a TV dance contest where he meets his attractive dance partner, Saulé. They soon become the show's most popular contestants. Meanwhile, Vytas, an old acquaintance of Jonas, is released from jail hungry for revenge and firm in the belief that he isn't the only person responsible for his wife's death. He believes her former lover, Jonas, shares the guilt.

Countries:

Lithuania, Latvia, Ukraine, Spain

Director:

Ignas Jonynas (2019)

Genre:
Drama
Rating:
A16+
Run time:
85 mins
| | |
| --- | --- |
|   | Tale of a Lake |
|   | |
|   | Tale of a Lake is a film about the thousands of lakes that Finland is known for. It takes the viewers on an unprecedented adventure, ranging from crystal clear springs all the way to the basins of the big lakes. It opens a whole new world of underwater nature for the viewers and tells many of the old tales and beliefs that abound in the land of thousands of lakes. |
| Countries: | Finland |
| Directors: | Marko Röhr, Kim Saarniluoto (2016) |
| Genre: | Documentary |
| Run time: | 75 mins |
| | |
| --- | --- |
|   | Lola |
|   | |
|   | When 18 year-old Lola's mother Catherine passes away, her father Philippe makes sure that Lola will miss the ceremony. Two years before that, Philippe threw Lola out of the family home: at the time, Lola was still Lionel. Philippe is determined to fulfil Catherine's last wish: to be have her ashes scattered in the North Sea, in the dunes of her childhood home. Lola, on the other hand, is furious at her father, but she will not leave her mother alone in this last journey. So they take off together, both unwilling to share a car but determined to take Catherine home. |
| Countries: | Belgium, France |
| Director: | Laurent Micheli (2019) |
| Genre: | Drama |
| Rating: | Y13+ |
| Run time: | 90 mins |
 

 
Luxembourg, Luxembourg
 

 

When the twin brothers Kolya and Vasily learn that their father — who left them when they were children — is dying far away from them in Luxembourg, they both go to Luxembourg in search of him to see him one last time. Kolya considers him a hero, while Vasily thinks he is a scoundrel.

Countries:

Ukraine

Director:

Antonio Lukich (2022)

Genre:
Comedy
Rating:
Y13+
Run time:
105 mins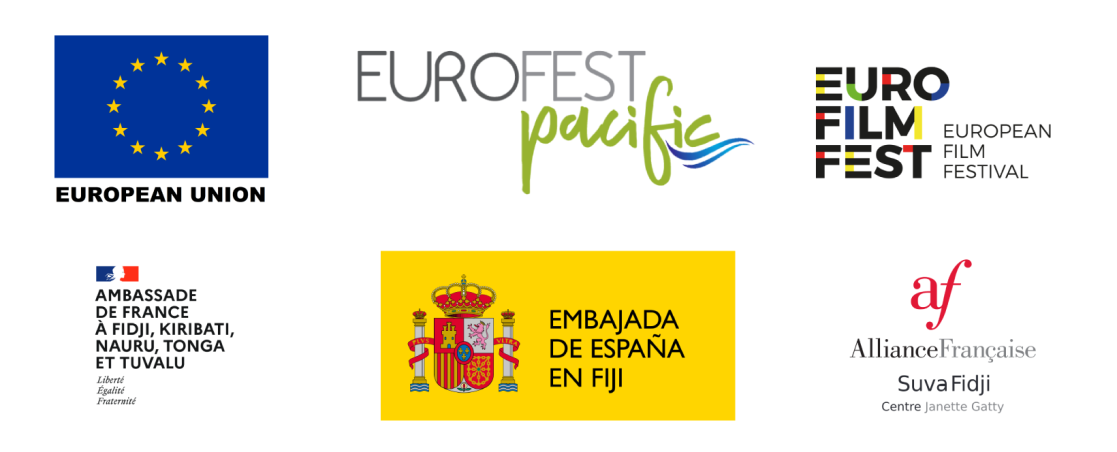 PRACTICAL INFORMATION
OVERVIEW
-
Damodar City, Suva | Village 4, Lautoka
How to join?
FREE ENTRY!
The European Film Festival is a FREE public event.
Seats are available on a first come, first served basis at the cinema on the screening date. 
No reservations.