EU and WHO continue to deliver critical supplies for COVID-19 frontline health workers in Georgia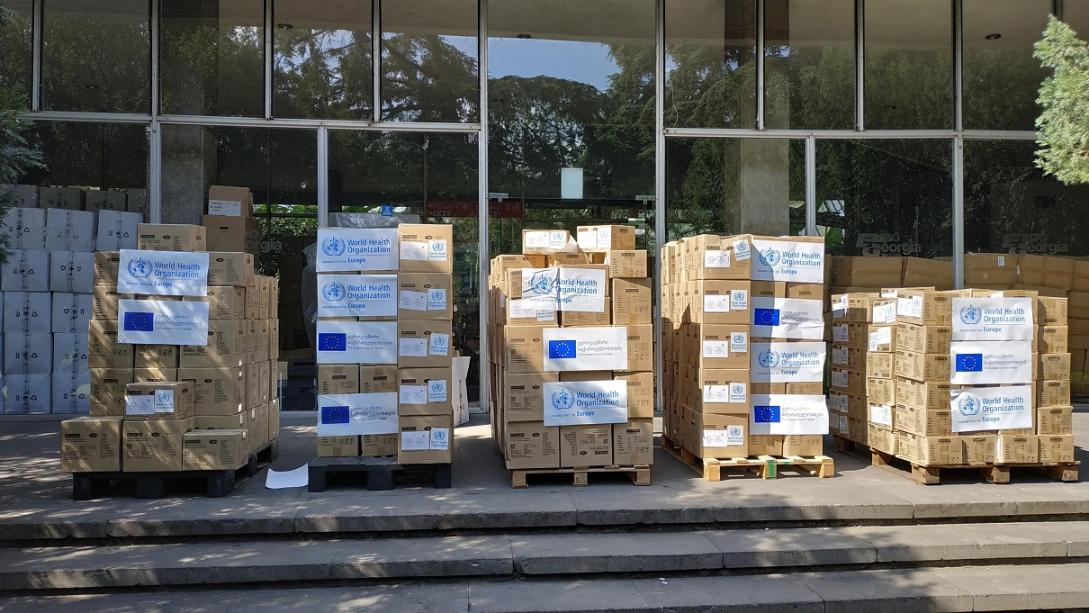 A shipment of over 300,000 medical gloves to enable health-care workers in Georgia to continue to respond effectively and safely to the COVID-19 pandemic, arrived in the country last week. The shipment is part of ongoing EU deliveries of personal protection equipment to Georgia.
All items of equipment delivered have been checked to ensure they meet quality and safety standards for health-care workers on the frontline. Lugar Center for Public Health Research, 9 regional labs of National Center for Disease Control, Emergency Situations Coordination and Urgent Medical Assistance Center with 4,200 crew members of ambulances and village doctors across Georgia will receive personal protective equipment.
The donation of the personal protective equipment with WHO is part of the European Union's response to the outbreak of COVID-19 in Georgia. Further medical based support, implemented with WHO, will include training for health-care workers and frontline responders and a strengthening the health sector's overall preparedness and response capacities. 
This assistance is part of a wider package of EU support for Georgia of over €400 million (almost GEL 1.5 billion) which includes support to vulnerable groups and economic recovery.  In total, the EU has committed over €15 billion globally to support partner countries combat COVID-19.
Source of information for journalists:
For further information, contact:
Tamriko Mikadze, Delegation of the European Union to Georgia, Tamriko.Mikadze@eeas.europa.eu
Tamila Zardiashvili, WHO, zardiashvilit@who.int