The EU WeCAPS project is fully engaged in the fight against the Covid-19 pandemic in Ghana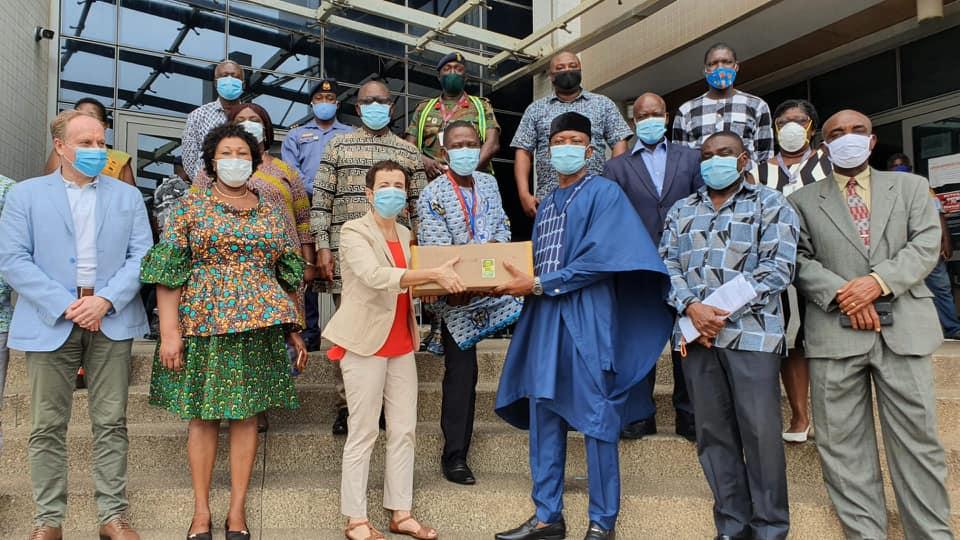 The Delegation of the European Union, represented by its Ambassador/Head of Delegation, Mrs Diana Acconcia, handed over on 26 June in Accra COVID19 protection equipment (approx. 80,000 EUR/520,000 GHS worth of masks, gloves, coveralls, protective eyewear, Hydroalcoholic gel, soap, disinfectant, thermometers, among others) to the Director General of Ghana Ports and Harbours Authority (GPHA), Michael Achagwe Luguje, in the framework of the Western and Central Africa Port Security (WeCAPS - project.
WeCAPS - Western and Central Africa Port Security, a European Union project implemented by Expertise France, aims to reinforce the safety and security of ports in West and Central Africa. WeCAPS is committed to supporting the efforts of the region's ports to manage and mitigate the impact of the coronavirus. 
WeCAPS has proposed the GPHA to accompany it in dealing with this crisis situation through three anti Covid-19 support actions, addressed to the ports of Tema and Takoradi. To do so, WeCAPS cooperated with the French Directorate for Security and Defence Cooperation (DCSD), a partner in the project, and the Delegation of the European Union-DEU in Ghana, which listed the ports needs on the spot and referenced suppliers. 
Read the Press Release attached
the_wecaps_project_fully_engaged_in_the_fight_against_the_covid-19_pandemic.pdf
Read the speech by the Head of the Delegation of the European Union to Ghana, Mrs. Diana Acconcia.
handover_ceremonies_of_protective_equipment_by_the_wecaps_project_-_actions_against_the_covid19.pdf