Social and Behaviour Change Communication Campaign Launched to Combat Gender -Based Violence in Belize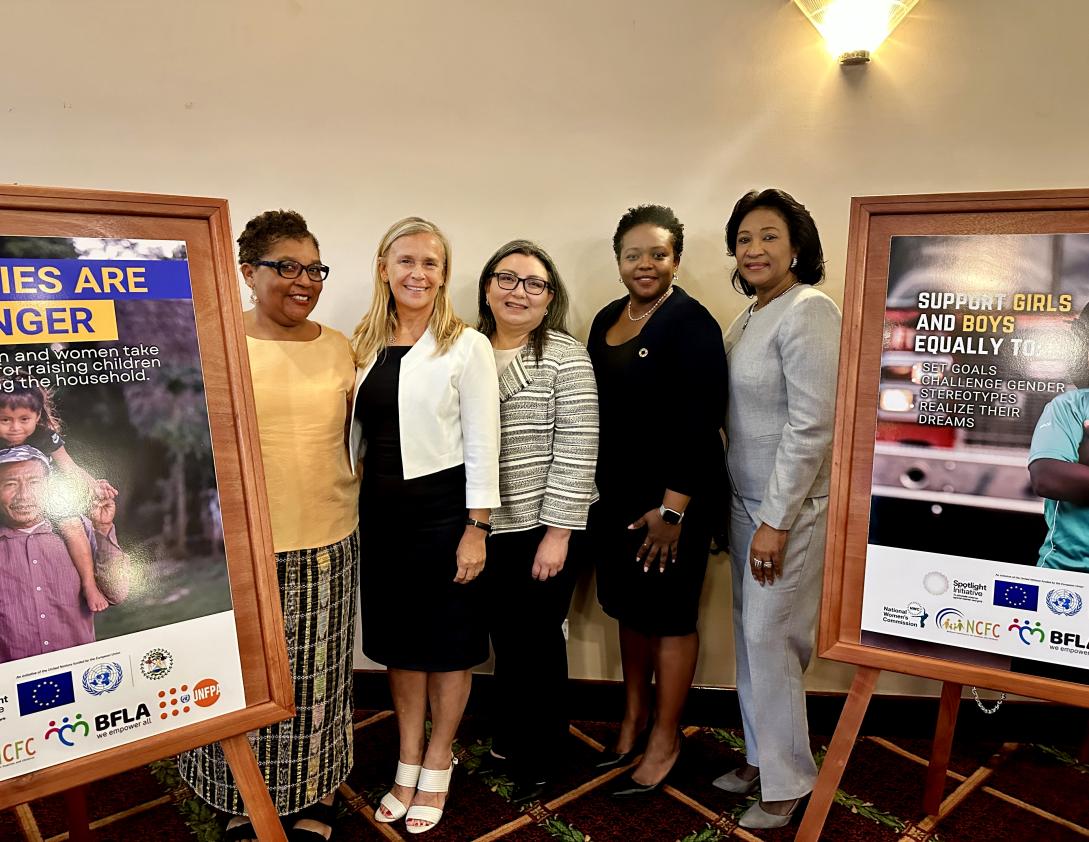 The EU-funded campaign will be implemented by the Government of Belize through the National Women's Commission (NWC) and Civil Society Organization (CSO) partners, in collaboration with the United Nations Population Fund (UNFPA) under the Spotlight Initiative.
Critical communication assets that were expertly developed to address family violence in Belize were presented at the launch. They include videos, banners and posters for digital and social media platforms and print circulation. The campaign is positioned to challenge gender inequitable social norms, negative attitudes and behaviours at the community and individual levels to prevent violence against women and girls, including family and other forms affecting women's sexual health and reproduction.
Target audience include some of the most marginalized groups , among them - adolescent girls, indigenous, rural, migrant women and girls, sex workers, women and girls with disabilities, transwomen and lesbian women, women and girls living with HIV and elderly persons. This is in keeping with national goals to leave no one behind. The product development was buttressed in the draft Social and Behavior Change Communication strategy, which builds on existing prevention intervention and identifies key entry points at all levels of the society.
Taking a collaborative approach with both state and non-state actors, UNFPA, the National Women's Commission, the Belize Family Life Association (BFLA) and the National Commission for Families and Children (NCFC) engaged in a step-by-step process to develop the assets. This included undertaking pretesting activities led by BFLA that involved consultations with 200 persons across the country, which included representatives from social partners, youth, women and men. The pretesting phase was crucial to ensure an inclusive process. Feedback from the stakeholders and participants was consolidated and the recommendations helped to shape the concept and direction for the products
Keynote speaker at the launch, Hon. Dolores Balderamos Garcia, Minister of Human Development, Families & Indigenous People's Affairs, in her remarks at the event stated that, "social and behaviour change is critical for addressing gender-based violence.
"The House of Representatives has unanimously agreed to denounce and condemn domestic violence in all its forms as a crime and a violation of fundamental human rights, and commits to taking action for the prevention and elimination of gender- based violence in Belize," she stated.
H.E. Marianne Van Steen, EU Ambassador emphasized that "Gender equality and women and girls' empowerment are top priorities of the European Union at home and globally.
"It is only through collaboration that we can see meaningful change happen and I believe that the Social and Behaviour Change Communication Campaign that we are launching today, within the framework of a draft strategy, is a right step in this direction. This campaign belongs to  everyone and it is for everyone to take it forward: public and private sectors, policy and decision makers, faith-based organizations, community leaders, school at all levels, entrepreneurs and small business owners, you and I," said Ambassador Van Steen.
Brigit Gerstenberg, UN Resident Coordinator, in her remarks said that, "Social norms are dynamic as they both influence and are influenced by interactions among agents in a society and can therefore be changed over time. This is the contribution we expect of the campaign launched today:  To promote change in knowledge, attitudes, norms and practices to bring an end to violence against women, girls and boys in Belize."
The SBCC campaign will address five key categories - policy and decision-makers, workplace, community leaders, families and schools and will be rolled out on a national scale as well as at the community level.
The Spotlight Initiative is a global, multi-year partnership of the United Nations and the European Union focused on eliminating all forms of violence against women and girls (VAWG). The Initiative brings focused attention to this issue, moving it into the spotlight and placing it at the center of efforts to achieve gender equality and women's empowerment, in line with the 2030 Agenda for Sustainable Development (SDGs), specifically SDG 5 on Gender Equality.  Spotlight encompasses six pillars and pillar three focuses on prevention to address the root causes underpinning existing social norms, attitudes, and behaviors.