Virtual Forum "Vision of a Sustainable Future"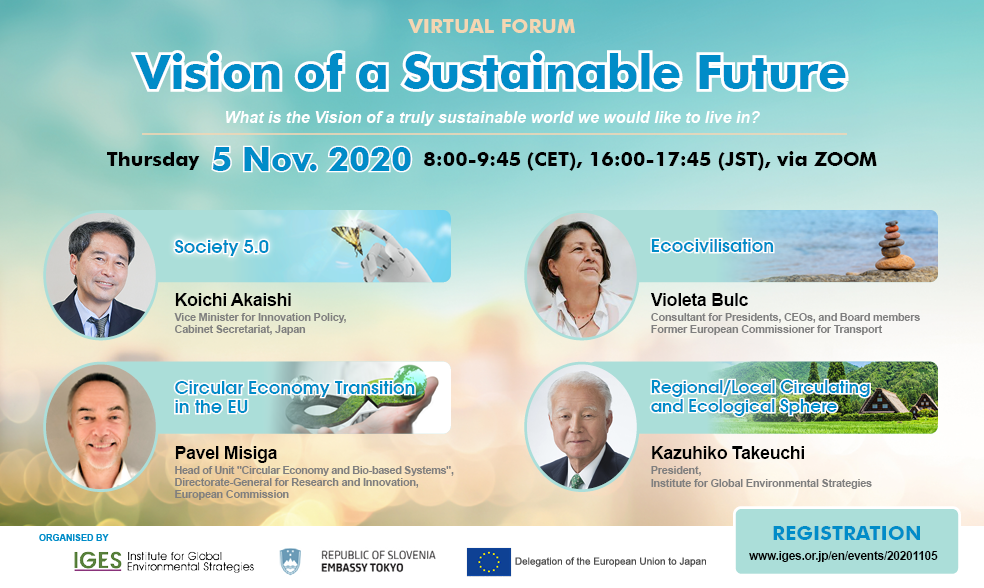 Sustainability, sustainable development, sustainable development goals, sustainable lifestyle and sustainable cities are terms we hear often. We are committed to living sustainably, but do we know where exactly are we headed? What will the destination look like? What is the vision of a truly sustainable world we would like to live in? Does everyone share the same vision?
Join us in imagining Society 5.0; Thriving Circular Economy; Eco-civilisation and Regional/Local Circulating and Ecological Sphere – four visions of the future that embrace the concept of sustainability to the fullest.
Date & Time: 8:00 – 9:45 (CET), 16:00 – 17:45 (JST), 5 NovemberOrganisers: Institute for Global Environmental Strategies  (IGES) / Embassy of the Republic of Slovenia in Tokyo / Delegation of the European Union to JapanLanguage: EnglishParticipation fee: FreeEnquiries:  kitakyushu-info@iges.or.jp (IGES Kitakyushu Urban Centre)Registration, programme and details here 
PRACTICAL INFORMATION
OVERVIEW
-