European Film Festival Jordan 2020 - www.euffjordan.com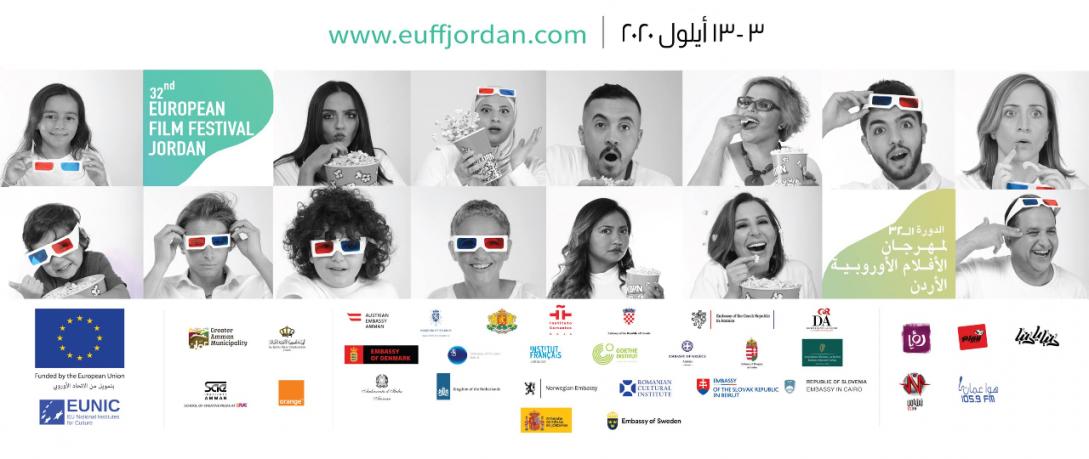 The annual European Film Festival (EUFF) Jordan happens between 3-13 September 2020 in ONLINE mode at www.euffjordan.com (geo-blocked to Jordan).
Under the Patronage of Her Royal Highness Princess Rym Ali, the event is funded by the European Union in Jordan and organized by EUNIC Jordan together with EU Member States' embassies and EU cultural/language institutes.
The festival happens in partnership with the Royal Film Commission (RFC), Greater Amman Municipality (GAM) and SAE Institute.
It is free-of-charge. 20 award-winning European productions will be streamed, all subtitled in Arabic and English, some of which followed by online talks with their respective filmmakers, actors or producers.
This year's programme also features a Short Film Competition, 2 workshops on costume design in Amman and Irbid and 2 workshops on assistant camera in Wadi Rum and Mafraq - in partnership with the Royal Film Commission and a Mobile Film Competition - together with SAE Institute.
Norway is this year's guest country.
The EUFF is the longest-running foreign film festival in Jordan. Since its creation, the event has attracted thousands of filmgoers and it stands as the European Union in Jordan's flagship event on the cultural calendar.
It brings the Jordanian and European communities together and opens up a space for intercultural cooperation, exchange, dialogue and diversity. It is a thrilling opportunity for EU embassies and cultural/language institutes to take filmgoers on a cinematographic journey to discover Europe's people, landscapes, culture and traditions.
#EUFFJordan
#EU4Culture