Supporting the future of Syria and the region - Brussels IV Conference, 30 June 2020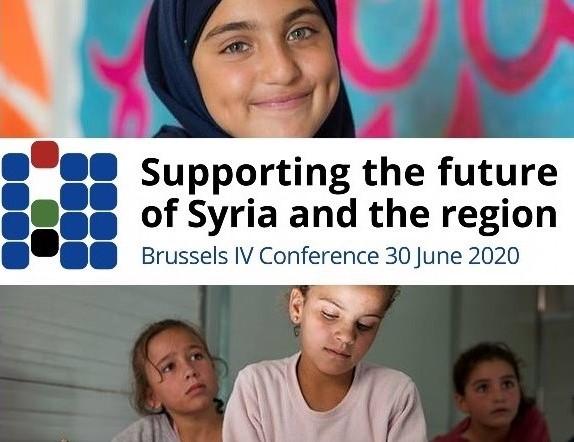 The European Union and the United Nations will co-chair the fourth Brussels Conference on "Supporting the future of Syria and the region", which will take place on 30 June 2020. In light of the necessary social distancing measures, the Conference will be held in a virtual format.
With the conflict entering its 10th year, the situation in Syria and the region remains highly critical: the dire humanitarian situation, with millions of Syrians internally displaced and having sought refuge in Syria's neighbouring countries, is now being further compounded by the consequences of COVID-19 pandemic. 
In this context, Brussels IV will be an opportunity to gather all relevant actors to effectively address the current situation, offer continued support to UN efforts for a comprehensive political solution to the Syrian conflict, mobilise necessary financial support for Syria and neighbouring countries hosting Syrian refugees, as well as pursuing and deepening our dialogue with civil society.
More info: https://www.consilium.europa.eu/en/meetings/international-ministerial-meetings/2020/06/30/?fbclid=IwAR1KaX0PAY5mIj7pAz_4llQXC3xb7eb7EmSZOgUBgB18z2wE1t6Y2jwtDhw
Jordan Compact and Brussels meetings - Independent Monitor's Assessment Report
Videos
They are Syria https://twitter.com/eu_eeas/status/1277134639979585536
Ten Years of War https://twitter.com/eu_eeas/status/1276772251224997889
Dr. Yusuf Mansur, the CSO rapporteur from Jordan
Interviews
EU Ambassador to Jordan, H.E Maria Hadjitheodosiou, talks to al Ghad daily newspaper ahead of the Brussels IV Conference
EU Ambassador to Jordan, Maria Hadjitheodosiou, stresses the importance of the EU-Jordan relations and the fourth Brussels Conference on "Supporting the future of Syria and the region" on Al Mamlaka TV:
https://twitter.com/AlMamlakaTV/status/1277536958336598016
Press Releases
Syrian crisis: EU mobilises an overall pledge of €6.9 billion for 2020 and beyond
PRACTICAL INFORMATION
OVERVIEW
-
Council of the EU , Brussels