19 Kenyans students get Erasmus scholarships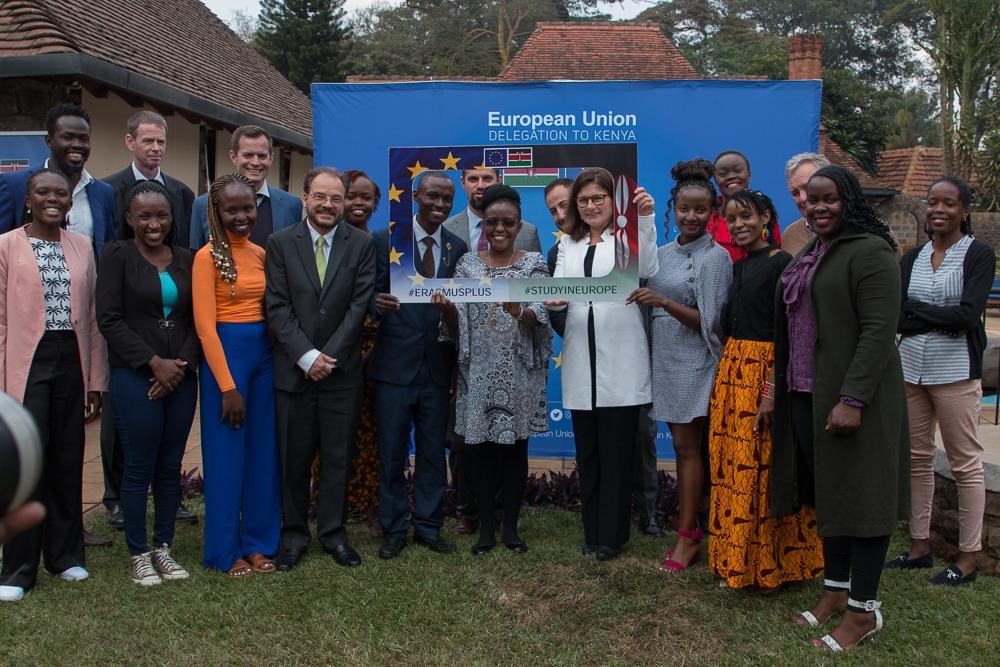 The European Union Ambassador to Kenya, H. E. Henriette Geiger and Ambassadors of European Union Member States, Austria's H.E Dr Christian Fellner,  Belgium's H.E Peter Maddens, Hungary's H.E Zsolt Meszaros and Germany's Charge d 'Affairs a.i Mr Thomas Wimmer today congratulated 19 Kenyan students who are set to start their Erasmus Mundus Joint Masters Degrees in Europe from September 2022. The 19 Kenyans are among the best-ranked students in the global competition for the prestigious scholarships.
An Erasmus Mundus Joint Master Degree (EMJM) is a prestigious, integrated, international study programme, jointly delivered by an international consortium of European higher education institutions. The EMJM award full-degree scholarships to Master students in a great variety of professional fields, from around the world and cover all expenses including tuition, travel, and a living allowance. The programmes last two years, during which students study in at least two different European countries. Upon graduation, students are awarded a joint or double degree, or multiple degrees.
This year, a record 19 Kenyan students have received the prestigious scholarships. Ambassador Geiger, who held a send-off cocktail reception for the students at her residence, thanked the students for heeding the call she made last year when she asked qualified Kenyans to apply for the scholarships.
Ambassador Geiger said: "The relations between the EU and Kenya have been growing. Through these scholarships, we look forward to strengthen linkages with Europe, through skills transfer, and other cooperation opportunities under the Erasmus programmes. We want to encourage more 'people to people' cooperation and open up more opportunities for Kenyans to experience the European Union. We encourage Kenyan youth to apply for the next round of scholarships."
Students who have a bachelor's degree can apply for the EMJM scholarships. Staff and students from Kenyan Universities that have a cooperation agreement with European universities can also apply for other mobility programmes. In addition to the EU Erasmus + scholarships, EU Member States offer a variety of bilateral scholarship programmes. Look out for the next call for applications for the EMJM, which will open starting September 2022 depending on the program of choice, on the link below:  https://www.eacea.ec.europa.eu/scholarships/emjmd-catalogue_en