European Partners reaffirm support to Lao PDR's development efforts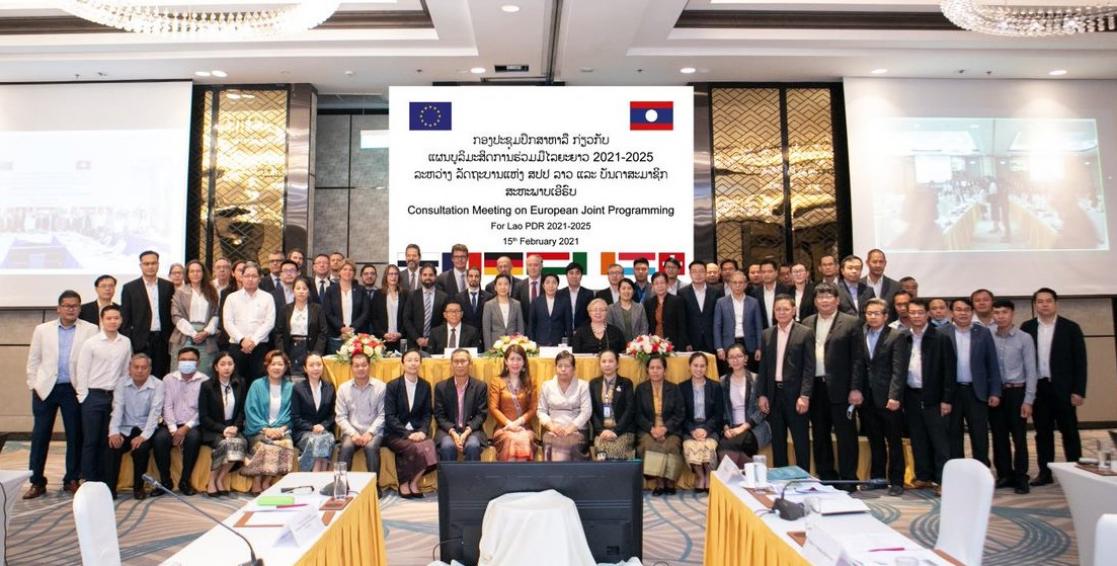 Vientiane capital, 15 Feb 2021 European Partners have expressed their commitments to further support development efforts of Lao PDR to enable the graduation from the Least Developed Country status. The group of European partners, which is composed of the EU, Finland, France, Germany, Hungary, Luxembourg and Switzerland, held a consultation event with the Government of Lao PDR on Monday February 15th to discuss its priority areas of intervention over the next 5 years in support of the 9th National Socio-Economic Development Plan (NSEDP).
The meeting was co-chaired by the Deputy Minister of Planning and Investment, HE. Dr. Kikeo Chanthaboury and the European Union Ambassador, H.E. Ina Marčiulionytė, and was attended by European ambassadors, European partners and by numerous representatives from Lao Government's line ministries.
"We want to strengthen our partnership in support of green and inclusive growth, while promoting trade and investment, and consolidating good governance" said Ambassador Marčiulionytė. "There is a renewed policy-drive behind this new joint programming process, which is based on strategic priorities and interests for EU's external action worldwide, within the framework of the Agenda 2030 and the Sustainable Development Goals", she added.
On that basis, the European Partners agreed to focus on six priority cooperation sectors in 2021-2025: agriculture and rural development; natural resources and environment; private sector development, trade and tourism; education, including technical vocational education and training; health; and good governance. Their objectives, in each of the sectors, were discussed with government representatives, whom appreciated the alignment to the 9th NSEDP priorities and advocated to address the numerous long-term consequences of the covid-19 crisis.
On behalf of the Lao Government, Deputy Minister Dr. Chanthaboury appreciated the proposed focus of European Partners on supporting green growth in Lao PDR, while synchronizing the Joint Programming cycle with the Government of Lao PDR's NSEDP cycle. "This is a very good indication of our common efforts to align our priorities, and to deliver on our commitment for the partnership for effective development cooperation as stated in the Vientiane Declaration", he stressed.
The European group remains a strong and faithful group in the development partners in the development of the Lao PDR. The group reported having made granted up to 680 million Euros (7.7 trillion of Lao Kip) in support of Development efforts over the past 7 years, 512 million euro (5.5 trillion of Lao Kip) of which over where disbursed over the 8th NSEDP cycle, in 2016-2020.