Study and Career Opportunities Virtual Fair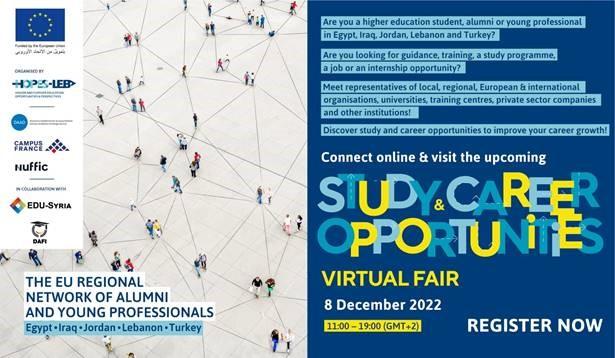 The objective of the 'STUDY & CAREER OPPORTUNITIES Virtual Fair'  is to connect higher education students and alumni, in particular refugees and vulnerable youth, from all majors and degrees across Egypt, Iraq, Jordan, Lebanon and Turkey with study, scholarship, volunteering, internship, professional development and career opportunities on a local, regional, European and international level.
The virtual fair will be hosted on a virtual platform, structured like a real event venue with exhibition halls, interactive booths and an auditorium hosting a series of online talks and panels throughout the event.
You will have the chance to meet and chat with the exhibitors from 11:00 until 19:00 pm (GMT+2) on 8 December 2022!
Discover more about the virtual fair, the exhibitors and programme of the online talks and panels.
This event is organised within the scope of the EU regional network of alumni and young professionals, funded by the European Union and managed by the HOPES-LEB project consortium implemented by the German Academic Exchange Service (DAAD), Campus France and Nuffic, in cooperation with the EDU-SYRIA scholarship programme led by the German Jordanian University and the DAFI programme implemented by UNHCR.