KULIMA-Promoting Farming in Malawi: Better Extension Training Transforming Economic Returns (BETTER)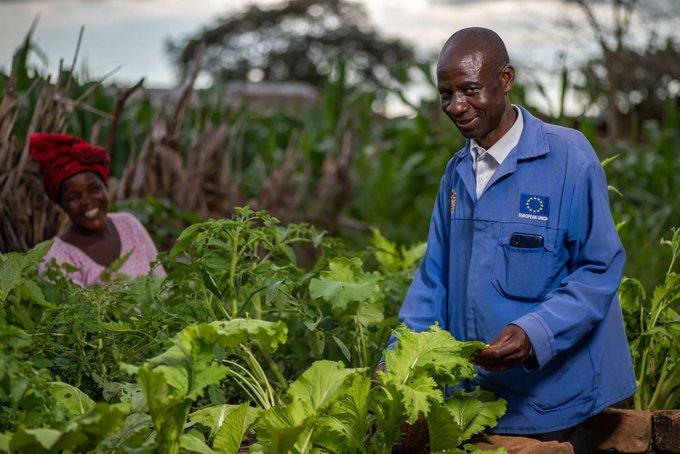 In the frame of the KULIMA programme, the BETTER project has the central role of ensuring the outreach component of by making sure that farmers at grass root level are reached and actively participate/benefit from the services made possible by the programme.  Basically, this project is articulated around empowering beneficiaries through the Farmer Field School (FFS) approach as a way to contribute to increasing knowledge and skills of smallholder farmers through improved access to and use of quality agriculture advisory services.
As by its design, the BETTER project complements the other projects under KULIMA programme (namely the FAO contract and the GiZ contracting) by facilitating the trained community based facilitators and government Master Trainers to form farmers learning groups (FFS groups) and to continue the season long participatory learning sessions.  By its design, the same BETTER project has included a component of improving access to finance by farmers through promotion of Village Savings and Loans (VSL).
So far, the BETTER Project has achieved the following main results:
A total of 4,970 FFS groups, supported by the same number of community based facilitators have been reached and capacitated under constant supervision and technical inputs by the government MTs,

These groups comprise 143,330 farmers farmers (with female participation reaching 59%) participating in the participatory learning process through which farmers are the ones ranking the learning topics based on the challenges they face in their own localities

the project disseminate good nutritional practices and 98% of the beneficiaries have acquired the knowledge while 79% of them are really changing the nutritional practices.

Effective promotion of a diversity of local and exotic vegetables which are highly nutritious for the benefit of 53,402 FFS members.

The project has seen an increased number of benefiting households reporting  to have enough food lasting from one season to another,

19.6% of beneficiaries are now having savings

In support to the early warning systems, the project supported subject matter specialists from the department  of metrological services to identify six rive points requiring installation of river-line gauges  and 145 points for installation of rain gauges,

Supported and facilitated planting of 120,000 trees in fragile ecosystem

Provided support to 11 FFS groups with fingerlings and start up fish feed as a way to sustain aquaculture and

Adoption by trained farmers of different alternative fall army worm

control measures such as use of fish soup, use of Tephrosia vogelii solution and use of sand allowing better and affordable protection of the maize crops.
PRACTICAL INFORMATION
OVERVIEW
The project is implemented in 10 districts (Chitipa, Karonga, Mzimba, Nkhatabay, Nkhotakota, Kasungu, Salima, Chiradzulu, Thyolo and Mulanje)
Contact Details
EU Delegation Press Officer
European Development Fund (EDF)