European Union and WHO hand over essential equipment to support Mongolia's response to COVID-19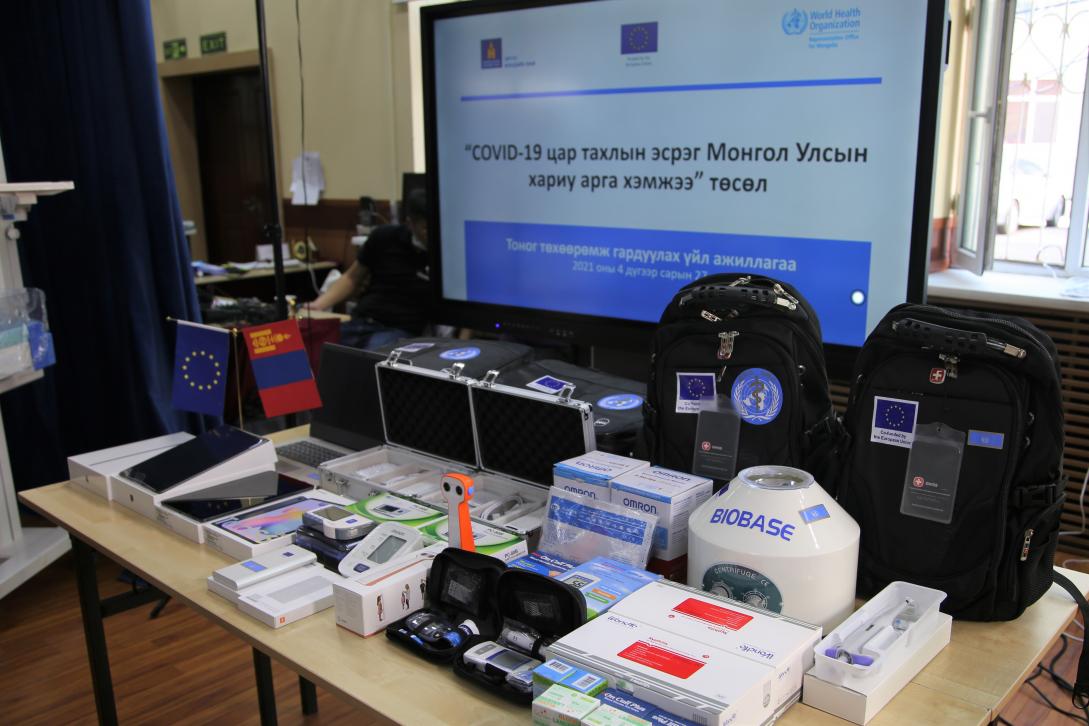 The handover ceremony took place at the Ministry of Health and was attended by Dr Enkhbold Sereejav, Minister of Health, Mr Marco Ferri, Chargé d'Affaires  of the European Union Delegation to Mongolia, and Dr Sergey Diorditsa, WHO Representative to Mongolia.
Mongolia has been experiencing a sudden surge in COVID-19 cases since March 2021. With the increasing number of cases, severity and deaths, the national health system is at high risk of being overwhelmed. In response to community transmission, the Ministry of Health has revised the national response strategy and developed a plan to strengthen the Ulaanbaatar City Health Department. Nine district health centers under the City Health Department will conduct response measures including early detection, contact tracing, isolation, quarantine, testing, monitoring of vulnerable, high-risk populations and vaccination.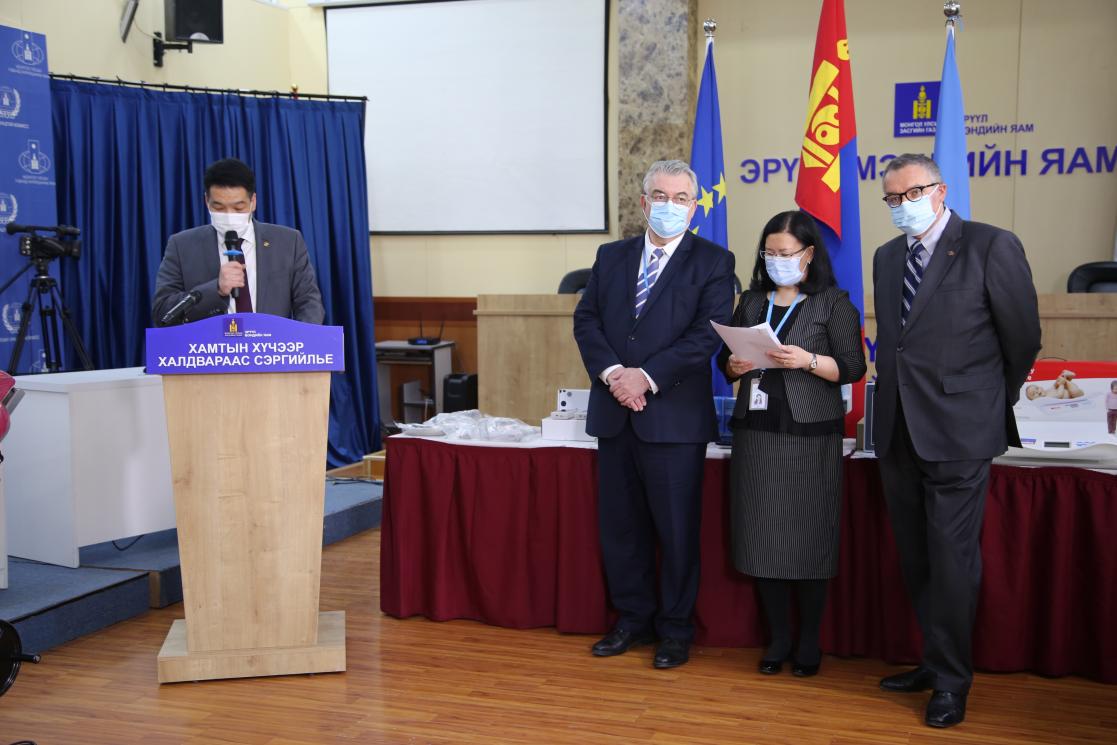 Thus, the MCCR project's first objective is to contribute to strengthening early detection, contact tracing, information management and targeted intervention. Procurement of computers for expanded contact tracing, case investigation, and rapid response teams will strengthen the capacity of Information and Planning pillar to suppress community transmission and prevent transmission among vulnerable populations.
Furthermore, in line with the project's second objective to improve the quality and capacity of laboratories, essential laboratory test kits and reagents will be provided. This will support Mongolia to continue conducting testing and active surveillance.      
Additionally, the MCCR project aims to improve accessibility and quality of essential health care logistics and services. The continued provision of these services is key to ensuring that everyone has access to essential health services to stay safe and protected, especially during the pandemic. Essential medical equipment and tools are provided to be used across all levels of the health care and service in both urban and rural settings, specifically:
Essential medical equipment and devices to support improving access to and quality of maternal and child health services in 6 provinces – Bayan-Ulgii, Bulgan, Dornod, Dundgobi, Gobi-Altai and Sukhbaatar.

Mobile health technology equipment for Nalaikh district, Gobisumber and Bayankhongor provinces to ensure access to essential health services for herders and communities in remote areas. Additionally, rapid tests and medical devices are provided to support essential health services at primary health care facilities in the selected areas.

Essential IT equipment provided to support the National Center for Communicable Diseases to ensure maintaining essential tuberculosis (TB) care and services to TB patients and to support the National Center for Mental Health to improve its capacity to conduct tele-counselling, tele-diagnosis and e-trainings for health workers at primary and secondary health facilities in districts and provinces. Mongolia currently experiences high demand for having mental health service as one of essential packages for the general public and frontline workers.
***
About "Mongolia COVID-19 Crisis Response" project
A three-year joint project "Mongolia COVID-19 Crisis Response" was launched on 30 October 2020. The European Union is providing support of EUR 1 million and WHO is providing EUR 62,000 and technical guidance to Mongolia's health sector. The project will be implemented by WHO Mongolia in collaboration with the Ministry of Health and will focus on three specific areas: strengthening the capacity of the national health system to monitor, prevent, and control the spread and effects of COVID-19; strengthening laboratory capacity at national and sub-national levels; and ensuring continuity and quality of essential health care services during wide-spread community transmission and lockdown.
For more information, please contact: 
B.Uuganbayar, Communication advisor, Ministry of Health, uuganbayar0312@gmail.com
Ts.Jargalan, Communication officer, WHO Mongolia, tsogtj@who.int
PRACTICAL INFORMATION
OVERVIEW