European Union funded new project launches in Ulaanbaatar, Uvurkhangai and Bayan-Ulgii provinces to protect vulnerable population from Covid-19 negative impacts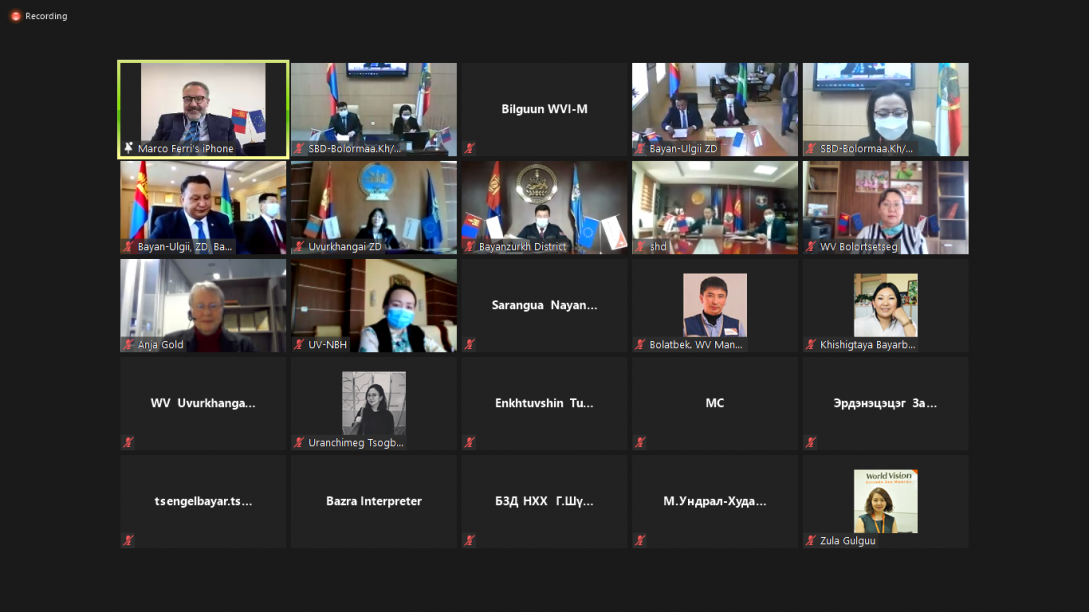 In partnership with the World Vision, European Union launches an 18-month, €1,000,000 project to contribute to limiting the spread of COVID-19 and reduce its negative impact on the vulnerable population in Mongolia, particularly mothers, children, and people under medical observation.
The European Union funded "Recovering Together" project, implemented by World Vision, will contribute to limiting the spread of COVID-19 and reduce its protection, livelihood, health and nutrition impact on among vulnerable population the target areas namely Sukhbaatar, Bayanzurkh and Songinokhairkhan districts, and Uvurkhangai, Bayan-Ulgii provinces.
During the project inception virtual event Mr. Marco Ferri, Minister Councellor, Deputy Head of Mission, Delegation of the European Union to Mongolia stated "This project is timely in these difficult times, when Covid 19 is widespread in Mongolia. It aims to reach out to the most vulnerable population by contributing to the improvement of the health system during the pandemic and supporting the livelihoods of vulnerable people".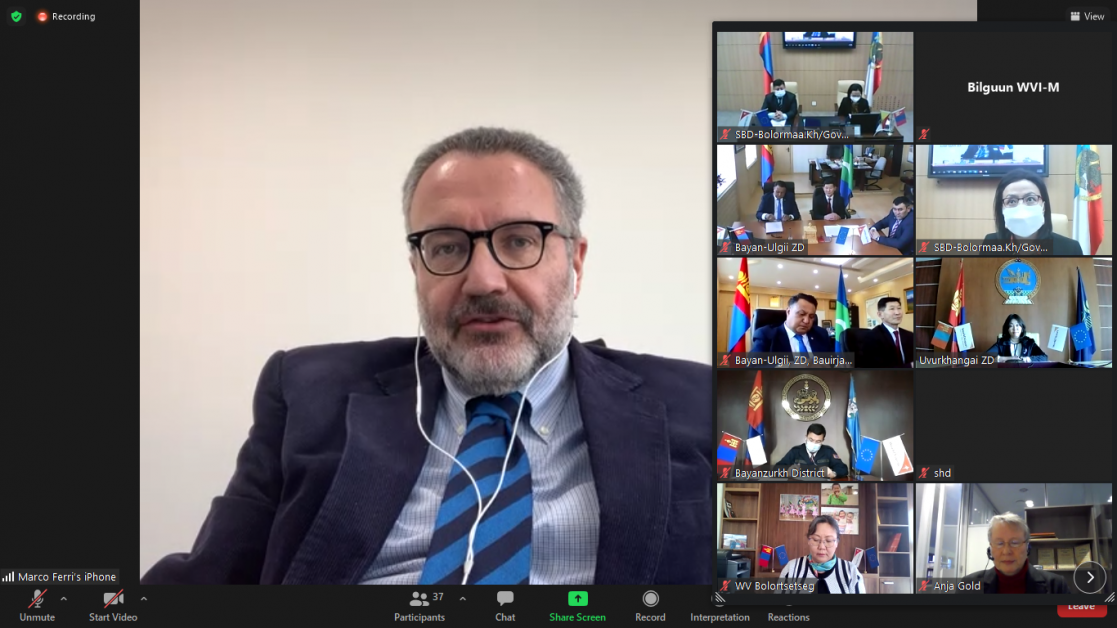 Mrs. Anja Gold, East Asian Regional Project Manager of World Vision Germany, said "The Covid-19 crisis requires more than ever our commitment to the vulnerable population especially children of this country. The protection of children is of particular importance, as they suffer the most from the crisis. Moreover, hospital equipment beds are also to be provided within this project".
Under the project framework, World Vision Mongolia represented by National Director Mrs. Bolortsetseg.B signed Collaboration Agreements with the Governors of project target areas.  During the MOU signing ceremony, she said "Many studies shows that 2020 global widespread Covid pandemic is particularly affecting the livelihoods of vulnerable households, local businesses and the economy. I would like to thank the European Union for providing a realistic assessment of the current situation and for funding the project to reduce the negative impacts of the pandemic on these people.""
This project will indirectly benefit the target area´s population of 1.06 million through its focus on strengthening CSOs´ organizational and technical capacity, which is expected to support the role of CSOs in realizing national development objectives.
The grant project "Recovering Together" funded by the European Union will support vulnerable households, impacted by Covid-19 through livelihood recovery assistance and increase their access to nutrition, health and WASH services to meet basic and urgent needs. Furthermore, the project will strengthen the healthcare system by ensuring health facilities are equipped with Covid-19 response and prevention equipment.
World Vision International Mongolia: Bilguun_Ganbold@wvi.org
PRACTICAL INFORMATION
OVERVIEW