"Through mediation to an agreement - choose an alternative"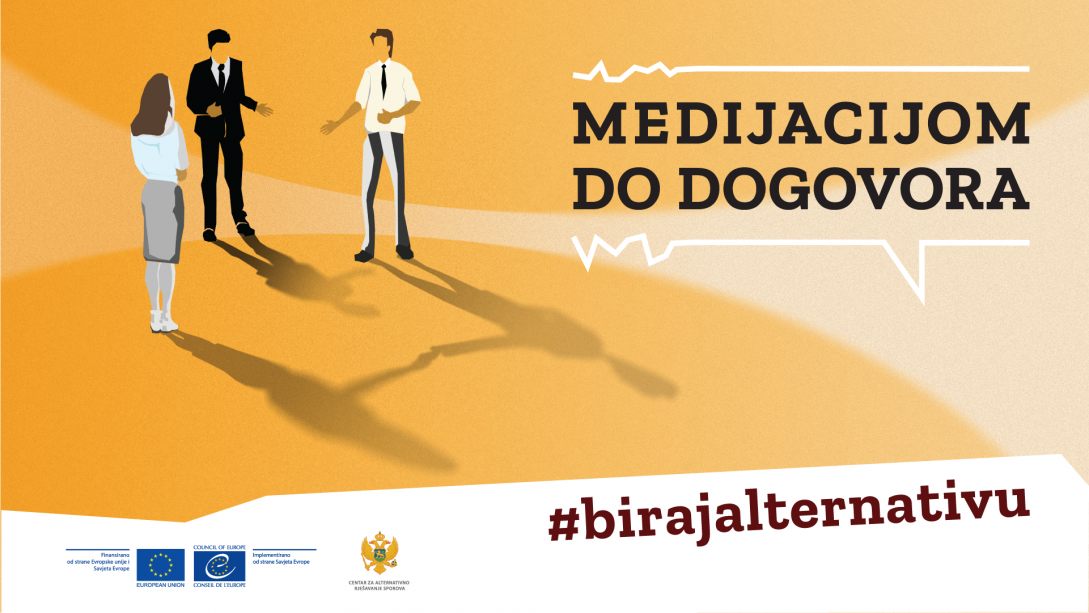 The Centre for Alternative Dispute Resolution (CADR), with the support of the European Union and the Council of Europe, has launched an awareness raising initiative "Through mediation to an agreement - choose an alternative". The initiative aims to raise public awareness about benefits of mediation, a process of negotiation with the help of a neutral third party who makes it easier for two opposing parties to reach an agreement and resolve their dispute. Over the next three months, citizens of Montenegro will learn how to resolve disputes through mediation, in order to save their time, money and peace, without going to court.
"Mediation takes less time and money than court proceedings, and, most importantly, leads to an agreement that is acceptable to both parties. It protects your private and business relations, so if you have a dispute, we invite you to choose an alternative and reach an agreement through mediation," Marina Lutovac, the director of the CADR Lutovac explained.
"According to the Law on Alternative Dispute Resolution, you can, but you do not have to hire a lawyer in mediation," she stressed.
Mediation can be resorted to in different types of disputes: family, commercial, property, criminal, small value disputes, individual labour disputes, disputes with insurance companies, state or local government, etc. Resolution of family disputes and disputes with public authorities (be it on the state level or local level) is free of charge, while in other cases only the minimum remuneration for the work of the mediator is paid, which the parties, unless otherwise agreed, bear in equal parts. Mediators are trained professionals, who come from the pool of lawyers, social workers, psychologists, professors.
"Mediation is confidential, which is why a party in a dispute has full freedom to present all the details related to the dispute, without fearing that the general public may find out about them. Each case is specific and therefore requires to be approached in a specific manner. Mediators are always fully committed to helping reach an agreement that is acceptable to both parties," Lutovac explained.
The campaign on mediation is implemented with the support of the European Union and the Council of Europe, within the joint action "Accountability and professionalism of the judicial system in Montenegro".
 "The Council of Europe is actively working on developing mediation practices in Europe, including through various awareness raising activities intended at citizens. In Montenegro, we support the main mediation actors to increase the use of mediation, especially in commercial cases. Together with our partners from the EU, we are launching this important initiative to inform citizens on how they can use mediation to resolve various disputes effectively" – said Evgenia Giakoumopoulou, Head of Operations in the Council of Europe Programme Office in Podgorica.
"The European Union continues to support Montenegrin authorities on increasing the use of mediation practices. Since the start of the implementation of the Law on Alternative Dispute Resolution in August 2020, we have seen an increase of mediation proposals preceding litigation and settlement agreements. We hope that this new initiative will additionally boost mediation in Montenegro. We also hope that the recent amendments to the Law on Alternative Dispute Resolution approved by the Government will concretely improve the efficiency of the courts' work, said Oana Cristina Popa, EU Ambassador to Montenegro.
Around 5 000 settlements reached through mediation since 2017
Over the past five years, 5 005 disputes have been resolved at the Centre through mediation.
"The number of disputes resolved through mediation is growing significantly every year. This confirms that our citizens and legal entities increasingly believe in mediation. Mediation also helps to unburden our judicial system and ensure significant savings for individuals and the state," Lutovac says.
More information about mediation and its benefits, as well as the campaign materials are available on the Centre's website www.centarzaars.me and on the EU-CoE project's website: https://pjp-eu.coe.int/en/web/horizontal-facility/home.