Engstrom: Digital technologies are imperative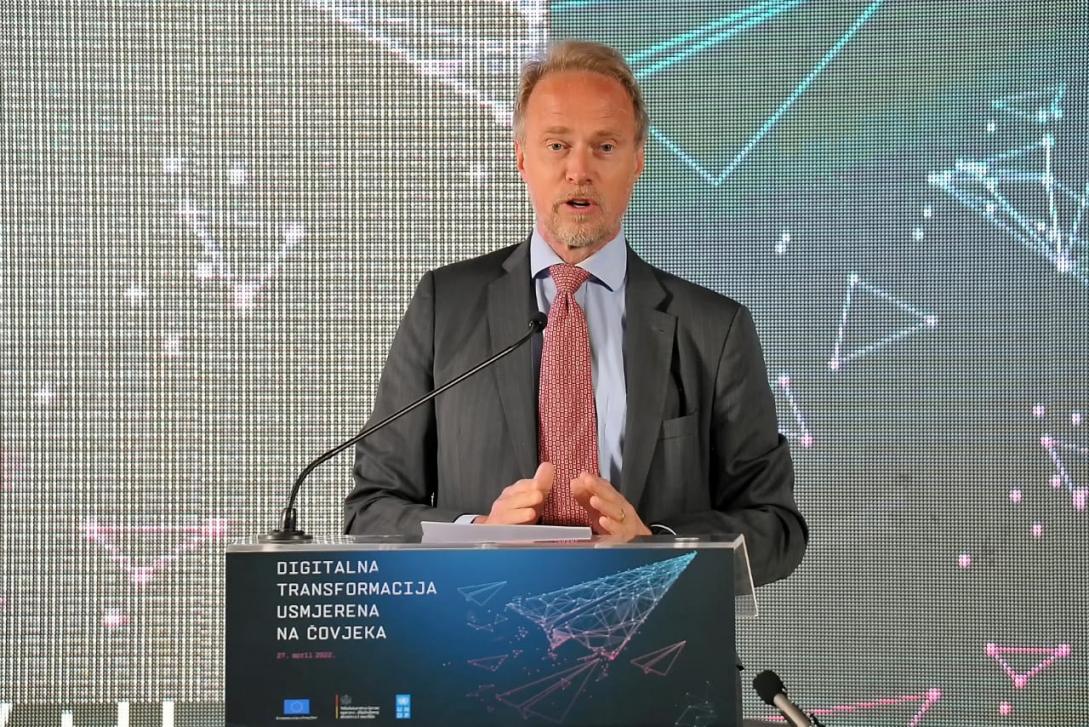 Digital transformation is an opportunity to reduce and simplify administrative procedures, while increasing the transparency, efficiency, and accountability of the public administration, said the head of Cooperation Sector in the Delegation of the European Union Yngve Engstrom at the presentation of research on the current situation, experiences, and future of digital transformations of Montenegro's public administration.
"In this respect, the COVID pandemic has just accelerated a process that was already in place, showing how far our society can go in changing work and thinking patterns. Digital technologies are now, more than ever, imperative for working, learning, entertaining, socialising, shopping. and accessing everything from health services to culture," said Engstrom.
The European way to a digitalised the economy and society is about solidarity, prosperity, and sustainability, anchored in empowerment of its citizens and businesses, ensuring the security and resilience of its digital ecosystem. The European vision for the future is a digital society where no-one is left behind, explained Engstrom.
"The EU is continuously helping the Western Balkans to keep the pace of innovation and not fall behind in the new digital revolution. Investing in digital transition is one of the pillars of the EU's Economic Investment Plan (EIP) for the region, an unprecedented investment programme that aims to spur long-term economic recovery and foster regional economic integration," added Engstrom.
A survey conducted by the UNDP showed that citizens are ready to use digital tools and services, while a large number of companies are already feeling the benefits of existing online content. It is also stated that digital literacy is growing, and two thirds of citizens confirm that they have skills in using the Internet.
As a stimulus to the digitalisation process, the Ministry of Public Administration, Digital Society and Media, with the support of the EU Delegation to Montenegro and the UNDP Office, provided ten thousand readers for electronic ID cards. Minister Tamara Srzentic said that they are working together and are committed to changing the culture in the public administration in order to build a new modern public administration for all, on the principles of openness, inclusion, application of human centric design, and best agile practices.
"In this demanding process, which paved the way for digitalisation and digital transformation, we had the selfless help of our partners from the UNDP and the Delegation of the European Union to Montenegro, for which we are especially grateful," said Srzentic.
UNDP Resident Representative in Montenegro Daniela Gasparikova said the public administration must understand the needs of citizens and the economy. Gasparikova said that the public sector is expected to meet the expectations of citizens and offer services that are efficient to use, cost-effective to provide, and as inclusive as possible so that no user is excluded.
The E-Services and Digital Infrastructure project in response to COVID-19 is funded by the EU and implemented by the UNDP in cooperation with the Ministry of Public Administration, Digital Society, and Media.