OFFICIAL LAUNCH OF THE STAND TOGETHER MOBILE EXHIBITION AND CATALOGUE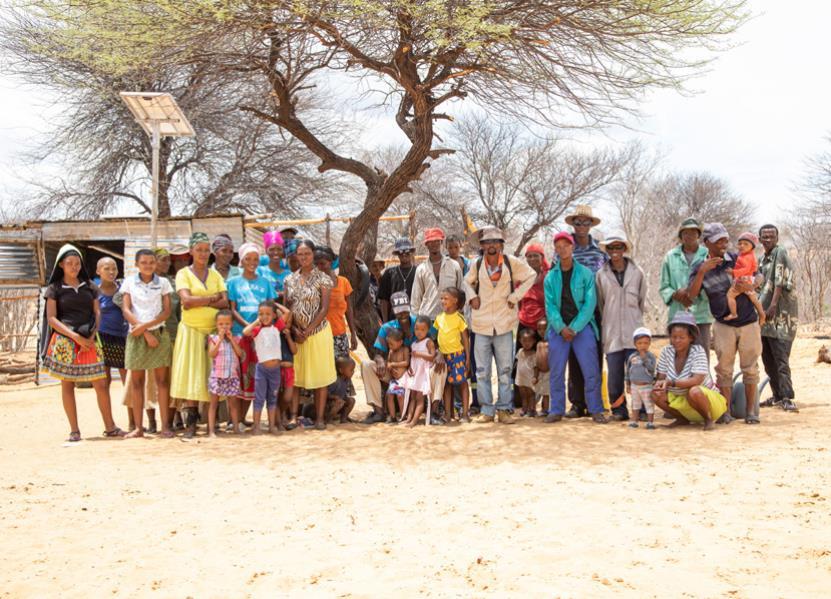 The Namibian San Council decided that the title of the exhibition should be in several of the different languages of Namibia's San communities. The multilingual title reflects the diversity within Namibia's San communities and the importance the Council places on the preservation of the different San languages as being central to the protection of their cultural rights. The exhibition and catalogue is in both English and Ju'/hoansi (the San language that, the Council feels, has been most developed, to date, into a written form). The project is a direct response to concerns that there is a lack of pride amongst San youth. Young people are reluctant to speak their mother tongue when other people are around and are, often, unable to write in their own language. The NSC also receive complaints that Namibians still use insulting names for San people.
The exhibition is in the form of six double-sided, 2.25m², pop-up banner walls. It can easily travel and is available for display in museums, schools, libraries and public spaces. Ms Kileni Fernando, the NSC Secretary, says "The most important thing for us is that the exhibition and catalogue will encourage young people to discuss our culture and history with their elders". The exhibition focuses on the largest collection in the world of historical artifacts from Namibia's San communities, collected by Dr Fourie in the 1920s. The collection is currently held in Museum Africa, in Johannesburg, South Africa. A team from the Namibian San Council and MAN visited the collection to identify some of the objects of greatest interest. The exhibition and catalogue are intended to encourage discussion within Namibia's Sancommunities about their history and culture and to increase awareness and respect for the different San communities within Namibia.
A number of "hidden histories" that provide a San perspective on events, are included in the publication. Fernando says: "San people are often packaged for tourists as a people without history. We wanted to give just a few examples of the many ways in which we have been involved and we hope that this will even change the way people think about Namibian history". The histories show the historical connections between different communities. The Museums Association of Namibia intends to offer complimentary copies of the exhibition catalogue to the Directorate of Libraries and Archives in the Ministry of Education, Arts and Culture so that they can be distributed to every secondary school and community library within Namibia.
For further information about the launch or to book the exhibition please contact: Ms Ndapewoshali Ndahafa Ashipala (Museums Association of Namibia) on +264 61-302230 or museums@iway.na
PRACTICAL INFORMATION
OVERVIEW
-
Reinhold Shilongo Street, Tsumeb
How to join?
Ms Ndapewoshali Ndahafa Ashipala (Museums Association of Namibia) on +264 61-302230 or museums@iway.na