Promoting Citizen Empowerment and Inclusive Democracy in Province 2- Nagarik Sakriyata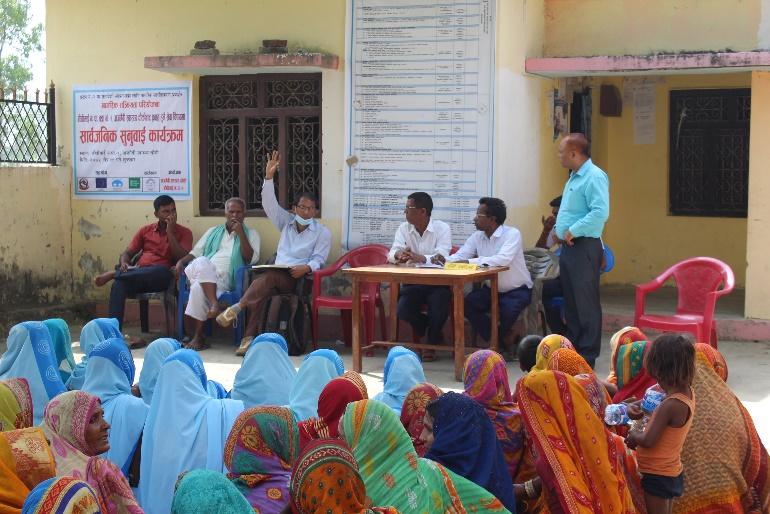 In Kalyanpur Municipality, Siraha, the local community health post was simply not doing its job. They would close at 2 PM, say they did not have any medicine, and turn back patients, telling them to go to expensive private hospitals instead. With the help of her community, one woman decided to take a stand.
Rubeda Khatun, a 35-year-old mother in Kalyanpur had to spend over 10,000 rupees in healthcare costs and travel because the local health post was not providing good service.  Each trip to the private hospital would cost her and her family 3,000- 5,000 rupees. Rubeda joined her local Community Dialogue Centre, which teaches community members advocacy, communication and social accountability skills to help increase dialogue between local governments and their community.
The Community Dialogue Centre is an initiative of the Promoting Citizen Empowerment and Inclusive Democracy in Province 2 project, funded by the European Union, and led by Aasaman Nepal, the Dalit  Sarokar Manch, Mukti Nepal, Environment and Child Development Council (ECDC) with technical support from Welthungerhilfe (WHH)
One of the tools that she learned from the Centre is a community score card that assesses the services of local government. Rubeda called on the community to fill out the community score card on the health post and invited health post officials to the dialogue centre so that she and her fellow community members could share their grievances, needs and suggestions to the health post. Together, the health post and the community created an action plan on how to improve their services.
Now, Rubeda is receiving her check-ups and medicines free of cost at the same healthcare post. The local government service provider listened, worked with, and catered to community needs – an example of good governance in action.
Promoting Citizen Empowerment and Inclusive Democracy in Province 2 is a project that works to increase the local community's access to government services in social, health and registration services, while also building the capabilities of community members to become decision makers. Citizens like Rubeda across Madhesh Province are learning about the government services they are entitled to and demanding that their local government's make these services available. With a focus on marginalized groups, the project works primarily with Dalit and Muslim members of communities so that they can finally receive the government services that they have historically been denied.
The project also engages with local governments, providing trainings on participatory and inclusive processes as well as good governance best practices. Listening to and addressing the citizens' needs is the best way to ensure good governance. That is why they have organized various public hearings, social audits, and community platforms with local organisations, youth and community groups. Local governments have also helped inclusion initiatives such as supporting access to citizenship documents by organising transportation to government offices and aiding the registration process for marginalized groups such as the Dom community in the Terai region.
Federalism is a relatively new concept in Nepal and its potential to answer communities' needs should be promoted further. The importance of governance strengthening programs like Promoting Citizenship Empowerment and Inclusive Democracy in Province 2 can be seen through the examples of communities utilizing the social services that they previously did not have access to through government cooperation. The project has reached 7,980 individuals in 2021, the majority of which are from marginalized backgrounds. The program will be sustained through the continued use of community dialogue groups, open forums and cross-collaboration on local action plans between government and community members. These measures ensure that governments and their services effectively do the work that their citizens need.
PRACTICAL INFORMATION
OVERVIEW
Saptari, Siraha, Rautahat
Contact Details
Nawal Kishor Yadav
Executive Director
Dalit Sarokar Manch (DSM) in Saptari, Mukti Nepal (MN) in Siraha, Environment and Child Development Council (ECDC) in Rautahat and technical support from Welthungerhilfe (WHH)