Horizon Europe launch in New Zealand and Australia draws large audience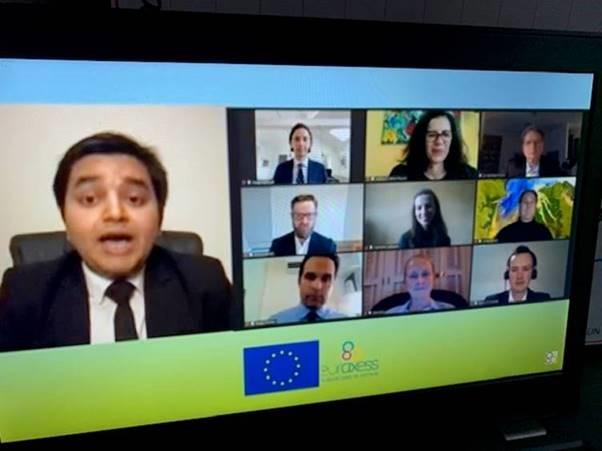 There has been strong global interest in the New Zealand and Australian launch of the European Union's NZ$160.5 billion Horizon Europe programme.
More than 1500 people from 43 countries registered for the webinar organised by EURAXESS Australia & New Zealand in conjunction with the EU Delegations in New Zealand and Australia. To watch the event click here.
The event was held on 24 August 2021 with the Director for International Cooperation in Research and Innovation at the European Commission, Maria Cristina Russo, delivering the keynote address.
"We are speaking here of the biggest research and innovation multilateral programme in the world," she told the large online gathering.
She explained Horizon Europe was designed to find scientific solutions to the EU's priority areas such as the EU Green Deal and the pandemic response.
She said the two countries had an "impressive" track record in participating in EU scientific and innovative initiatives with more than 350 Australians, and more than 70 New Zealanders, participating in the recently completed Horizon2020 programme. These projects covered a wide range of topics including developing marine ecosystem networks and the impact of energy economics on climate change.
The Director explained New Zealand has the opportunity, for the first time, to associate with Horizon Europe and be treated equally with Member State entities when applying for funds.
H.E. Nina Obermaier, EU Ambassador, underlined the keen interest from New Zealand universities to access Horizon Europe. She said there was interest in many of the thematic areas covered by Horizon Europe, especially, Climate, Energy & Mobility; Digital Industry and Space; as well as Food, Bioeconomy, Natural Resources, Agriculture and the Environment.
She encouraged researchers across New Zealand and Australia to look out for the upcoming calls and take advantage of the opportunity to take part in Horizon projects, together with their European partners.
Kevin O'Connell, Deputy Head of Mission in Wellington, also participated and singled out climate change and the green transition as a key opportunity for international research collaboration. The green transition is a priority for research both in Europe and New Zealand. Horizon Europe takes a strategic long-term approach will allocate at least 35% of its funds to climate objectives.
Covid-19 reinforces the importance of scientific cooperation between like-minded countries as we pool knowledge about the virus and its trajectory. Additionally Europe has exported as many vaccines as it has delivered to its own citizens. The EU is the largest only exporter of vaccines to New Zealand.
Taking full advantage of Horizon Europe is an obvious addition to bilateral cooperation alongside the negotiations for the EU-New Zealand Free Trade Negotiations currently underway and the EU's soon-to-be released Indo-Pacific Strategy.
If you missed it in real time, the Launch can be viewed here. EURAXESS Australia and New Zealand is now planning an information day on 27 September for interested parties to learn more about Horizon Europe's specific opportunities.