EU and ASEAN launch "Southeast Asia Health Pandemic Response and Preparedness" project
The EU High Representative for Foreign Affairs and Security Policy/ Vice President of the European Commission Josep Borrell and the ASEAN Secretary General Dato Lim Jock Hoi officially launched today (2/6) an EU-funded project called "Southeast Asia Health Pandemic Response and Preparedness". With €20 million, the project will be implemented by WHO to enhance regional coordination of the COVID-19 response and strengthen the capacity of health systems in South-East Asia, while paying special attention to vulnerable populations.
Team Europe - comprising the EU, its Member States and financial institutions - has provided over €800 million to assist ASEAN in its response to the coronavirus. The support is given to health facilities and health workers, provisions of personal protective equipment and sanitizers, as well as technical assistance and institutional support.
Team Europe also contributes to the financing of the COVID-19 Vaccines Global Access (COVAX) facility, a global initiative to ensure equitable access to COVID-19 vaccines to everyone including citizens of ASEAN. The initial contribution was doubled on 19 February 2021, making Team Europe one of the lead donors to COVAX providing over €2.47 billion in funding.
Detailed Team Europe support regionally and in each ASEAN Member States:
ASEAN REGION
The first virtual EU-ASEAN Foreign Ministers Meeting on 20 March 2020 discussed cooperation on mitigating the social and economic impact in both regions, keeping supply chains open and advancing scientific research
Support to the WHO for Southeast Asia (€20 million) to strengthen the health system capacity and to respond to the coronavirus and future diseases
EU- ASEAN Expert Dialogue on COVID-19 vaccines
€2.2 billion contribution from Team Europe for the COVAX Facility to help secure 1.3 billion doses for vaccination for 92 low and middle-income countries, including ASEAN Member States
The BIOSEC project (€300.000 million) under the CBRN Risk Mitigation Centre of Excellence Initiative is working to improve biosecurity management systems, including for pandemics
Germany contributed €5 million to the ASEAN COVID Response Fund
CAMBODIA*
Hospitals, water, sanitation, hygiene, and nutrition
Sustaining livelihoods and economic activities in rural areas
Supporting social protection, education, and vulnerable groups
Budget support for economic recovery
MYANMAR
Protecting livelihoods and resilience of vulnerable communities
Supporting research and testing capacities
Strengthening health system preparedness
INDONESIA
Supporting teaching hospitals and health sector investments
Working with civil society
Contributing to the UN Multi Sector Response Plan
THE PHILIPPINES
Supporting the justice sector and the Department of Health
Humanitarian Assistance
Water, sanitation and hygiene
LAOS*
Supporting digital learning
Budget support for economic recovery
Working with civil society and sustaining economic livelihoods
Supporting health care facilities and testing capacity
THAILAND
Working with civil society
Protecting fundamental rights
Supporting border provinces and refugee camps
MALAYSIA
Supporting civil society and vulnerable communities, in particular women and children migrants
Fostering recovery of SMEs
VIETNAM
Budget support for economic recovery
Working with civil society
Expanding social protection and safe water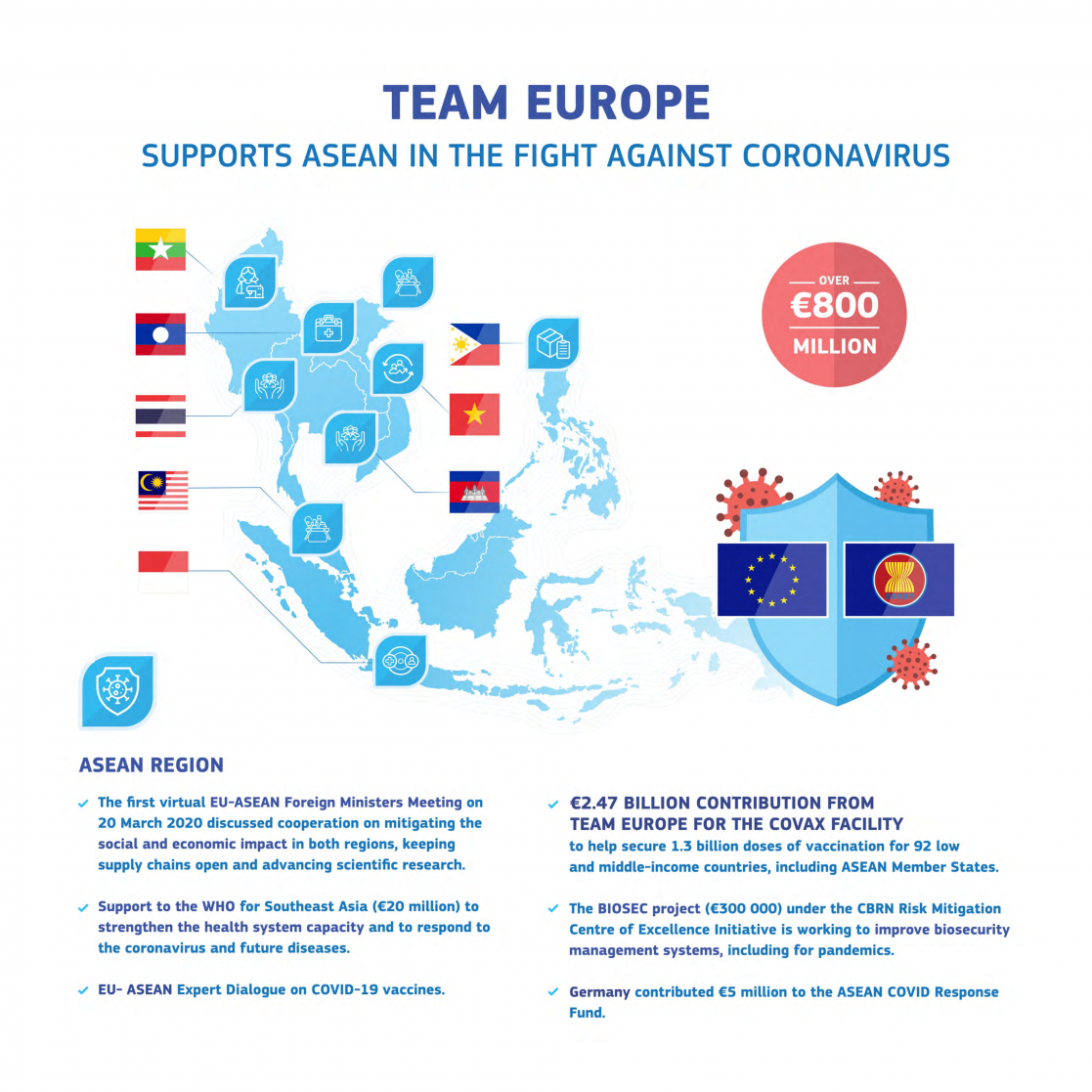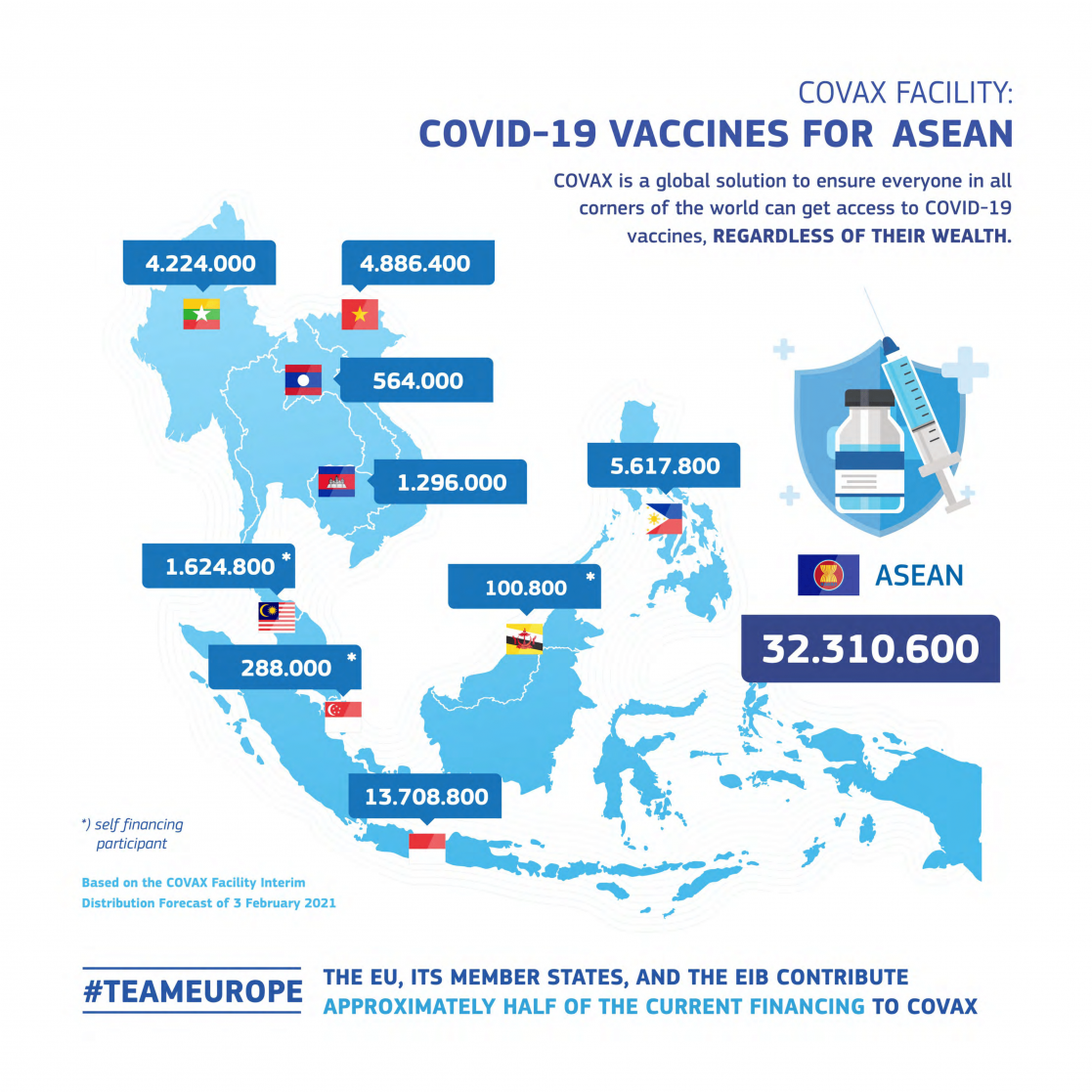 ---
Related