"Cultural bridge to remember" - video concert on the occasion of 75 years since the end of World War II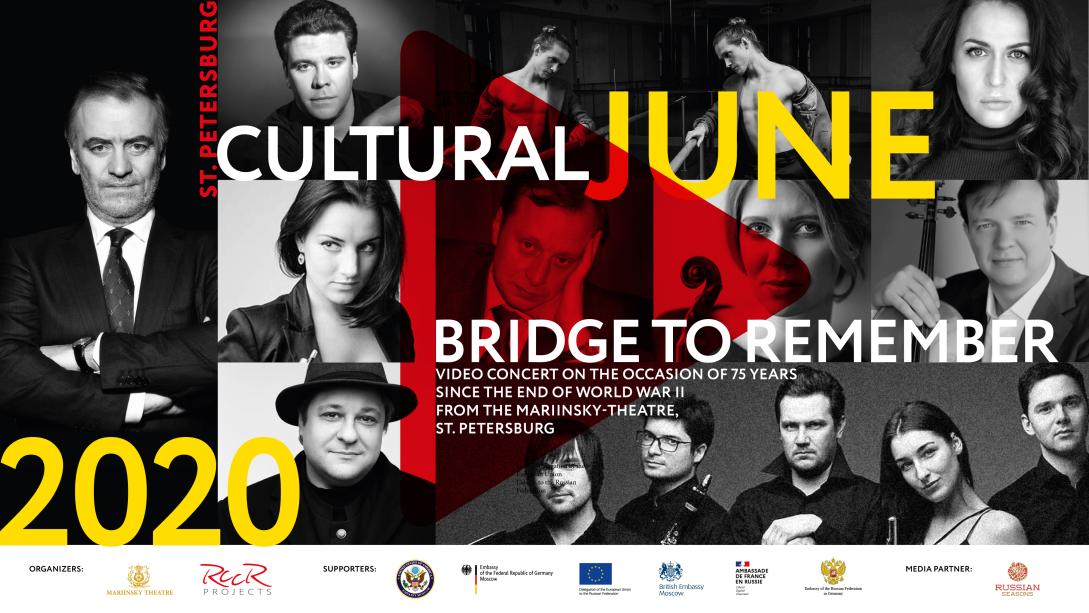 In 2020, the world is celebrating the 75th anniversary of the end of World War II. Due to the ongoing coronavirus crisis, many planned events had to be cancelled or postponed. To pay tribute to the millions of deaths and the allied countries, who freed the world from the Nazi-Regime, both young and well-known musicians of the Mariinsky Theatre (St. Petersburg) will produce an online-video concert featuring music in small chamber ensemble and chamber orchestra groups.
Musical Program
The presented musical program features composers from the allied countries - France, Russia, the United Kingdom, and the USA, and from Germany. The chosen works were mainly composed or influenced by the terrible events of the Second World War, most of them were even made in that exact years between 1939 and 1945, and show the spirit of the time in different parts of the world in the musical and cultural field.
1. Benjamin Britten: String quartet No. 2 - 1. Movement (1945)
O. Volkova, E. Gribanova, Y. Afonkin, O. Sendetskiy
2. Francis Poulenc: Sextet for Piano and wind quintet - 1. Movement (1939)
P. Laul, A. Marinesku, N. Vaganov, A. Fedorov, R. Tolmachev, A. Afanasiev
3. Sergei Prokofiev: Piano sonata No. 7 (1942-43)
Denis Matsuev
4. Aaron Copland: excerpts from 12 poems of Emily Dickinson for voice and piano (1945-1950)
Elena Stikhina, Olga Klevzova
5. Johann Sebastian Bach: Cello Suite No. 5 – 1. Movement
Jens-Peter Maintz
6. Claude Debussy: Prélude à l'après-midi d'un faune
Mariinsky Orchestra
Conductor – Valery Gergiev
Duration: 60 minutes
Participating Musicians
The music will be played by young and well-known musicians of the Mariinsky Theatre, including musicians and soloists from the Mariinsky Orchestra up to the age of 35, as well as by the world famous pianist Denis Matsuev. It will also include ballet performances from the choreograph Vladimir Varnava.
Artistic director of the project is Valery Gergiev.
Partners
The concert is a cooperation project between the Mariinsky Theatre (St. Petersburg) and the international cultural company RCCR Projects, supported by the Delegation of the European Union to the Russian Federation and embassies of Germany, France, the United Kingdom and the USA in Russia, and the embassy of Russia in Germany.
Release date: 25 June 2020
Worldwide classic stream
Online-stream
PRACTICAL INFORMATION
OVERVIEW
-