EU - the Region of Honour at one of the biggest agri-food fairs in the world Food & Hotel Asia Singapore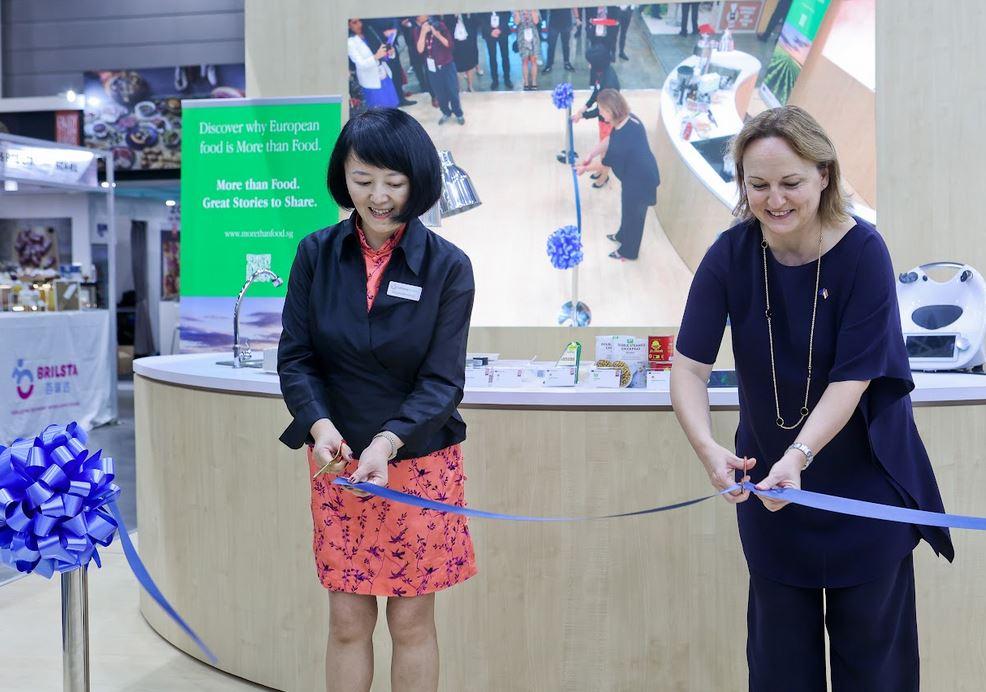 Image
FHA is among the leading international food and beverage (F&B) fairs in the world that brings together the largest gathering of F&B manufacturers and emerging brands on a single platform. EU exports of agricultural products to Singapore are worth 2 billion Euros and are on the rise.
EU Ambassador to Singapore Iwona Piórko delivered a welcome address and opened the EU Pavilion on Monday, 5th September. She stressed that EU export of food is particularly important now when the world is faced with food security challenges caused by Russian's invasion of Ukraine.
The guests she welcomed at the EU Pavilion included Singapore's Minister of State for Trade & Industry Alvin Tan and Ireland's Minister for Agriculture, Food and the Marine Charlie McConalogue. 
Food and drink products by all 27 MS are on display at the EU pavilion. In addition, there are 14 Member States pavilions.
The presence of the EU forms part of the ongoing promotion initiatives under the umbrella of the campaigns: More than Food and Enjoy, it's from Europe, which offers an immersive experience of a wide variety of EU agricultural F&B products through informal sessions, cooking shows, product tasting, and food and beverage pairings.
This event is an ideal platform to facilitate exchanges and partnerships between European and Singaporean businesses in the agri-food sector as well as to inform Singaporean businesses about new opportunities created by the EU-Singapore Free Trade Agreement. 
Says Iwona Piórko, European Union Ambassador to Singapore: "EU exports of agricultural products to Singapore are worth 2  billion Euros and are on the rise. It is truly a great privilege for Europe to be the Region of Honour at the 2022 edition of FHA. European Union agricultural food and beverages stand for authenticity, high quality, safety and sustainability. European Union agri-food products are as diverse as the EU itself: coming from mountains, valleys, forests or areas near the sea, every region represents authentic flavours and cuisines. FHA FnB 2022 offers us a fitting platform to discover this rich diversity of European Food in Singapore."
Overview of More than Food Campaign activities in Singapore:
B2C action for promotion of EU agri-food products at FairPrice & Cold Storage (13-29 August 2021)

B2C action for promotion of EU agri-food products at FairPrice (25 February-5 March 2022)

EU Meat Round Table: Stories of Sustainability behind the Sizzle at Speciality & Fine Food Asia (22 June 2022)

B2C action for promotion of EU agri-food products at FairPrice Xtra (7-20 July 2022)