Inaugural SEA AiR Art Exhibition in Singapore
Opinion Editorial in The Business Times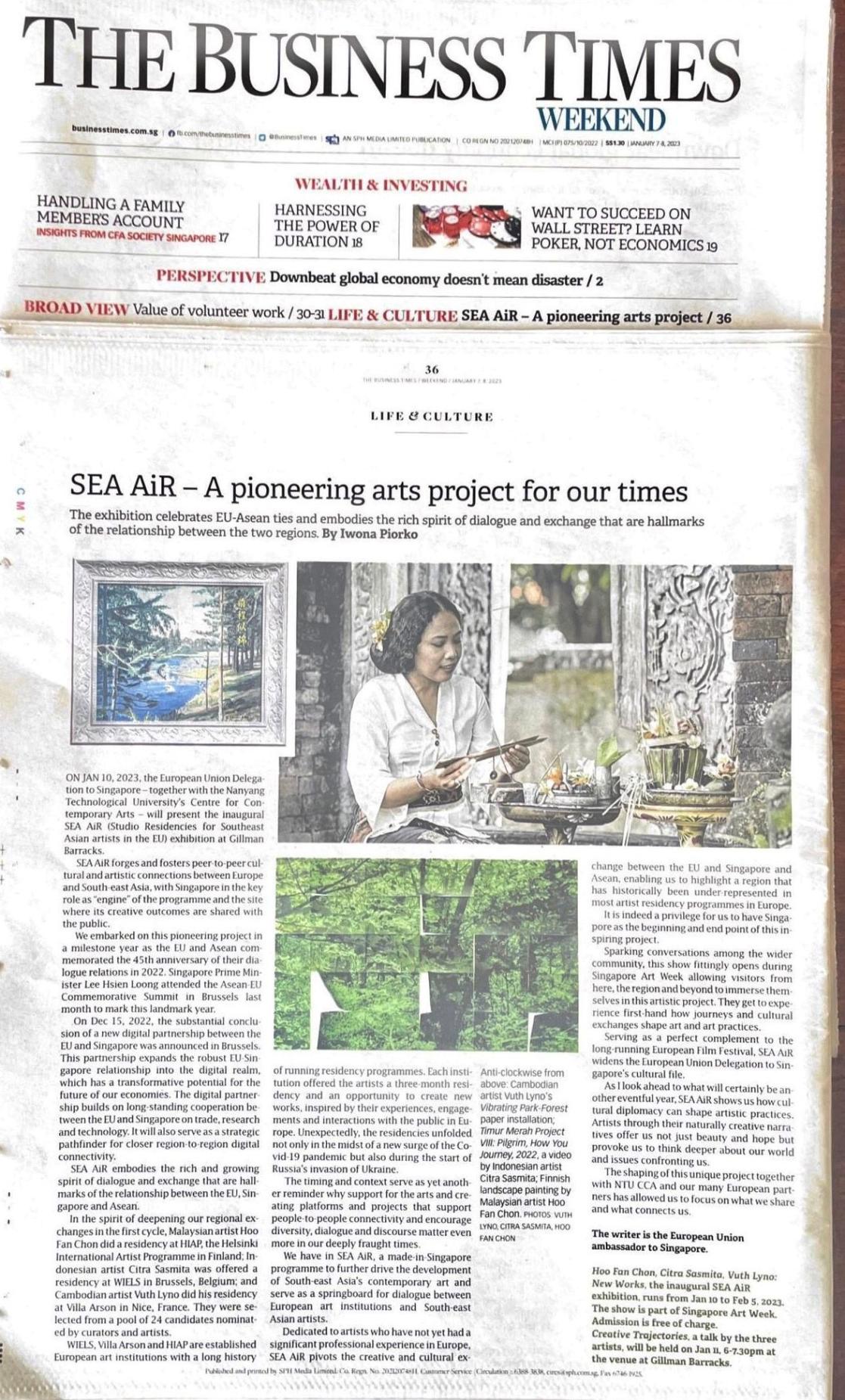 As participating artists in the inaugural cycle of SEA AiR, Hoo Fan Chon (Malaysia), Citra Sasmita (Indonesia), and Vuth Lyno (Cambodia) were each awarded a three-month-long residency at an art institution in Europe as well as funding for the creation of artworks.
In the first half of 2022, amidst Russia's invasion of Ukraine and the ongoing pandemic, the artists took off from their home countries to conduct residencies: Hoo Fan Chon at HIAP – Helsinki International Artist Programme (Finland); Citra Sasmita at WIELS (Brussels, Belgium); and Vuth Lyno at Villa Arson (Nice, France).
This pioneering project celebrates 45 years of EU-ASEAN ties.
Join us for the Official Opening in the presence of H.E. Iwona Piórko, EU Ambassador to Singapore and the artists10th January 2023, 4–5pm
On opening day exhibition is open till 7pm
Artist Talk: Creative Trajectories
by Hoo Fan Chon, Citra Sasmita, and Vuth Lyno11th January 2023, 6–7.30pm
View the Exhibition 11th January–5th February 2023
Tue to Sun: Noon–7pm
13 January: Noon–9pm
Open on public holidays (except Mondays)
Location
NTU CCA Singapore Residencies Studios
Blocks 38 Malan Road
Singapore 109441
SEA AiR is a joint programme funded by the EU and developed by the NTU Centre for Contemporary Art Singapore (NTU CCA Singapore).
The exhibition is curated by Dr Anna Lovecchio, Assistant Director (Programmes), and NTU CCA Singapore. The project leader of SEA AiR is Ute Meta Bauer Founding Director, NTU CCA Singapore, and Professor, School of Art, Design and Media, Nanyang Technological University.
Media Release
EU Ambassador to Singapore Iwona Piórko's opening address: