15 Timorese civil servants participate in a specialization course at the University of Coimbra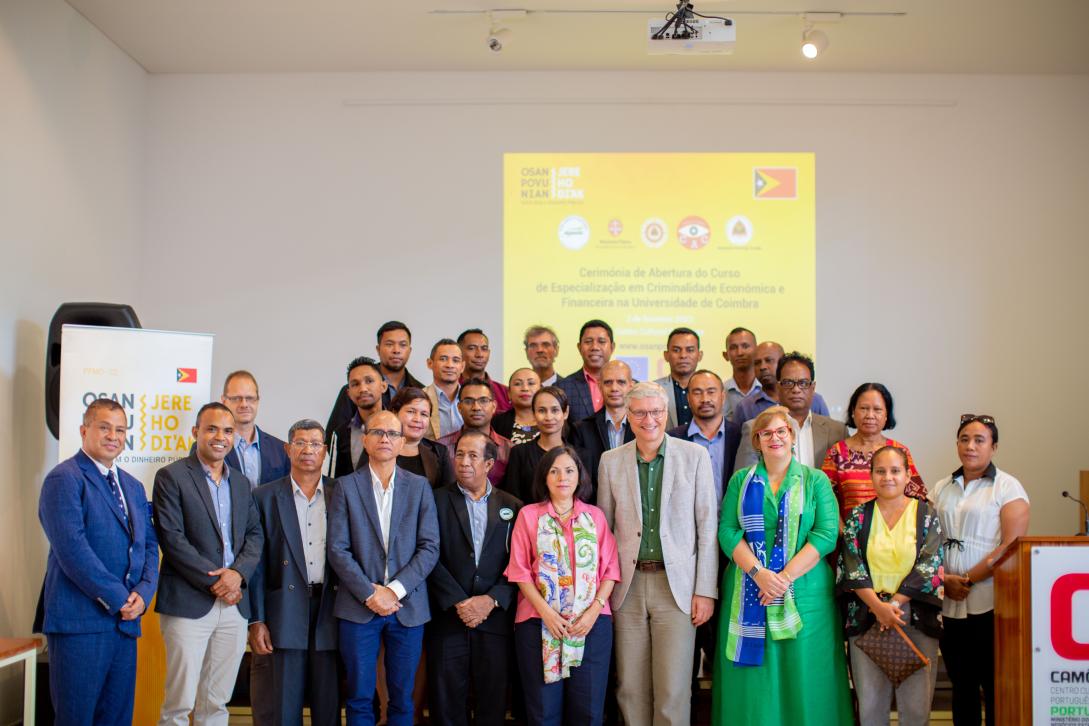 This event was attended by the Ambassador of the European Union in East Timor, Marc Fiedrich, the Ambassador of Portugal, Manuela Bairos, and the representatives, at the highest level, of the East Timor State bodies that send trainees. The Vice-Rector of the University of Coimbra, Professor Dr. João Nuno Calvão da Silva made a previously recorded speech.
The CECEF is a course which takes into account the Timorese legislation and the training needs of Magistrates and Senior Officials of the organs of the State of Timor-Leste, namely the National Parliament, the Public Prosecutor's Office, the Scientific and Criminal Investigation Police (PCIC), the Anti-Corruption Commission (CAC) and the General Inspectorate of the State (IGE). The course will count with 15 Timorese participants and was developed with the scientific coordination of Professors Anabela Miranda Rodrigues and Maria João Antunes from the Faculty of Law of Coimbra University.
The course program will be taught by teachers, from the Faculty of Law of the University of Coimbra, and Magistrates. It will be divided into 20 (twenty) modules, a total of 60 hours of training lasting three weeks. Its main objective is to enhance the personal and professional development of Timorese Magistrates and Senior Management of the Public Administration with legal training in the areas of economic-financial crime, criminal investigation, corruption and cybercrime, international judicial cooperation, among others.
This high level training   will allow the trainees to strengthen their theoretical skills in the subjects, as well as to get to know the operation of similar institutions in Portugal.
The project OSAN POVU NIAN, JERE HO DI'AK, "Partnership for the Improvement of Service Delivery through Strengthening the Management and Supervision of Public Finances in East Timor" (PFMO-Component 2), is co-financed by the European Union, in the amount of 12 million euros, and co-financed and managed by the Instituto Camões I.P, in the amount of 600 thousand euros.
For more information please contact: 
Akito Ximenes - Press and Information Officer+670- 78101309 / Akito-Francisco.DE-JESUS-XIMENES@eeas.europa.eu
Delegation of the European Union to Timor-Leste