The European Union supports freedom of information in Timor-Leste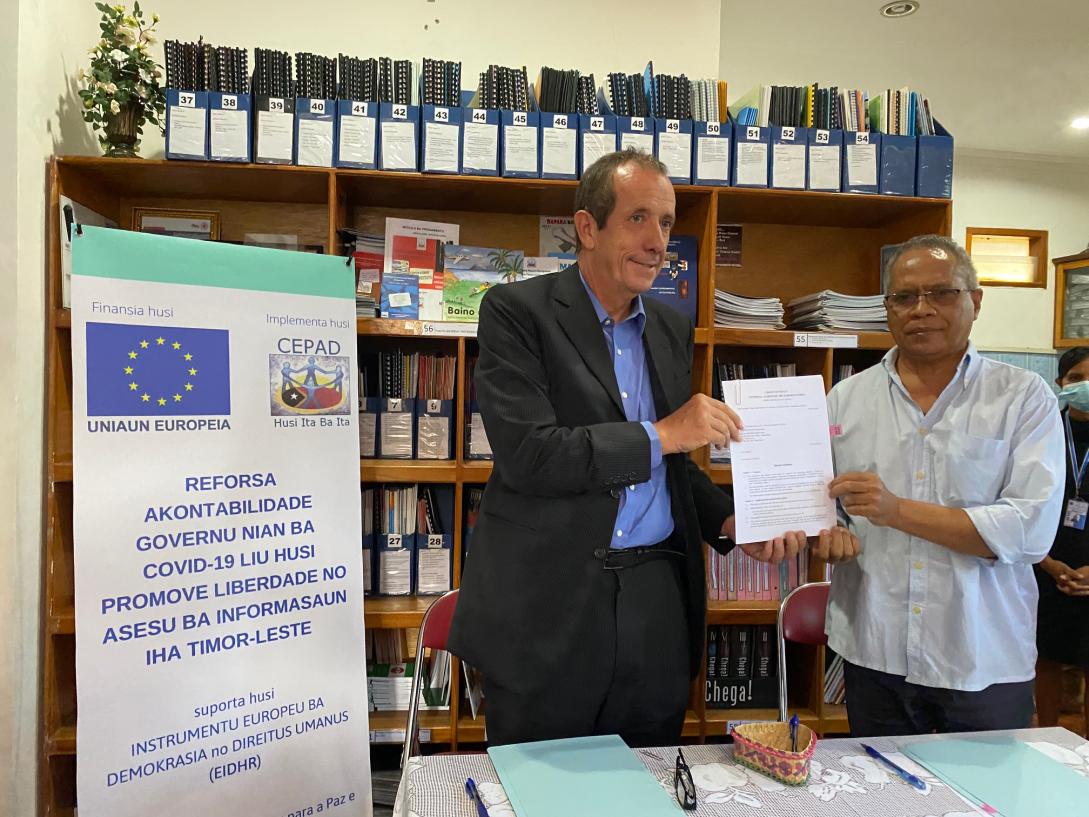 The European Union Ambassador to Timor-Leste Mr Andrew Jacobs and the Executive Director of CEPAD Mr João Boavida, signed the Agreement of the initiative "Ensuring Government accountability of Covid-19 and improved Freedom and Access to Information in Timor-Leste".
The new initiative is funded with USD 700.000 (approx. 590.000 euro) by the European Instrument for Democracy and Human Rights (EIDHR), a thematic funding instrument for EU external action aiming to support projects in the area of human rights, fundamental freedoms and democracy in non-EU countries. It is designed to support civil society to become an effective agent for change for the promotion of human rights.
The new initiative in Timor-Leste is addressed specifically to groups that experience difficulties in accessing information. The project will empower citizens to access information through educational activities, to increase awareness about their rights and to foster participation in the democratic debate on Timor-Leste.
CEPAD will team up with the Judicial System Monitoring Programme (JSMP) to also promote a better understanding of the justice system amongst women and marginalised communities, particularly in Baucau, Oecusse ans Suai. In partnership with ARCOIRIS, CEPAD will furthermore provide empowerment training to LGBTIQ+ people. Food and hygiene kits will be distributed to LGBTIQ+ families to reduce the economic impact of Covid-19.
Another key component includes trainings to selected public servants at Municipal level to improve their knowledge of existing obligations and procedures to interact and respond to citizens' requests for information.
Finally, CEPAD will organise a broad public awareness campaign through national television on citizens' rights with regard to access to information as well as to draw attention to key human rights issues during Covid-19.
"Crisis situations as the one we are living with the Covid-19 pandemic, pose particular challenges to the effective exercise and protection of human rights and put the functioning of our democracies to a test. We need courage to tackle the current challenges together. The European Union is proud to support this ambitious initiative which will improve freedom of information in Timor-Leste. We think that enhancing the citizens' ability to access information is key to uphold human rights and consolidate democracy", said Mr Andrew Jacobs, Ambassador of the European Union to Timor-Leste.