Ministry of Health, European Union and UNICEF visit Cairui to assess community-led total sanitation initiative and promotion of healthy nutrition practices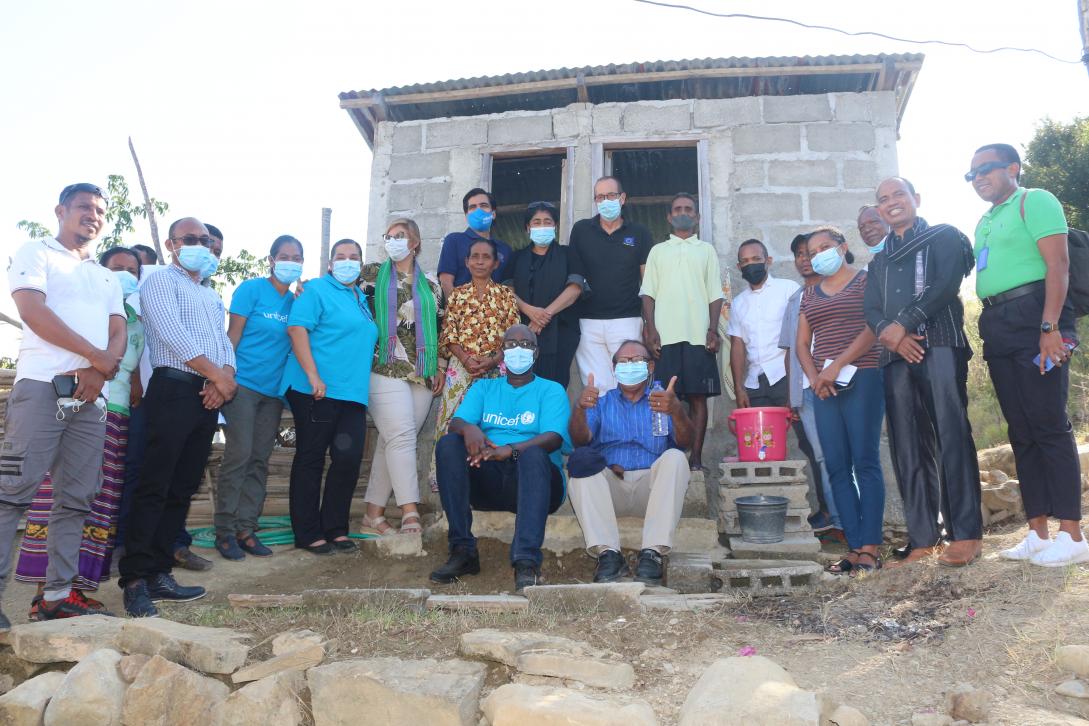 DILI, 12 May 2021 – H.E. Odete Maria Frietas Belo, Timor-Leste's Minister of Health, H.E. Andrew Jacobs, European Union (EU) Ambassador, Christina Faustino, Cooperation Attaché at the Embassy of Portugal and Bilal Durrani, United Nations Children's Fund (UNICEF) Country Representative visited the Cairui Suku in Manatuto municipality to assess progress made with the EU supported community-led total sanitation(CLTS) project. 
Lack of access to sanitation has real human costs leading to diseases, malnutrition and premature deaths. Recent studies and analysis show a strong link between open defecation and childhood stunting, which has an impact on cognitive development and future economic productivity. In Timor-Leste, respiratory and diarrheal diseases remain the top two causes of infant and child mortality, both of which are strongly linked to inadequate sanitation and hygiene practices. Stunting puts half of the population of the country at the risk of not having their brains developed to full potential. The first 1000 days of a child's life are the most critical time to reverse the 47% stunting rates amongst Timorese children.
The delegation met with the Municipality Administrator, Snr. Bernardo Lopes B.E.D, ADM Administrator of Administrative Post, Sr. Cosme Ximenes, Xefe Suku, Sr. Roberto Ximenes and community members.
Cairui Suku was declared Open Defecation Free (ODF) in December 2021 and is one of the most successful community-led total sanitation (CLTS) initiatives under the MOH-UNICEF-EU initiative. The joint initiative was launched in 2020 in Baucau, Dili and Manatuto municipalities. Since its launch in Manatuto, 23 of  31 (amounting to 74%) Sukus in the municipality have been declared ODF, benefitting 39,067 people, including over 4380 children under-five. 
The MOH-UNICEF-EU CLTS initiative  supports Timor-Leste's progress toward becoming fully ODF by end 2024.
"Communities are understanding the need for improved sanitation, and taking action to change behaviour, construct toilets, and improve sanitation through this joint initiative," says Dra.Odete Maria Frietas Belo, Minister of Health. "We see examples of these in places like Cairui, and I encourage communities across Timor-Leste to adopt total sanitation actions and prevent disease and malnutrition of children and families."
The Joint Monitoring Programme (JMP) in 2021 showed that 18% of the total population in Timor-Leste still practice open defecation, while it is even higher (37%) in rural areas. It further reveals that 57% of the total population are deprived of access to basic sanitation.
"The lack of access to sanitation and hygiene has real human costs leading to diseases, malnutrition and premature deaths. The implementation of the Open Defecation free initiative is crucial to address those issues.  It will make a huge difference, improving lives and children's prospects as they grow up. This is why what we all are doing today is very important not only for the country but also for the European Union.", said Andrew Jacobs, the European Union Ambassador to Timor-Leste.  
In addition to CLTS, UNICEF works with a network of Mother Support Groups (MSG) in eight municipalities to promote hygiene, exclusive breastfeeding for every child for six months, complementary feeding, and appropriate nutrition for children and mothers. 
During the visit, the Minister of Health, the European Union Ambassador, Cooperation Attaché at the Embassy of Portugal and UNICEF Country Representative were briefed on community triggering, progress made in total sanitation, including ensuring every household has a toilet in the Suku, other sanitation solutions as well as the promotion of exclusive breastfeefing and improved nutrition for children and mothers. They also took part in a cooking demonstration by the Suku's MSG, toured the community to assess progress and observed a demonstration of the community triggering process. 
"The impact of poor sanitation on children and families is devastating, leading to malnutrition, disease, absence from schools, poor learning, and even death. But this can be changed with key but simple steps – no open defecation, improved access to clean water and clean environments," said Bilal Durrani, UNICEF Country Representative in Timor-Leste. " Every community member has a role to play in taking the right steps to improving sanitation and nutrition. UNICEF is proud to support actions for community-led total sanitation."
UNICEF also recently supported a Country-Led Formative Evaluation of Community-Led Total Sanitation in Timor-Leste. It examined all CLTS related programming in Timor-Leste by the Ministry of Health, UNICEF and partners. The evaluation concluded that the implementation of CLTS-style programming in Timor-Leste, under the auspices of the MoH, has been a relevant and appropriate response to issues of open defecation and poor hand hygiene. The whole-of-sector approach to using the CLTS model and the introduction of institutional triggering has resulted in efficient, effective and sustainable change at the household level. It also noted that longer-term sustainability and progress from ODF to safely managed sanitation will require consistent public reinforcement of desired social norms. For more information on the evaluation, click on the following link: https://www.unicef.org/timorleste/reports/country-led-formative-evaluation-community-led-total-sanitation-timor-leste-2012-2020