EU Statement - UN Security Council: Maintenance of Peace and Security of Ukraine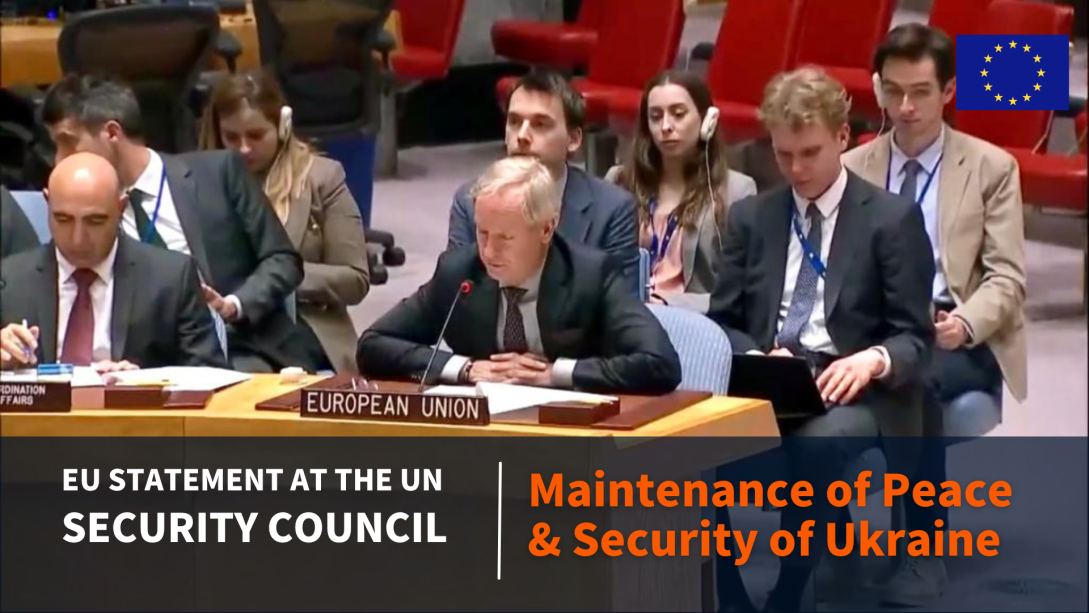 © European Union
 - as delivered -
President,
I have the honour to speak on behalf of the European Union and its Member States.
The candidate countries North Macedonia*, Montenegro*, Albania*, Ukraine, the Republic of Moldovaand Bosnia and Herzegovina*[1], the potential candidate country Georgia, as well as Andorra align themselves with this statement.
For over a year now, Russia has been struggling to find any justification what so ever for its war of aggression against Ukraine. We are well aware of the toll that Russia's escalating aggression has, with daily missile strikes that are costing innocent lives of the people of Ukraine. And while the world is suffering from soaring food prices, Russia's war continues to hamper efforts to export Ukrainian grains. This must end.
I will emphasise three points in my intervention, 1) the global consequences of Russia's full-scale invasion, 2) its systematic attacks against civilians and critical infrastructure and 3) the need for a comprehensive, just and lasting peace.
First, the war has disrupted agricultural production and trade and driven world food and fertiliser prices to unprecedented levels. We must all work together to address these serious consequences and we welcome the Secretary-General's engagement in this regard.
We ECHO the plea by 14 members of the Council that it is crucial that the Black Sea Grain Initiative is renewed to provide the continuity and predictability needed by operators and to avoid discontinuation in shipments of grain to developing countries. The Black Sea Grain Initiative has been instrumental in bringing down global food prices, and needs to run at its full potential.
In addition to the Black Sea Grain Initiative, the EU's Solidarity Lanes have allowed the export of more than 29 million tonnes of Ukraine's food and agricultural goods. World Food Programme chartered vessels have transported over 481.000 metric tonnes of wheat through various Black Sea ports, including to Ethiopia, Afghanistan, Yemen, Somalia and Kenya. Ukraine is also helping the ones in need, despite the effects of the war on its population. Through the "Grain from Ukraine" program 175.000 metric tonnes of grain have been donated to countries in need. Many EU Member States are proud to be part of this Ukrainian initiative.
To be clear, it is Russia's war that has vouched the market. Russia's fertiliser export are exempt from EU sanctions. Russia is spreading state-controlled disinformation. EU sanctions do not target Russia's fertiliser exports. UN data clearly demonstrate that total exports of Russian fertilisers to developing countries remained stable in volume in 2022 compared with previous years. Moreover, Russian revenues from fertiliser exports jumped by 70% in the first 10 months of last year compared to the same period in 2021, according to data from the UN Food and Agriculture Organisation. Russia conveniently omits to mention its own export taxes and quota on both cereals and fertilizers. These lead to artificial increases in global prices and the profits of Russian companies, at the expense of those most in need.
Mr. President,
At a time of unprecedented humanitarian needs, the EU not only supports Ukrainians, but remains collectively among the largest donors of humanitarian aid globally. We are grateful to all countries who are generously supporting those in need in Ukraine and elsewhere, and encourage all to step up their assistance in line with OCHA's appeal for aid for this year.
I want to make one thing clear. EU humanitarian funding allocated to Ukraine does not come at the expense of other humanitarian needs worldwide as described by Martin Griffiths and where EU funds remain consistently at the forefront.
Second, Mr. President,
Yesterday, the UN Independent Commission of Inquiry set up by the Human Rights Council concluded that Russia has committed numerous violations of international human rights law and international humanitarian law, in addition to a wide range of war crimes. The findings are shocking – including sexual violence, forced deportations, torture, and other forms of inhumane and degrading treatment as a tactic of war.
We continue to be appalled by Russia's continued, systematic and indiscriminate attacks on civilians and critical infrastructure, and condemn them in the strongest possible terms.
Russia's shelling is killing civilians and depriving them of electricity, heating and water during winter. The accumulated damage to the energy system and the consequent difficulties in accessing electricity and heating services are exacerbating the humanitarian situation.
Mr. President,
Too many of Ukraine's cities have been bombarded into ruins. And we just heard the Russia Federation representative say that Russia uses high-precision weaponry. It would seem like a confession that this destruction is both intentional and deliberate.
We welcome that following the General Assembly's adoption of the resolution on a registry of damage, all such acts committed by Russia in Ukraine will be thoroughly registered.
We are also extremely concerned by the Russian offensive against Bakhmut. We note that this military operation is led by the infamous Wagner group, known for its abuses and serious violations of human rights and humanitarian law.
We recall once again the importance of upholding human rights and international humanitarian law, and that all commanders, perpetrators and accomplices of war crimes and other most serious crimes committed in connection with Russia's war of aggression against Ukraine are held accountable. Russia must also enable safe, rapid and unimpeded humanitarian access into the temporarily occupied territories through the front lines.
On March 9, the Zaporizhzhia nuclear power plant was again cut off from Ukraine's power grid for several hours and cooling depended solely on diesel generators. This was the 6th time since the start of the war. The head of the International Atomic Energy Agency issued a warning about safety and security at the plant. This is extremely worrying for all of us. The EU fully supports the UN's work to assist Ukraine in ensuring nuclear safety and security, and to maintain the implementation of the safeguards pursuant to Ukraine's obligations.
Finally President, colleagues,
We reiterate our call for a comprehensive, just and lasting peace, in line with the resolution adopted by the General Assembly on the 23rd of February, with support of an overwhelming majority of UN Member States. We express our support for the peace formula of President Zelenskyy and we reaffirm our commitment to work actively with Ukraine on the 10-point peace plan.  It is clear that the large majority of the UN membership, including the members of this Council, is committed to peace in line with the UN Charter. But while the General Assembly once again called for a peaceful long-term solution based on the UN Charter and the respect for Ukraine's sovereignty and territorial integrity, Russia continues and is actually stepping up its offensive.
We reiterate our call on Russia to immediately cease all hostilities and unconditionally, completely and immediately withdraw all its forces and military equipment from the entire territory of Ukraine within its internationally recognised borders.
While Russia's war lasts, the European Union will remain steadfast in its support to the people of Ukraine, for as long as it takes.
Thank you, President.
---
* North Macedonia, Montenegro, Albania and Bosnia and Herzegovina continue to be part of the Stabilisation and Association Process.