EU Talks – LGBTIQ+ Rights in Focus Episode Premieres on 20 June 2022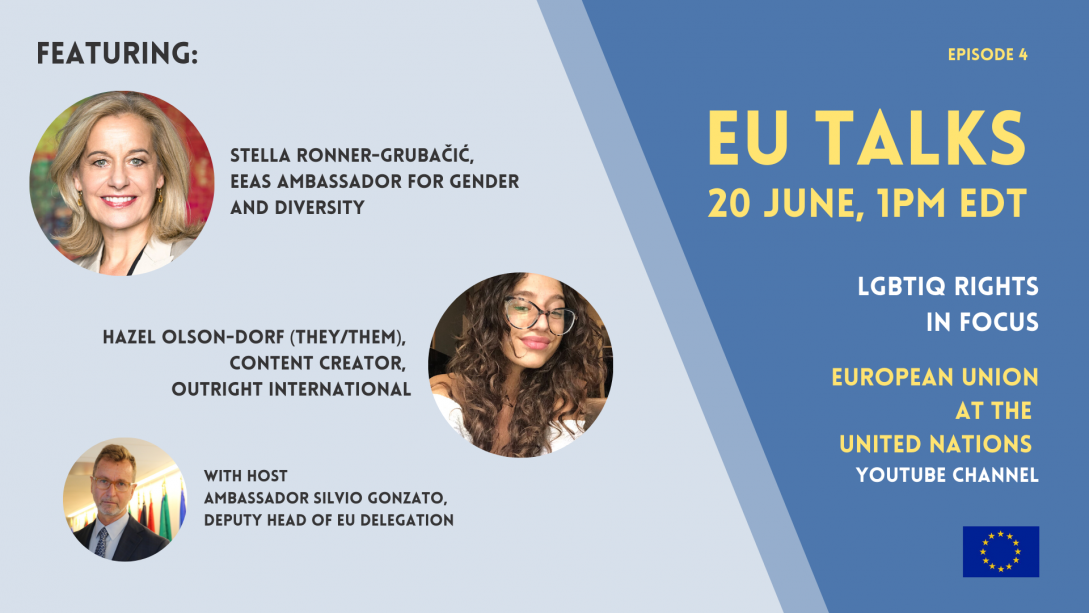 June is Pride month. It is an important month-long event celebrated around the world and honors the 1969 Stonewall riots, and the continued fight for equality for LGBTIQ individuals. LGBTIQ people continue to face threats to their safety, including discrimination, violence, and incarceration. 
At institutions such as the EU and UN, these issues are discussed but it can be difficult for LGBTIQ persons to directly participate, especially youth. In this episode, join us for a discussion on how the EU can better amplify LGBTIQ issues and create meaningful participation, and the role the EU plays in bridging the access gap at the UN.
EU Talks is honoured to host Stella Ronner-Grubačić, appointed EEAS Ambassador for Gender and Diversity on 1st July 2021. Ms. Ronner-Grubačić previously held positions as Ambassador of the Kingdom of the Netherlands to: Romania, the Republic of Moldova and the Hellenic Republic. Another special guest includes Hazel Olson-Dorf (they/them), Content Creator at Outright International. Formerly a communications intern at OutRight, they love working with digital media and are especially interested in Queer storytelling, with its potential to create deep social change.
While the goal of the United Nations is to improve the daily lives of citizens around the world, the reality is more complicated. The UN is a complex organisation with dozens of offices and thousands of staff. The EU Talks series aims to candidly discuss the UN's work and how it delivers by engaging with diplomats and UN officials as well as experts, journalists and activists, creating a valuable space, especially for young people.
Watch EU Talks on the EU Delegation's YouTube Channel and join the conversation on social media using #EUTalks