Reparations as a catalytic power to change victims and survivors' lives: a Grassroots perspective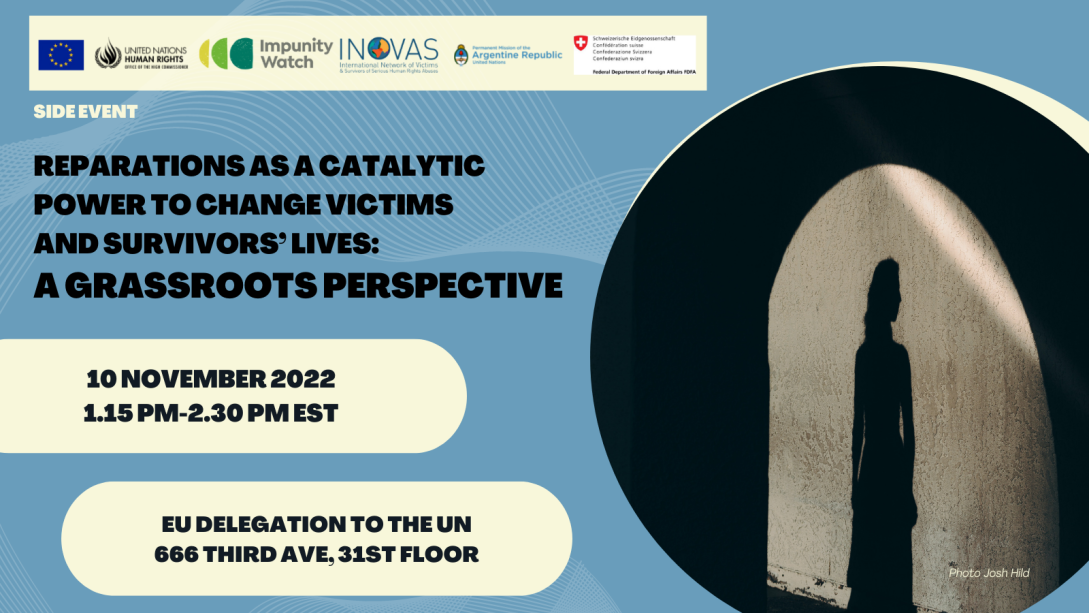 Background
Serious human rights violations have devastating social, economic and psychological effects for individuals, communities and societies. Reparations are a mechanism that many victims and survivors prioritise to redress these effects. Unfortunately, research undertaken by Impunity Watch in coordination with the International Network of Victims and Survivors of Serious Human Rights Abuses (INOVAS) shows that the actual practice of reparations generally proves to be disappointing for victims. This is often the result of a lack of people-centred approaches to reparations. Victims' needs and aspirations tend to be left out in discussions around reparations and transitional justice more broadly. There is an urgency to close this gap. The international community has a clear responsibility to live up to the promise to "leave no one behind".  Effective reparations can help to diminish the marginalisation and poverty in which many survivors find themselves, and by doing this, integrate them in society as equal citizens. Reparations are therefore a crucial element of people-centred approaches to justice. They cannot be seen in isolation from SDG16, which aims to "leave no one behind" through just, peaceful and inclusive societies.
Aims of the side event
The event will present findings of a research project that highlights the experiences with reparations of grassroots victims' and survivors' organizations around the world. It aims to increase victims' participation in discussions on reparations, by placing the issue of reparations more firmly on the agenda of international policymakers. During the event, members of INOVAS will share concrete examples drawn from their experiences. Recommendations for the international community, as they have emerged from the research, will be highlighted. In this way, it will help to strengthen people-centred approaches to justice and contribute to increasing the effectiveness of international efforts to make meaningful reparations for survivors a reality. This is crucial in a time of international insecurity where reparations are increasingly on the international agenda.
Details of the side event
This event, which highlights grassroots voices of victims and survivors around the world, is sponsored by the European Union Delegation to the United Nations and [TBC], and organized in coordination with Impunity Watch, INOVAS and the UN Office of the High Commissioner for Human Rights. It will be held in the framework of the review of the Secretary-General's Guidance Note on the UN Approach to Transitional Justice. It targets policy makers, delegates of the UNGA Third Committee, UN experts in the field of human rights, transitional justice and peacebuilding, and civil society organizations working in these fields.
Light lunch will be served
Programme
H.E. Silvio Gonzato, Deputy Head of the EU Delegation to the UN
Marlies Stappers, Executive Director, Impunity Watch
Ram Kumar Bhandari, Co-founder of INOVAS
Rio Hada, Chief, Equality, Development and Rule of Law Section, OHCHR-New York
INOVAS members
Reparation Study by Impunity Watch
Prof. Pablo de Greiff, former UN Special Rapporteur on the promotion of truth, justice, reparation and guarantees of non-recurrence;
Commissioner, UN Commission of Inquiry on Ukraine
Q&A to conclude
PRACTICAL INFORMATION
OVERVIEW
-
01:15 pm - 02:30 pm
European Union Delegation to the United Nations - New York