The EU-IFAD partnership covers several areas of cooperation, including fostering the potential of farmers and their organizations and innovative rural financing models. The partnership has built the capacities of farmers' organizations in Africa and Asia to provide their members with access to finance, agricultural inputs and a voice in policymaking processes. In terms of innovative finance, the EU and IFAD have developed, with other partners, the Agri-Business Capital (ABC) Fund, which provides much smaller loans than other funds. Furthermore, the EU and IFAD are mobilizing the massive potential of migrants' remittances for rural development through the Financing Facility for Remittances.
As the EU and IFAD are discussing their future agenda together through a renewed Strategic Dialogue, this is a timely reporting of our joint activities and achievements, which we look forward to building upon in order to transform rural realities on the scale that is needed.
STRATEGIC VISION
IFAD and the European Union (EU) share strategic priorities as set out in the EU's Green Deal and Farm to Fork Strategy (2020) and the European Consensus on Development (2017), and in IFAD's fifth Strategic Framework (2016-2025) and ambitious agenda for the Twelfth Replenishment of IFAD's Resources (IFAD12). These include a focus on Sustainable Development Goals related to poverty, hunger and food security, gender equality, youth, decent employment, migration, climate and biodiversity.
INNOVATION
For over 15 years, the EU-IFAD partnership has been characterized by a shared drive to scale up innovative models that deliver measurable impacts on the ground. From systematic and sustained support for farmers' organizations to expanding the potential of remittances for development and innovative public private financing models, such as the Agri-Business Capital Fund (ABC Fund) for rural entrepreneurs in Africa, the EU-IFAD joint actions have been breaking new ground from the start. This drive for innovation has profoundly impacted IFAD's model in the private sector, as well as farmer engagement.
SCALE
The EU-IFAD partnership today spans the entire globe. Since 2006, the EU has provided more than EUR 660 million in financing to IFAD. Moreover, EU Member States' contributions during IFAD12 account for almost half of all the pledges received by January 2022.2 The EU and IFAD join voices to scale up impacts through high-level advocacy for increased investment in the world's smallholders, and for policy engagement in priority areas at the country level.
Since 2006, the EU has provided more than EUR 660 million in financing to IFAD. The crucial injection of EU grant financing has enabled IFAD to scale up and mainstream successful ideas and innovations that have been tested through IFAD's loan portfolio, and to explore new approaches or instruments for development, such as ways of partnering with the private sector. The funds invested have helped to extend the impact of IFAD investments and leverage more funds from other donors, including EU Member States and the private sector. The EU contributions are reported by the year of the signature of the agreement.
Image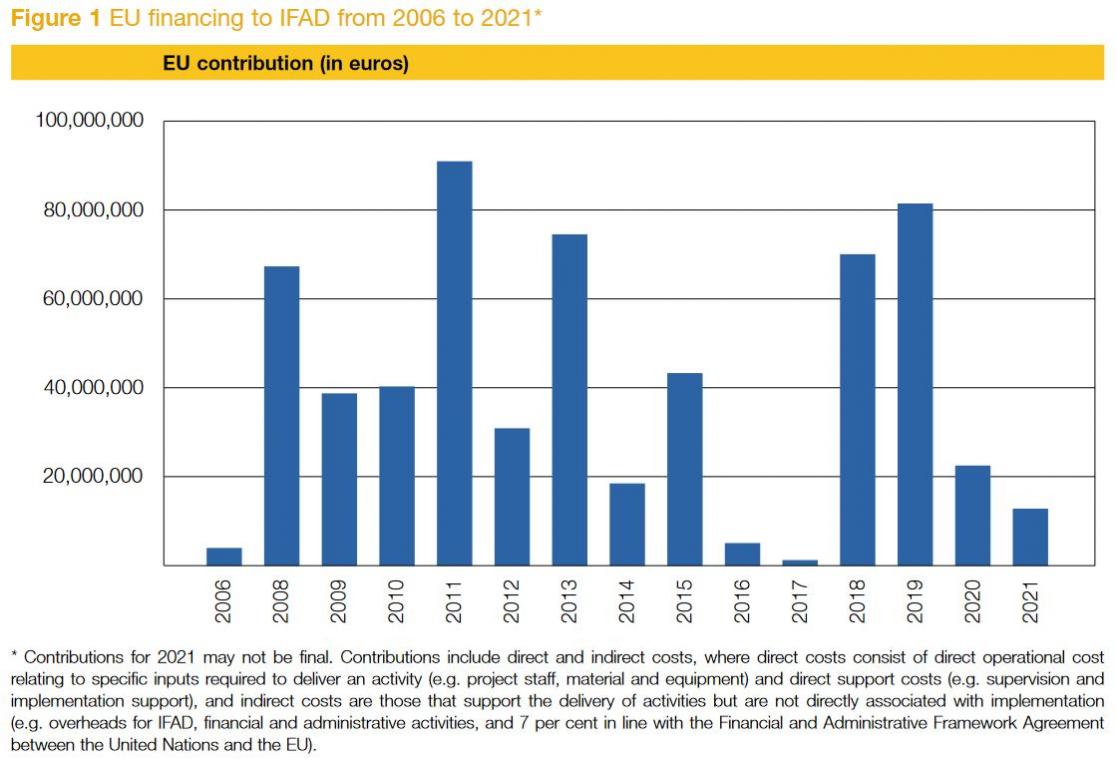 The negotiations for contribution agreements occur before the signature and can involve a lengthy negotiation process that is not taken into account in the table, so the figure appears to show major fluctuations across years.
Image
Farmers' Organizations for Africa, Caribbean and Pacific (FO4ACP)
"With everything closed and everyone in lockdown, we needed to find a way to reach out to our members and the farmers in general," explains Dr Mwendah M'Mailutha, Chief Executive Officer of KENAFF.
In Kenya, FO4ACP-supported digital information service helping small-scale farmers respond to COVID-19, for which the EU contributed EUR 50 million.
Officially launched in October 2020, the KENAFF USSD Code Platform delivers USSD-based messages containing information on a wide range of topics: COVID-19 mitigation measures, technical advice, suggestions for adaptation and resilience-building, and the latest information on market conditions and weather patterns. From the beginning, it needed to be accessible to all – that is, it would need to operate by means of technology that even non-smartphone mobile phones could handle with ease.
A large part of this work involves conveying complex technical information to its subscribers in plain language and in a way that is suitable for the text-message format. The system has around 72,000 registered users across 47 counties of Kenya.
Agribusiness Capital Fund (ABC Fund)
In Ivory Coast, cocoa cooperatives play an important role in helping smallholder farmers' transition from an informal to an organized production system. They also enable their members to qualify for certifications such as FairTrade, UTZ, or organic, that generate a price premium and contribute to improve the farmers' livelihoods. However, cooperatives often struggle to access working capital to finance the harvests.
Socak Katana, a Fairtrade-certified cooperative-based association, received financing at the end of 2019 to pre-finance its seasonal production.
This contributed to maintaining the revenues of over 2,700 farmers, and generated access to market for an additional 302 farmers, who joined the cooperative during the 2019/20 season. During this cocoa season, Socak Katana's turnover increased twofold, while the volume of sales increased by 40 per cent and the surface cultivated increased by 36 per cent.
It can be hard to get financing for mango farming; financial institutions are often reluctant to finance it because of the short harvest season. Etablissement YAFFA et Frères, one of the largest local fresh mango exporters in Mali, is the only company in the country to deliver mangoes directly from its packing facility to supermarkets by air freight. The company received support in working capital to buy mangoes and meet related export costs, in response to increased European demand. The ABC Fund's financing will enable Etablissement YAFFA et Frères to continue buying mangoes from its current 310 mango producers and to employ 200 seasonal workers on the packaging site.
Joint Programme on Gender Transformative Approaches for Food Security and Nutrition (JP GTA)
Implemented by: FAO, IFAD and WFP
The EU funds the Joint Programme on Gender Transformative Approaches for Food Security and Nutrition (JP GTA), implemented by the Rome based Agencies FAO, IFAD and WFP. In Ecuador, this translates into supporting the Ministry of Agriculture and Livestock to implement the National Agricultural Strategy for Rural Women, which includes transformative gender approaches:
Support national and local government institutions to adopt a gender perspective in their organizational culture and operations from planning and capacity development through to monitoring and evaluation mechanisms

Help producer organizations to strengthen rural women's participation in decision-making

Work with communities and households to identify and challenge unequal power relations and discriminatory social norms to promote women's leadership and participation

Build the capacities of RBA staff to implement GTAs, taking into account social protection, combating violence against women, equitable access to productive resources and the promotion of a greater offer of differentiated financial and non-financial services for women in order to build resilience.
EU Financing EUR 5 million (IFAD proportion EUR 836,740)Dates 2019-2022Links: https://www.fao.org/joint-programme-gender-transformative-approaches/en
https://www.ifad.org/en/web/knowledge/-/joint-programme-on-gender-transformative-approaches-for-food-security-improved-nutrition-and-sustainable-agriculture
Financing Facility for Remittances (FFR)
Supported by the current EU contribution agreement Maximizing the Impact of Global Remittances in Rural Areas (MIGRRA)
Valeriu, in the picture, has also benefited from the Financing Facility for Remittances (FFR) which has helped him to keep his business afloat when the impact of COVID-19 and a drought had contributed to a drop in earnings from his farm.
Many Moldovans, especially young Moldovans, have left the country entirely, and many of their loved ones are dependent on the remittances they send home. However, for many who live in remote areas, accessing these remittance transfers is not easy.
In the light of these challenges, IFAD's Near East, North Africa and Europe Division and the FFR, in partnership with Moldova's National Commission for Financial Markets, have begun a project to strengthen the country's savings and credit associations (SCAs). SCAs are focusing their efforts on products for young people, particularly returning migrants and their families, as they are the customers most likely to apply for financing to launch a new venture.
The EU has been part of Financing Facility for Remittances (FFR) and has contributed up to EUR 29.56 million. In total, the project is expected to benefit 4,000 new remittance users and to see savings account balances increase by 10 per cent annually.
EU Financing EUR 29.56 millionDates Ongoing, since 2006Link : https://www.ifad.org/en/ffr
Platform for Agricultural Risk Management (PARM)
With Horizon 1 (2014-2019), Horizon 2 (2019-2024) and Horizon 3 (2025-2030), the EU has been a key partner of the Platform for Agricultural Risk Management (PARM) which has allowed training of trainers to reach farmers. Pontious Mubiru, a PhD student in agriculture and rural innovation at Makerere University, Uganda, explains how the trainees managed to transfer the training to their respective district: "The participants had set simple and realistic goals to accomplish, like training fellow extension staff during monthly departmental meetings and organizing joint monitoring visits to the farmers. Furthermore, support from the District Political Officers to the technical wing ensured that risk management was exercised. The establishment of a risk coordination office at one district was a way to streamline ARM. The availability of technical staff, the existence of teamwork among service delivery units at the district level, and the arrangement of logistics to facilitate trainings were also mentioned."
EU Financing EUR 5.25 millionDates 2014-2030, in three phases: Horizon 1 (2014-2019), Horizon 2 (2019-2024) and Horizon 3 (2025-2030)Link : https://www.p4arm.org/
Kenya Cereal Enhancement Programme
Climate-Resilient Agricultural Livelihoods Window (KCEP-CRAL), plus additional EU COVID-19 response grant
"Before the programme started, we just planted and hoped for what God would give us; now we know – for sure – we will get more food,"
Victoria Muteti, a widowed farmer from Kenya's Makueni County, is able to keep farming during the COVID-19 pandemic while observing all the necessary social distancing measures, and the extra income she has made over the last 2 years has helped her improve her nutrition. Victoria owes these successes to her participation in an e-voucher initiative she enrolled in under a programme implemented by the Government of Kenya and jointly funded by the EU and IFAD which provided her with certified seeds, fertilizers, pesticides and post-harvest items, along with training in good agricultural practices. Victoria's nutrition and food security improved, too. She can now eat some of the sorghum she grows, instead of saving it all for her chickens. She has also invested part of her income into a poultry house and a cow, which will further fortify her diet and bring additional revenue.
EU contribution EUR 32.1 millionDates 2014-2022Location KenyaLink: https://www.ifad.org/en/web/operations/-/project/1100001651
THE EUROPEAN UNION – A LEADING INTERNATIONAL PARTNER FOR SUSTAINABLE GLOBAL CHANGE
The European Union (EU) today is a major partner for developing countries across the world. The EU's engagement with countries spans trade, political, human rights, climate and environmental issues. It works with partner countries through a wide range of mechanisms ranging from policy dialogue to achieve global goals and national priorities, to financing development initiatives. The EU and its Member States provide over half of all global development aid and the EU itself is the largest development cooperation donor in the world. The Neighbourhood, Development and International Cooperation Instrument, agreed in December 2020, is a single, streamlined cooperation financing tool to deliver on priorities.
IFAD'S COMPARATIVE ADVANTAGE IN RURAL TRANSFORMATION
As the only specialized global development organization exclusively focused on transforming agriculture, rural economies and food systems, IFAD invests in the millions of people who are most at risk f being left behind, yet who are at the heart of sustainable food production for the planet and tackling climate change: poor, small-scale food producers, women, young people and other vulnerable groups living in rural areas.
IFAD's fifth Strategic Framework (2016-2025) and ambitious agenda for the Twelfth Replenishment of IFAD's Resources (IFAD12) (2022-2024) set out IFAD's contribution to the 2030 Agenda for Sustainable Development (Agenda 2030) through three strategic objectives: (i) increasing the productive capacity of poor rural people, (ii) increasing their benefits from market participation and (iii) strengthening the environmental sustainability and climate resilience of their economic activities. IFAD is working towards these objectives by mobilizing and leveraging substantially greater investment in rural areas, strengthening the quality of countries' rural development programmes and sharpening IFAD's efficiency to deliver results in a more cost-effective way.
IFAD AND THE EU – A STRATEGIC INTERNATIONAL PARTNERSHIP BASED ON A SHARED VISION
The EU-IFAD partnership began in September 2004, when the European Commission and IFAD signed a Financial and Administrative Framework Agreement. In 2021, the EU-IFAD collaboration portfolio totalled approximately EUR 288.3 million. The partnership is underpinned by a shared vision; IFAD's mandate means that it is closely aligned with EU priorities and with Sustainable Development Goals (SDGs) relating to eradicating poverty and hunger, reducing inequalities, climate action and protecting the natural environment, decent work and economic growth, and gender equality. The EU and IFAD also share a focus on Africa: 50 per cent of IFAD donor contributions will go to sub-Saharan Africa in IFAD12, contributing to EU priorities in Africa.
What makes the partnership work?
Innovation and scale
The success of the EU-IFAD partnership is based on a shared ambition to drive innovation in emerging areas of mutual and strategic interest, such as public-private sector partnerships,
innovative financing models, pro-poor agricultural research, and systematic, scale support to farmers' networks. Working together has allowed the EU and IFAD to develop new approaches that are critical to achieving the SDGs, and to scaling up actions. The EU has extended its operational outreach, benefiting from IFAD's presence in the field and its staff, local networks and partnerships, and IFAD has been able to scale up its outreach thanks to EU financing.
Stimulating new IFAD business models
Beyond this, the partnership has allowed IFAD to grow as a learning organization and institutionalize experiences gained from the partnership. For example, the learning from the FFR and the Yield Uganda Investment Fund has helped to shape IFAD's Private Sector Engagement Strategy.28 Similarly, the current initiative among the Rome-based United Nations agencies to scale up gender-transformative approaches (GTAs) is profoundly influencing how IFAD works on SDG 5 and helping to build momentum for these approaches, as captured in IFAD's current Gender Action Plan. Open and regular dialogue is also a key success factor. Today, the EU is a permanent observer at IFAD Executive Board meetings, thereby further increasing its engagement in how IFAD operates.
Page Updated: