EU Multilateral Christmas Charity Gala - #EU4UKRAINE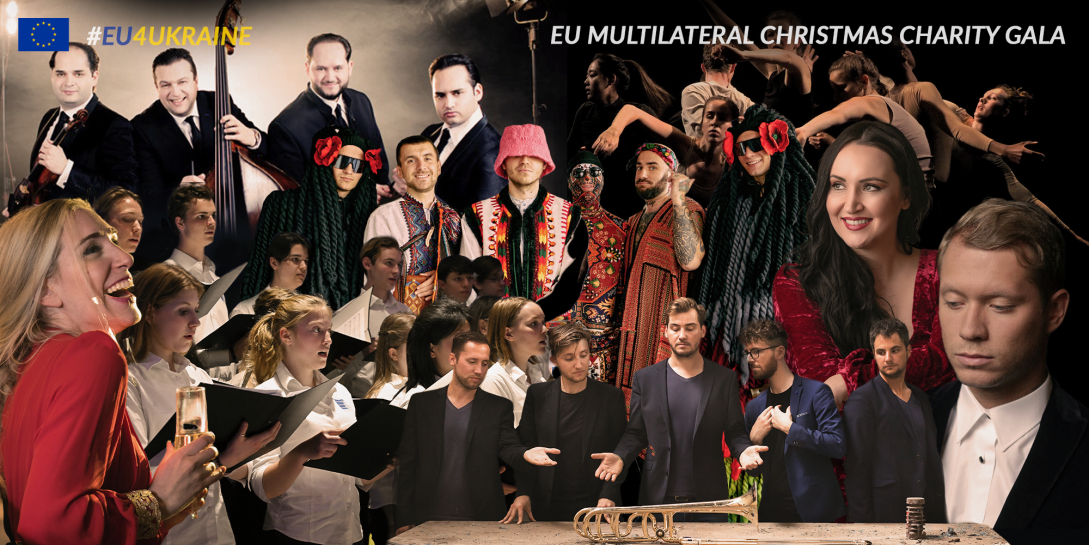 Programme
Saturday 17 December 2022 (Gala evening at 19.00) – Sunday 18 December 2022 (matinée at 15.00)
at Das Muth, Am Augartenspitz 1, 1020 Vienna, Austria
 

Introduction

Delivered by Alain Matton

 

Welcome by Head of Delegation to the International Organisations in Vienna and by the EU Permanent Representative to the OSCE

Delivered by H.E. Ambassador Stephan Klement and H.E. Ambassador Rasa Ostrauskaite

 

In Flanders Fields/ Bluesette – John Jacobson, Toots Thielemans

Crossbones Trombones

 

Die Fledermaus Ouverture - Johann Strauss

Janoska Ensemble

Ballet by Studiengangs Tanz an der MUK

 

He Ain't Heavy, He's My Brother – the Hollies

Chorus Juventus

 

Bodi z mano do konca/ Da Pirano al cielo - music: Aleš Klinar; lyrics: Tinkara Kovač; Italian translation: Giorgio Galanti

Valentina Volpe Andreazza

Tinkara Kovač

Bohdan Shutka

 

Palladio - Karl Jenkins

Crossbones Trombones

 

Bohemian Rapsody - Freddie Mercury

Chorus Juventus

Ralfs Eilands

Janoska Ensemble

 

Carmen Fantasie - Waxman, Bizet, Janoska

Janoska Ensemble

Valentina Volpe Andreazza

Contemporary dance by Studiengangs Tanz an der MUK

 

Romeo and Juliet Love Theme, A Time for us -  Nino Rota

Janoska Ensemble

Valentina Volpe Andreazza

 

Ljubezen je padla z neba - music: Danilo Kocjančič ; lyrics: Drago Mislej - Mef

Tinkara Kovač

 

Sleep Lullaby nr 1 - Els De Sadeleer, Rosen

Crossbones Trombones

Contemporary dance by Studiengangs Tanz an der MUK

 

Smert - Mykola Leontowtsch

Chorus Juventus

 

Round and Round - Aleš Vovk,Tinkara Kovač, Hannah Mancini, Tina Piš

Crossbones Trombones

Tinkara Kovač

 

Yesterday -   John Lennon, Paul McCartney

Janoska Ensemble

 

Peace - Ralfs Eilands, DJ Monsta, Mārcis Vasiļevskis

Ralfs Eilands

 

Carol of the Bells - Mykola Leontowtsch

Chorus Juventus

 

#OurVoiceOurFuture – 8 Billion People – Lyrics: Leyla Taghiyeva, Instrumental: Matthew May

Leyla Taghiyeva

 

Stefania - Ivan Klimenko / Oleh Psiuk / Tymofii Muzychuk / Vitalii Duzhyk / Ihdor Didenchuk

Kalush Orchestra

Chorus Juventus

 

Beethoven's Ode To Joy – TOGETHER as ONE

All musicians, choir and dancers

 

Thanking remarks and presentation of all artists

Delivered by Alain Matton
PRACTICAL INFORMATION
OVERVIEW
-
Das Muth, Am Augartenspitz 1, 1020 Vienna, Austria
How to join?
The charity ticket sales is organised in collaboration with the Embassy of Ukraine to Austria and the Permanent Mission of Ukraine to the International Organisations in Vienna.
Tickets can be bought on the website of Das Muth Theatre in Vienna.
Ticket prices:
Category A | 50,00 €

Category B | 40,00 €

Category C | 30,00 €

Loge | 60,00 €
All proceeds of the ticket sales, as well as voluntary contributions will be donated to aid programmes for the purchase of "multimedia classroom" sets for the schools at war-affected Ukrainian town of Irpin in Kyiv region and of laptops, needed so much for online education by the children from the most vulnerable families.