Multilateralism at Work in Vienna | EUNIC Music Festival 2020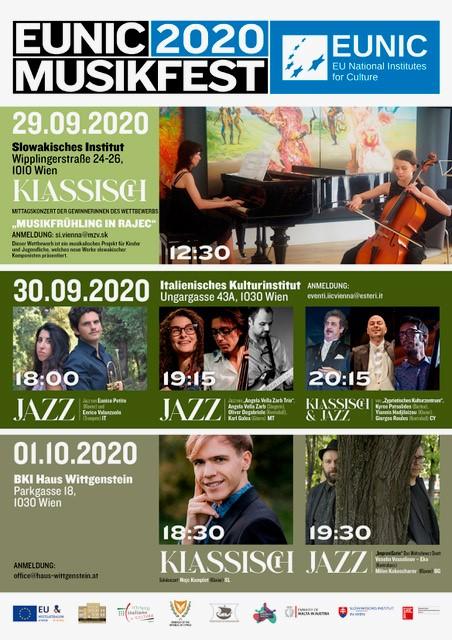 EUNIC Music Festival 2020
Multilateralism at Work in Vienna
EUNIC Austria and the Delegation of the European Union to the International Organisations in Vienna are this year organising together the third European Music Festival, which comprises three musical events in three European cultural institutes, from 29 September to 1 October 2020. This time, our festival is dedicated to "Multilateralism at work in Vienna". On the occasion of 75th anniversary of the United Nations, we wish to highlight the import role of the European Union has as defender of rules-based effective multilateralism. The EU continues to lead in upholding international norms and agreements that provide global public goods and protect future generations. The EU demonstrates leadership in pursuing an innovative agenda in areas in need of strengthened multilateral governance or where new challenges require collective action, taking advantage of the EU's normative capacity, autonomy and influence. The EU is also a global point of reference for those who want to preserve, reform, and expand multilateralism, in order both to ensure peace and security, as well as to cope effectively with these contemporary global challenges.
EUNIC (EU National Institutes for Culture) is a network of national institutes for culture and ministries of the European Union established in 2006. Through cooperative projects in the fields of intercultural dialogue, multilingualism, arts and civil society, EUNIC aims at increasing the visibility of cultural diversity in the EU, promoting the EU's cohesion as well as promoting the European values.
The whole festival will take place under strict compliance with the rules for the prevention of the spread of COVID-19. Registration is required. Please note that for the event on 30 September 2020, you need to mention which part(s) of the event you would like to attend.
Watch the live stream of the music events here by clicking on the banner:
PRACTICAL INFORMATION
OVERVIEW
-
29/09: Slovak Institute - 30/09: Italian Cultural Institute - 01/10: Bulgarian Cultural Institute "Haus Wittgenstein", Vienna