European Film Festival 2018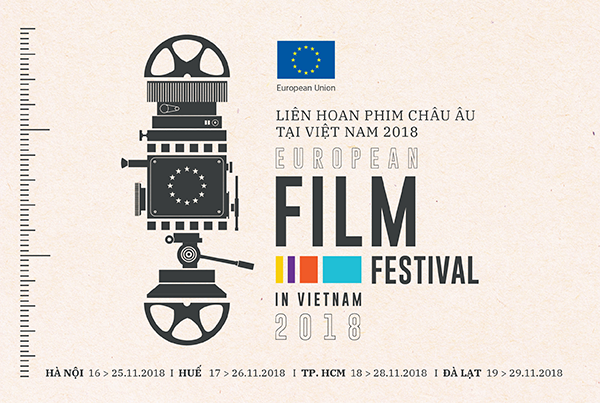 The European Film Festival is dedicated to offer Vietnamese people fascinating movies from Europe, the birthplace of cinematography and home to a number of prestigious international film festivals. The festival showcases Europe's rich cinema heritage, diversified culture and contemporary creativity.
The 19th edition of the festival will take place from 16 to 29 November 2018. Apart from the traditional locations of Hanoi, Ho Chi Minh city and Hue, this year, for the first time the festival is brought to the central highland city of Da Lat.
The 13 selected films this year mainly focus on the theme of "Family" presenting different aspects and stories in the family lives of European people.  Especially with several international award -winning films targeting different groups of audiences from children, youth to adults, the festival is expected to offer Vietnamese movie lovers interesting and entertaining experience.
Organized by the Delegation of the European to Vietnam, the EU Member State embassies and European Cultural Centers in Vietnam, the European Film Festival is recognized as one of the most successful multi-cultural events in Vietnam, creating a cultural bridge connecting European and Vietnamese people.
Tickets are offered free-of-charge from 14 November 2018 at the following locations:
HANOI

Goethe Institut:

56-58-60 Nguyen Thai Hoc Str.

Tel.: 024 3734 2251/52

Time for collecting tickets: From 9am to 11:45am & from 1:30pm to 5:30pm

 

L'Espace:

24 Trang Tien Str.,

Tel.: 024 3936 2164

Time for collecting tickets:  From 12:00am to 8:00pm

 

EU Delegation to Vietnam

24th floor, West Wing, Lotte Center, 54 Lieu Giai Str.,

Tel.: 24 39 41 00 99

Time for collecting tickets: From 9am to 12:30pm & from 1:30pm to 5:30pm

HO CHI MINH CITY

CineStar Cinema

135 Hai Ba Trung Str., District 1,

(Contact: Mr. Tam, Tel.: 0907499914)

 

Goethe Institut

18 Road no. 1, Cu xa Do Thanh, Ward 4, Dist.3

Tel.: 028 38 326 716

 

HUE CITY

Dong Ba Cinema

187 Tran Hung Dao Str.,

Tel.: 0234 3523850

 

 

Thua Thien Hue Cinema and Distribution Center 

25 Hai Ba Trung Str., Tel.: 023 3822145

DALAT

CineStar Cinema

Lam Vien Square, Ward 10, Dalat City, Lam Dong

(Contact: Ms. Thanh, Tel.: +84937992091)
Please see the introduction of each movie in this film brochure: 
and screening schedules in all cities:
Please follow the event page of the festival on our Facebook for more information of the movies and the festival: https://www.facebook.com/events/756709291357000/?ti=icl
PRACTICAL INFORMATION
OVERVIEW
-
87 Lang Ha/ 187 Tran Hung Dao/ 135 Hai Ba Trung, Dist 1, HCMC/ Lam Vien Square, Ward 10, Dalat, Hanoi, Hue, Ho Chi Minh City and Da Lat