Excerpts from the speech delivered by EU Ambassador to Yemen Gabriel Munuera Viñals on Europe Day – Amman, 11 May 2022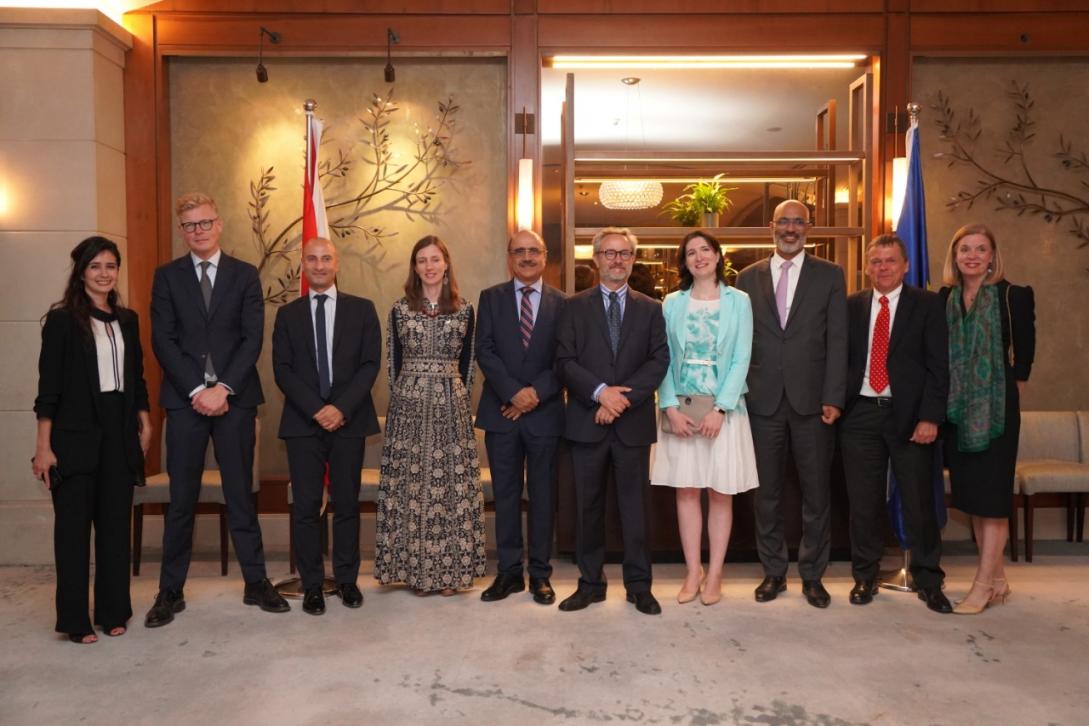 We are gathered today to celebrate Europe Day. This day is special in several respects.
First of all, this is the first time since 2018 that we are physically meeting with our Yemeni and international friends to celebrate Europe Day. I am very pleased that we have now been able to resume physical meetings with Yemenis inside Yemen and in the region.
Second, this year we are celebrating Europe Day in a very special context, at a time when war has struck a European country. I truly believe that European history can teach us some lessons for peace and prosperity in Yemen and in the broader region.
Allow me therefore to recall in a few words and on this day, the project that the founding fathers wished to give to Europe.  
The European project was built on a multi-layered identity and based on the inspiration of many. But the construction of what we now know as European Union truly started after the Second World War. It is the result of collective thinking, aimed at putting an end to a seemingly endless succession of wars, which had pushed the continent (and the world) to the brink of total destruction. Visionary Europeans had the courage to silence their desire for revenge and hatred and instead look for a common future, pooling key resources and promoting economic development and cooperation between European countries.
I believe that in addition to a Yemeni-owned, Yemeni-centred UN-led peace process, such concrete achievements and solidarity can emerge and are actually emerging in Yemen, in the Arabian Peninsula and also in the broader Gulf region. Let us grasp and build on this momentum.
It is essential to look at the past in order to forge the path for the future, at a time when our ambitions in the area of peace and security have been profoundly challenged by the Russian invasion of Ukraine, with the European Union responding decisively to the challenge. 
The current efforts of the European Union are aimed at making the war on Ukraine a victory of peace for the benefit of regional and world security and the welfare of all people. Many countries in the world including Yemen suffer economically from that senseless war. In the face of war, it is a strong and united Europe that has stood up allowing us, for instance, to adopt a series of effective and unprecedented sanctions against Russian interests and an equally unprecedented level of international diplomatic mobilisation against the aggression.
As the conflict enters its eighth year in Yemen, nearly 380,000 people have died since hostilities began. Thousands of civilians have lost their lives from hunger, diseases, and lack of drinking water, not to mention the millions who have been forced to leave their homes for IDPs camps. To all those people who have gone through the suffering of war, I wish today to express my deepest solidarity and to convey my firm resolution to contribute to bringing peace to Yemen. This is my core mandate, this is what I intend to do to the best of my abilities.
In spite of the very steep challenges on the quest for peace in Yemen, there are signs of hope, a window of opportunity at present that we must try to seize. The United Nations Special Envoy has succeeded in brokering a country-wide truce, which has been broadly holding since the beginning of the holy month of Ramadan. Just a few weeks ago, I was in Aden together with several colleagues to attend the swearing-in ceremony of the new Presidential Leadership Council, and we could hear President Al Alimi stress the Council's commitment to this truce and to the cause of peace.
I took up my duties as EU Ambassador to Yemen only two and a half months ago. Yet I have already had the opportunity to speak with many Yemeni personalities, from civil society, political parties, women and men. They have all expressed their wish for peace.
Yemeni women play a crucial role in ensuring that Yemenis can enjoy peace and the dividends of peace. There are many Yemeni voices calling for better legal and security protection mechanisms for women against human rights abuses, increased participation of women in peace-making efforts, and better social services in terms of healthcare and education. This is the type of "peace-builder" Yemen needs and I look forward to continuing to amplify the voices of peace women leaders. It is indeed critical to end the culture of impunity and replace it with a system that promotes justice and the rule of law, especially when dealing with the protection and prevention of violence against women.
Yemeni youth deserve peace. Young people under the age of 25 represent nearly three quarters of the Yemeni population.
Children are a particularly vulnerable group when countries are affected by war. In 2022, a shameful threshold has been crossed: more than 10,000 children have been killed or wounded since the fighting began in March 2015.
I would like to send a special message to all those young Yemenis, present in the room, in Yemen or abroad: you are the future, the peacemakers, the driving forces of the nation, the bearers of a word of hope.
Peace in Europe was built and cemented by youth exchanges and cultural programmes among countries that were once enemies. Education and the experiences of the new generations in Yemen will be a decisive factor in tomorrow's state of peace or war.
When we talk about youth, one word comes to mind: freedom. On this special day, I would thus like to spare a thought for all the Yemeni journalists currently detained in Yemen for exercising their right to information. We are extremely concerned and we reiterate our call for their immediate and unconditional release. Freedom of the Press is Freedom of the Citizen! Freedom of the press is, as you all know, a fundamental pillar of democratic systems.
To conclude, let me just stress that the EU and its Member States are truly united in their efforts to contribute to peace in Yemen, to alleviate the suffering of Yemenis and to support long-term recovery. Drawing on our common history but also on our differences, and our experience in managing these differences, we want to contribute to rebuilding a united, peaceful and prosperous Yemen.