High Level Mission from the European Union concludes an official visit to Zambia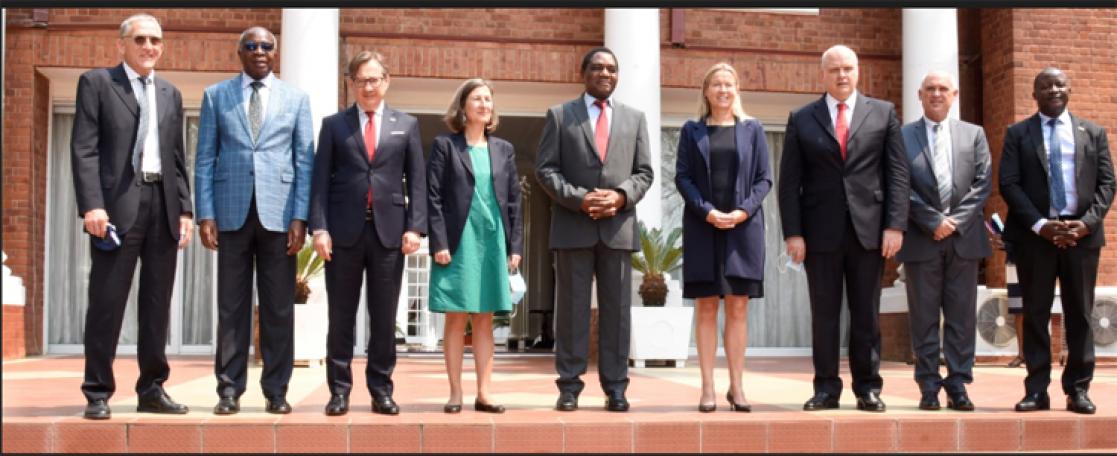 During their mission they met H.E. President Hakainde Hichilema, the Vice President Hon. Mutale Nalumango, the Minister of Foreign Affairs Hon. Stanley Kakubo, the Minister of Finance and Planning Hon. Situmbeko Musokotwane, the Speaker of the National Assembly Hon. Nelly Mutti, Leaders of Opposition in Parliament, former President Rupiah Banda, Representatives of Church leaders, Representatives of Civil Society Organisations, the President and Vice Presidents of the EU-Zambia Business Club. They also met the Secretary General of COMESA, Ms Chileshe Kapwepwe.
As the EU is a longstanding supporter of Zambia's democratic processes, they congratulated the President and the people of Zambia on their impressive mobilisation in the elections held in August and on the peaceful transition of power. They highlighted the democratic credentials of Zambia.
The high-level mission was very positively impressed by the good governance reforms as well as the economic reforms announced by the Government of Zambia. The high-level mission reiterated the EU's determination to further support the country's development and to deepen the EU-Zambia- partnership. Our partnership will focus even more on policy dialogue and on attracting private sector to multiply the effect of aid on growth - using innovative financial instruments - and combining the support from EU institutions and EU Member States in a Team Europe spirit.
The EU and Zambia share the common objective to promote business-to-business contacts and to facilitate investments in the country to foster the sustainable growth of the Zambian economy and   jobs creation. The mission witnessed the signing of a credit line worth EUR 15 million between the European Investment Bank and the Zambia National Commercial Bank (Zanaco) to improve access to finance for farmers and agri-food businesses. This is part of a larger EU-Zambia endeavour to support agricultural SMEs and smallholder farmers to transition to greener, and more sustainable agri-food systems, as well as to increase smallholder farmers' integration into Zambia's agriculture value chains.
The high-level mission discussed with the authorities the situation of the COVID-19 pandemic. The EU's objectives in the fight against COVID-19 in Africa are three-fold: i) to provide a short-term, emergency response and support access to vaccines through COVAX of which the EU is a lead contributor; ii) to strengthen research and health systems, and boost vaccines production capacity; iii) to mitigate the socio-economic impact of the pandemic.
Ms Laranjinha and Ms Kramer expressed the wish to further enhance the dialogue with Zambia on subjects of common interest at the regional, continental and global levels.
In a very good meeting with the Secretary General of COMESA they highlighted the importance of the partnership between COMESA and the EU and reaffirmed the EU commitment to support economic regional integration with the aim of contributing to green growth and jobs in the region.
For further information, please contact:
Ms Namambo Delot, EU Press Officer