2021 International Donors' Conference in Solidarity with Venezuelan Refugees and Migrants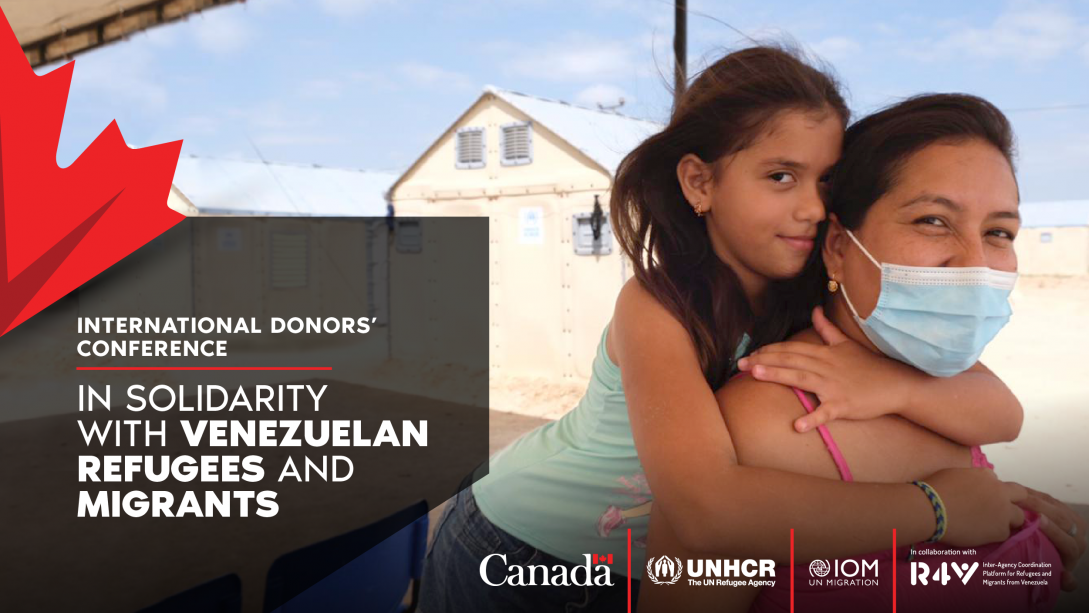 With more than 5 million affected people, the Venezuelan displacement crisis is second only to the Syrian refugee crisis. What is worse, the pandemic has aggravated Venezuelan refugees and migrants' hardship, as well as putting strain on the countries that have generously welcomed them.
To address those needs, on June 17, Canada, with support of the UN Refugee Agency (UNHCR), the International Organisation for Migration (IOM), Spain and the European Union, has convened the International Donors Conference in solidarity with Venezuelan migrants and refugees in the countries of the region.
Over 40 countries along with the United Nations Agencies, international financial institutions and representatives of national and international civil society will take stock of the situation, strengthen coordination and mobilise resources for the displaced population and the main host communities, including on helping Venezuelan migrants and refugees secure access to vaccines.
The European Union and its Member States have been supporting for years the Venezuelan population and the communities hosting refugees. In May 2020, and in October 2019, the EU organised, together with UNHCR and IOM similar Conferences aimed at raising awareness about the crisis, as well as to mobilise donor funds. The worsening of the pandemic in Latin America, which is currently the world's worst hit, makes it even more urgent to fulfil this commitment. The European Union is ready to play its part.
The faces behind the figures: stories from Venezuelan displaced people
The pandemic has hit even harder to those who were already in a vulnerable situation, like the 4.6 million Venezuelans migrants and refugees living across Latin America and the Caribbean. Latin American countries have continued to host refugees even though they are under great stress due to the coronavirus, but these people have found themselves alone and without access to social security systems.
Erickmar Aristiguieta, a Venezuelan migrant, had a regular salary before the pandemic, but she was fired. She can barely pay the rent and has a daughter with leukaemia. The EU and Action Against Hunger have been supporting them.
https://twitter.com/eu_eeas/status/1404015695034163208
There is also the terrible story of Juana, a 63-year old woman from Venezuela who was forced to flee her country due to the crisis and walked 2,300 Km to reunite with her daughters in Brazil. Sadly, Juana´s daughter died after giving birth to a newborn baby, and she came to know that other four grandchildren had been left alone in the city of Pacaraima, in the northern state of Roraima: their father had died and their mother, who suffered from a severe mental health condition, ended up abandoning them.
Juana closed her small street vending business and went to rescue them. When she managed to find them, they were alone with no shoes, no clothes and no food. The EU is working with UNICEF to support vulnerable Venezuelans sucked in Brazil, like her.
https://twitter.com/eu_eeas/status/1404347669988917249
On top of the impact of COVID-19, the deadly clashes that took place on the Colombia-Venezuela border last March made some 5.000 civilians flee into Colombia for safety. Half of them were minors. Thanks to EU funding, the Red Cross deployed mobile medical teams to provide them with first aid and medicines.
https://twitter.com/eu_eeas/status/1404710271440941058
---
See Also