"Agrotourism Festival 2021" promotes agritourism and business matchmaking in Racha-Lechkhumi – Kvemo Svaneti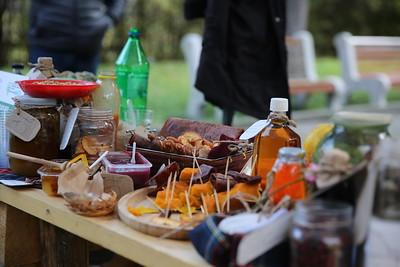 The festival provided an opportunity for business matchmaking between tourism operators and agricultural producers in the mountainous regions. Further, the festival raised awareness and promoted agritourism and organic agriculture.  
The event hosted 65 entrepreneurs from Ambrolauri, Oni, Tsageri, Lentekhi, Mestia, Tkibuli, Chiatura and Sachkhere municipalities.  Farmers and tourism sector representative exhibited the following products: Tea, viticulture, wine, vinegar, potato & apiculture as well as the services of glamping, guesthouse, adventure camps, wine tourism and variety of other tourism products and services. 
The festival was opened by Giorgi Maqarashvili – Deputy Governor of the Racha-Lechkhumi and Kvemo Svaneti region, Sigrid Brettel - Head of Cooperation at the European Union Delegation to Georgia, Erik Illes - Head of Development Cooperation and Deputy Head of Mission at the Swedish Embassy to Georgia and Alexander Karner – Head of the Austrian Coordination Office for Technical Cooperation at the Austrian Embassy in Georgia.
The Deputy Governor of the Racha-Lechkhumi and Kvemo Svaneti region Giorgi Maqarashvili expressed his thankfulness to the audience: "We are honoured to be the host for the 'Agrotourism festival 2021' together with our international partners striving to support developing Agriculture and tourism sector in mountainous regions of Georgia. Within this challenging period, we are happy that we managed to join our resources and together with the EU, Sweden and Austria created great opportunities for the local small and medium entrepreneurs."
Sigrid Brettel, Head of Cooperation at the Delegation of the European Union to Georgia, underlined: "I am very impressed by the natural beauty, the cultural heritage, the hospitality of people living in this beautiful region. The EU and its Member States, including Austria and Sweden, support environmentally sustainable tourism and agriculture in many ways. Tourism and environment should go hand in hand to not only boost economic development but to protect nature and local traditions." 
The head of Development Cooperation and Deputy Head of Mission of the Swedish Embassy to Georgia Erik Illes stated: "It is a first time for me being here in Racha. I'm standing here and thinking about how amazing are the people living in mountainous Georgia. I can proudly say that entrepreneurs presented here with the support of the Sweden, European Union and Austria had already achieved results and progressing further. I would like to emphasize on one of the major achievements from the gender's perspective. I have observed that by average 33-37% of supported business are run by woman that gives good ground of further inclusivity and equality." 
The head of the Austrian Coordination Office for Technical Cooperation at the Austrian Embassy in Georgia, Alexander Karner, emphasized: "This event is the result of a joint effort by the European family, the EU, Sweden and Austria. Austria is one of the leading countries in organic farming and sustainable mountain tourism and we look forward to sharing our experience with you. For the first time, the Agritourism festival also actively involved organic producers. We are expressly pleased and grateful that we are supporting the Agrotourism Association through the GRETA project in presenting so many interesting organic producers and sustainable tourism service providers. They are role models and inspire others for further sustainable business developments in Racha and beyond"    
"Agrotourism festival 20201" photos: LINK 
The GRETA project | Green Economy: Sustainable Mountain Tourism and Organic Agriculture in Georgia has been ongoing for two years with the support of the European Union, Sweden and Austria, and is implemented in Georgia by the Austrian Development Agency. The project aims to facilitate the improvement of the business environment and increase opportunities for generating additional income for the Georgian economy in two important sectors, mountain tourism and organic agriculture. Small and medium entrepreneurs are given the opportunity to receive the necessary financial assistance to improve their production and services, discover new market opportunities and through locally produced high-quality products, compete with imports. Further information about the project can be found through the website www.gretaproject.ge  
For detailed information please refer to:   
"The Racha-Lechkhumi and Kvemo Svaneti Agrotourism Development Association"/ Ioseb Getsadze / 599103192 / SOSO_RLS@yahoo.com  
The GRETA project | Green Economy: Sustainable Mountain Tourism and Organic Agriculture / 577777163 / ana.kabzinadze@ada.gv.at