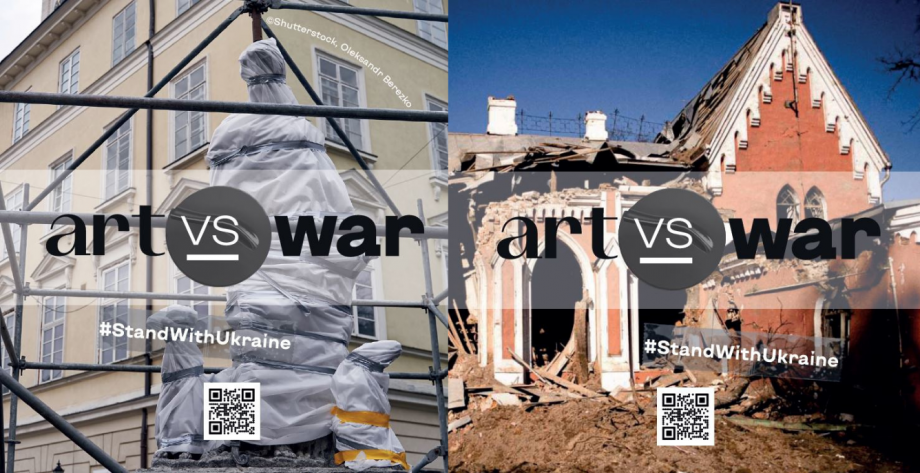 "
Objects of cultural heritage are purposely destroyed in Russia's war against Ukraine. Ukrainian culture is an important part of the European heritage. The EU supports artists, culture professionals and culture organisations affected by the war.
#ARTvsWAR | Campaign overview
#ARTvsWAR | The Word is Adamant: the struggle for existence of Ukrainian literature
If you take a look at Kharkiv from the bird's eye view behind magnificent Derzhprom you will notice a C-shaped building which is the C-raddle of breathtaking personal stories of Ukrainian literature of the last century. In Ukrainian, C is for СЛОВО [SLOVO] which means WORD. This edifice was erected as a communal residential building for Ukrainian writers in the 1920s, in the times when the city of Kharkiv became the capital of Soviet Ukraine for a little bit more than a decade.
On March 8th, Russian shelling damaged the facade of SLOVO house. As Kharkiv (along with Mariupol and Chernihiv) remains the target of non-stop brutal artillery fire from the Russian army, the fate of the building along with many other historical landmarks remains uncertain. The object is listed among Russia's war crimes that caused the destruction of Ukrainian cultural heritage.
Continue reading about the story of the building and of some of its occupants.
Page Updated: