Beyond disinformation – EU responses to the threat of foreign information manipulation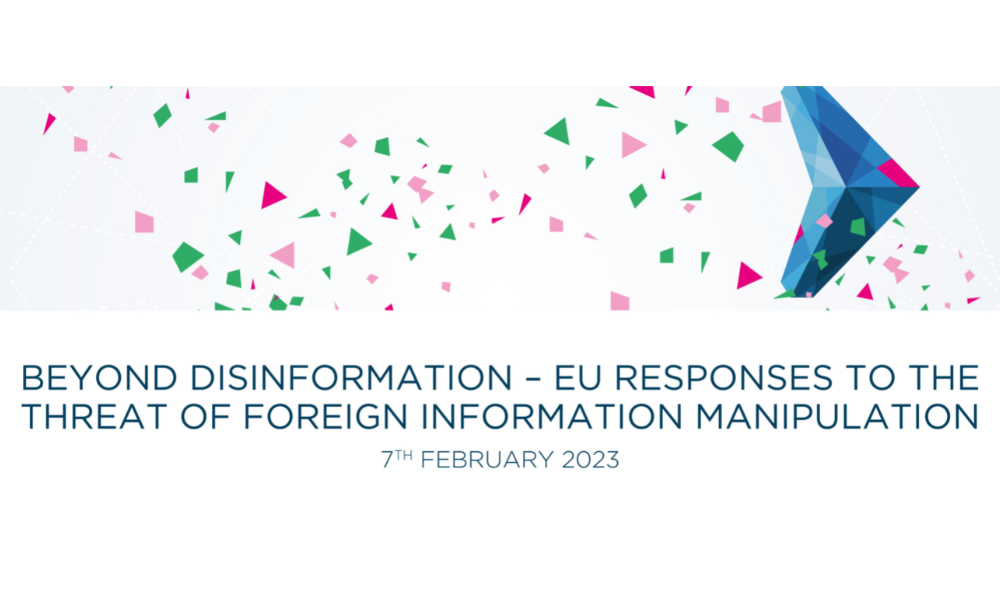 © European Union, 2023
The aim of the conference is to present latest developments in the EU's and its partners' fight against foreign information manipulation interference (FIMI) and bring the international community countering FIMI closer together.
08:00-09:00

Arrival to Concert Noble, registration and coffee

09:00-09:15

Opening by the moderator Jacki Davis (Managing Director at Meade Davis Communications), introduction by Lutz Guellner (Head of the EEAS Strategic Communication, Task Forces and Information Analysis Division)

09:15-09:30

Keynote speech by HRVP Josep Borrell on FIMI as a serious threat to the EU's foreign and security policy [title tbc].

09:30-10:30

High-level panel on FIMI as a political challenge to the EU and NATO.

Information manipulation can be seen as anything from a communications problem to a platform policy problem to a hard security problem. The panel will unpack the security policy aspects of FIMI.

Mikael Tofvesson (Head of the Operations Department at the Swedish Psychological Defence Agency)
MEP Raphaël Glucksmann (Chair of the Special Committee on Foreign Interference at the European Parliament)
Baiba Braže

(

Assistant Secretary General for Public Diplomacy of

NATO)

Joanneke Balfoort (Director of Security and Defence Policy the at the EEAS)

10:30-10:50

Coffee break

10:50-11:45

Panel on situational awareness.

The panel will frame the biggest external threats, promoting the EEAS's behaviour-first approach to monitoring and analysis. The panel will also provide an opportunity to hear from the leading experts in the field on their work and the latest trends in Open Source Intelligence.

Daniel Fritz (Head of the Data Analysis Team at the EEAS Strategic Communication, Task Forces and Information Analysis Division)
Alicia Wanless (Director of the Partnership for Countering Influence Operations at the Carnegie Endowment for International Peace)
Carl Miller (Research Director of the Centre for the Analysis of Social Media at Demos & Visiting Research Fellow King's College London)

11:45-11:55

Lightning talk on the role of the civil society in countering and raising resilience to FIMI by Alexandre Alaphilippe (Executive Director of EU DisinfoLab).

11:55-12:40

Panel on building resilience to FIMI.

As raising resilience to FIMI is by definition a whole-of-society effort, the panel aims to highlight the role and work of different parts of the society (i.e. journalists, CSOs and tech companies) in building our readiness to stand against information manipulation globally.
 

Nina Jankowicz (Vice President at the Centre for Information Resilience)
Alan Soon (Co-Founder and CEO of Splice Media)
Beatriz Almeida Saab (Digital Democracy Research Associate at Democracy Reporting International)

12:40-13:40

Lunch

13:40-13:50

Lightning talk: Disrupting disinformation in times of war by Věra Jourová (Vice President of the European Commission).

13:50-14:35

Panel on regulation and disruption.

The panel will highlight the latest developments in the EU's work to disrupt FIMI actors, but also to demonstrate a wider array of disruption initiatives, covering the whole spectrum of FIMI (including offline).

Renate Nikolay (Deputy Director-General of DG CNECT)
Clare Melford (Co-founder & CEO of the Global Disinformation Index)
Kate Jones (Associate Fellow at Chatham House)

14:35-14:45

Lighting talk on what it is like to fight FIMI with communication in times of war by Ivetta Delikatnaya (Co-Partner at ECOMM, a leading Ukrainian communication consulting agency).

14:45-15:30

Panel on foreign policy responses.

The panel will look at the options that diplomacy offers in countering FIMI with a focus on the country in the front and center of Russia's FIMI efforts – Ukraine.

William Cook (Deputy Director of the Information Threats and Influence Directorate at the UK Foreign, Commonwealth and Development Office)
Darjan Vujica (Senior Official for Global Partnerships at the Global Engagement Center, US Department of State)
Lutz Guellner (Head of the EEAS Strategic Communication, Task Forces and Information Analysis Division)

15:30-16:00

Coffee break

16:00-16:50

Panel on partner regions.

The panel will zoom in on the Eastern Partnership, Western Balkans, Middle East and North Africa, and countries with active Common Security and Defence Policy (CSDP) missions. While all these regions are have their own challenges, threats posed by the biggest FIMI actors have much in common. The idea of the discussion is to compare notes, and share best practices and practical examples.

Marc Owen Jones (Assistant Professor of Middle East Studies at the Hamad bin Khalifa University)
Rasa Nedeljkov (Program Director at CRTA)
Allan Cheboi (Senior Manager of Investigations at Code for Africa)

16:50-17:05

Closing remarks by Stefano Sannino (Secretary-General of the EEAS)

17:05-17:15

Conclusion and wrap-up
PRACTICAL INFORMATION
OVERVIEW
09:00 am - 05:15 pm
Online event
How to join?
The conference will be live-streamed from the EEAS website. As it is an in-person event by format, online audience will not be able to ask questions.