CEUMC's official visit to Bosnia and Herzegovina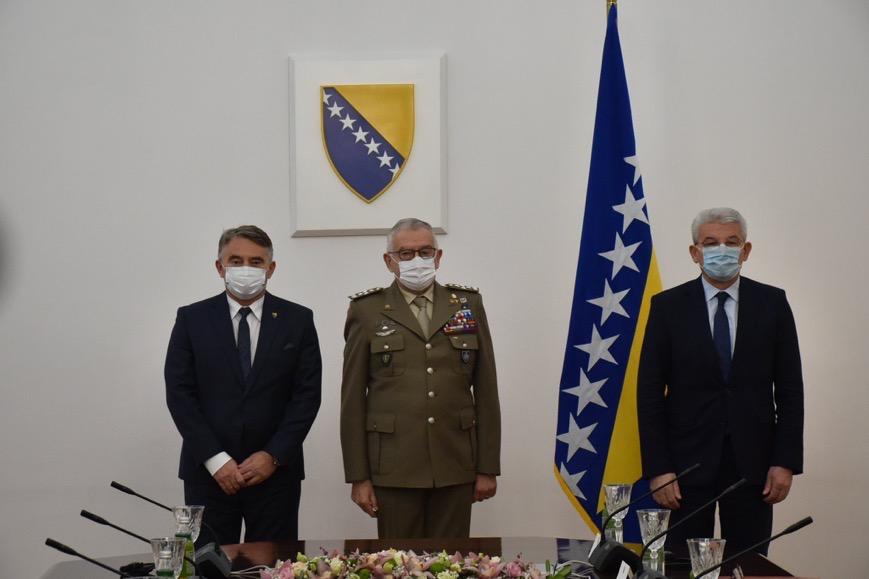 The Chairman of the EUMC paid an official visit to the BiH Armed Forces from the 27th to the 29th of October, following an invitation from the BiH Chief of Defence, General Senad Masovic. The CEUMC had the opportunity to meet with the Minister of Defense, Mr. Sifet Podzic, Deputy of Minister of Foreign Affairs, Mr. Josip Brkic, Minister of Security, Mr. Selmo Cikotic, the BiH Presidency members (Mr. Dzaferovic, Mr. Komsic and Ms Trisic as representative of Mr Dodik), Chair of the Parliamentary Committee on Defence and Security, Mr. Asim Sarajlic, Commander EUFOR, MG Platzer, Deputy Commander NATO HQ Sarajevo and EUSR.
During the meetings held with the BiH Authorities, the Chairman discussed the current political situation in BiH and in the overall Western Balkan region. Crucial points of the discussions were the importance of a unique Armed Forces of BiH (AFBiH), the EU's appeals to strengthen efforts regarding the further disposal of surplus ammunition, weapons and explosives as well as regarding humanitarian demining, and the strong commitment on the EU side to sustain EUFOR Operation Althea, which is recognised as a meaningful security provider in the country.
The Chairman emphasized that cooperation between EU and Bosnia and Herzegovina is paramount for the security and defence of the BiH and pointed out also the importance of the dialogue and the discussion of all parties involved with the EU and IC support. Unity is the way to reach EU goals, to be stronger, to fight against common threats such as migration, terrorism and global warming.