Contemporary Art Exhibitions at the EEAS
As of February 2023, the European External Action Service will host exhibitions of contemporary art at its premises in Brussels. Art helps to create meaningful connections between people. Its language does not require translation. Art is multifaceted and transboundary.
In cultural diplomacy, art contributes at the level of civil society to the dialogue between countries. It is an invaluable means to facilitate a global exchange of ideas. Contemporary artists' work often reflects and comments on modern-day society. Viewers are challenged to reflect upon the culturally diverse, ever-changing and multifaceted global environment we all live in.
In a similar way, the EEAS is called upon every day to address the complexities of the real world and tackle them to promote peace, security and prosperity in the interests of European citizens everywhere. The exhibitions of contemporary art that will be ongoing at the headquarters of the European Diplomatic service will serve to underline the values of the European Union Member States in a powerful yet understated way.
INTERPRETATIONS
by Angeliki Angelidis
The European External Action Service is hosting its premier painting exhibition, welcoming the Greek artist Angeliki Angelidis and her Interpretations exhibition, from 7 - 24 February 2023.
Angeliki Angelidis deciphers Asia and Europe in her own sourced way, bringing in elements of Greek tradition, symbols and colours that depict global heritage. She attempts to express her emotional world and her strong movement from Korean phrases and combinations by discovering similarities and connections of the Greek world to the rest of the world.
Angeliki Angelidis deciphers Asia and Europe in her own sourced way, bringing in elements of Greek tradition, symbols and colours that depict global heritage.
Yiorgos Mylonas, Art Historian
Time depicted sometimes as a clock, other times as an hourglass, the roots and the branches, the proverbs constitute a common language where the West and the East meet. Her works inspire harmony, strength, and optimism at a time when humanity needs them most.
To discover more about her art, follow the link to the official Angeliki Angelidis homepage.
'I love to unify people' - Interview with artist Angeliki Angelidis
The artist reveals a little about her inspiration
The art of Athens-based Angeliki Angelidis reveals her deep fascination with Asian culture and her roots in European traditions. Her bold canvasses blend place and time, philosophy and action in a dynamic style that combines the visual language of East and West.
Whether it's a pastiche depicting the French Revolution or an ancient sea battle in the Med, Angelidis' contemporary art connects with the history of Europe while being highly indebted to Korean culture. The Greek colour palette of blue and gold is redefined with a Korean lens and used to conceive visual stories in new ways.
Interpretations exhibition
Following on from a number of exhibitions in Ankara, Athens and the UK, in February 2022 Angelidis brings her Interpretations exhibition to the Rotunda at the headquarters of the European External Action Service (EEAS). Complementing other exhibitions at the European Parliament and the European Commission at the same time, Interpretations marks a new departure for Europe's diplomatic service in the use of visual communication to bring people together.
'I begin with the philosophy of Korea,' she says, of her bold and brilliant canvasses. 'My vision was to make Korean culture represent Europe through this combination,' she says.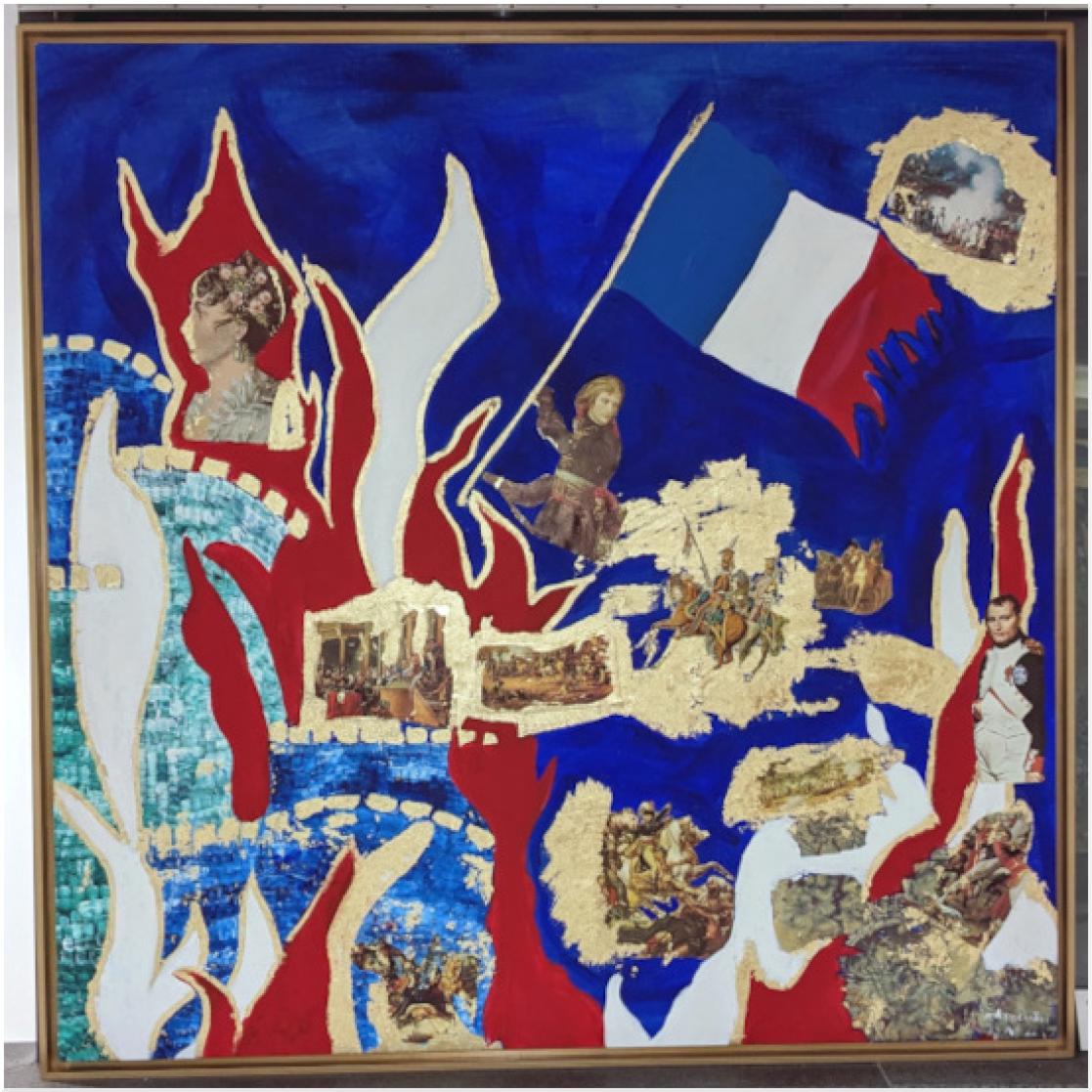 Ancient cultures
As Angelidis sees it, both Greece and Korea are relatively small countries with sophisticated ancient cultures. Because of their geographical positions, both have often undergone historical invasions from powerful neighbours. Her images reflect the history, philosophy and mythology of both places.
She also sees global similarities between the cultures of Greece and Korea, which in some respects, to her mind, occupies the space between the cultures of Japan and China. She speaks Korean and is committed to understanding the culture at every level.
Of course, the influence of Greece in Western culture and language is seen everywhere. This cultural aspect also unites both places. And, if she has one overall theme for her her art it's unity. 'I love to unify people and staying unified is important to me,' she says.
To discover more about the artist and her work, follow the link to visit the Official Website of Angeliki Angelidis
Page Updated: