Deliveries of EU-funded vaccines start in the Western Balkans
As High Representative/Vice-President Josep Borrell said: "Faced with the COVID-19 pandemic, no one is safe until everyone is safe. It is a race against time, as we must be faster with vaccinations worldwide than the virus with its mutations. We can only defeat the pandemic if we work together, on a global scale, and with our closest partners, such as the Western Balkans, whose future lies within the EU."
The vaccines are one part of the EU's comprehensive support to the Western Balkans to tackle the pandemic and its consequences. The EU has supported the region since the beginning of the pandemic, mobilising more than €3.3 billion in support, covering medical emergency response as well as the region's long-term economic recovery. The Western Balkans partners have also had privileged access to a number of initiatives normally reserved for EU Member States.
Snapshots of the wider EU support to the region against COVID-19
Albania
https://twitter.com/EUinAlbania/status/1389233168792887302Bosnia and Herzegovina
https://twitter.com/josattler/status/1387743455171039238Kosovohttps://www.facebook.com/EuropeanUnionInKosovo/videos/2880221082232365/Montenegro
https://twitter.com/EUAmbME/status/1389496213368676356 North Macedonia
https://twitter.com/AmbassadorEU/status/1389260246493933572Serbia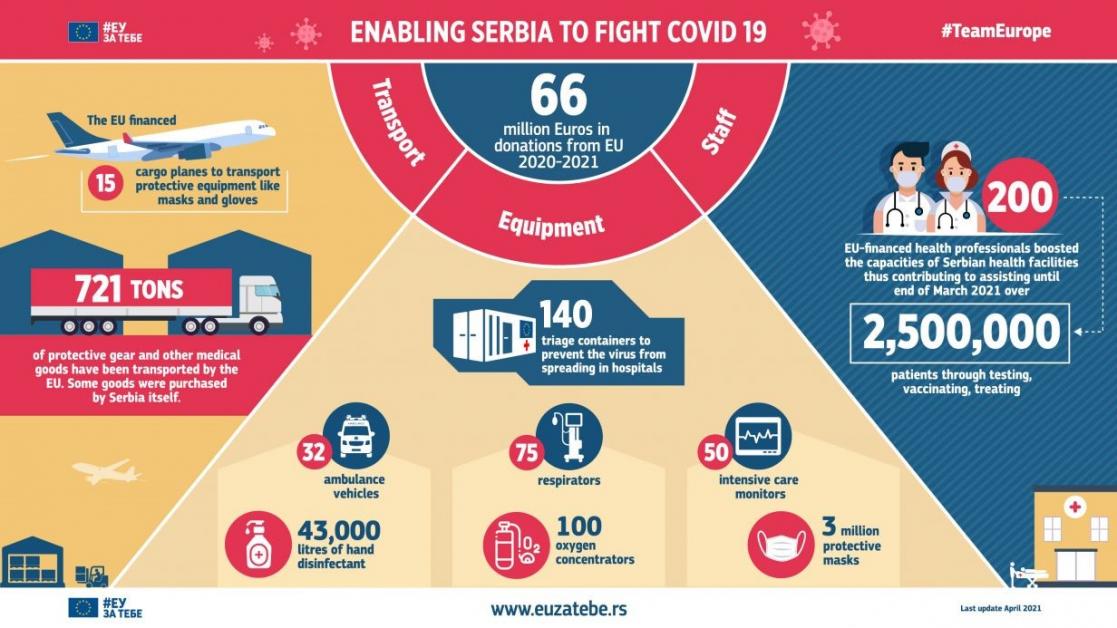 Vaccine deliveries to the region continue
The 651.000 BioNTech/Pfizer COVID-19 vaccine doses funded by the European Union, and facilitated by Austria, will be delivered to the region in weekly instalments until August. These vaccines will help to accelerate the vaccination campaigns, to ensure all frontline medical workers and some of the most vulnerable groups are inoculated.
The doses are funded from the €70 million package adopted by the European Commission in December 2020 to help cover the cost of vaccines secured under the EU's advance purchase agreements for the Western Balkans.
In addition, deliveries also continue through COVAX, the global initiative to secure safe vaccines. Team Europe - the EU, its Member States and financial institutions - is one of the main funders of COVAX with almost €2.5 billion.
Commissioner for Neighbourhood and Enlargement Olivér Várhelyi visited the six Western Balkans partners on 3-5 May as the first batches of EU-funded vaccines arrived.
https://twitter.com/josattler/status/1389519844333133827
---
See Also