Der Spiegel - Merkel in particular can help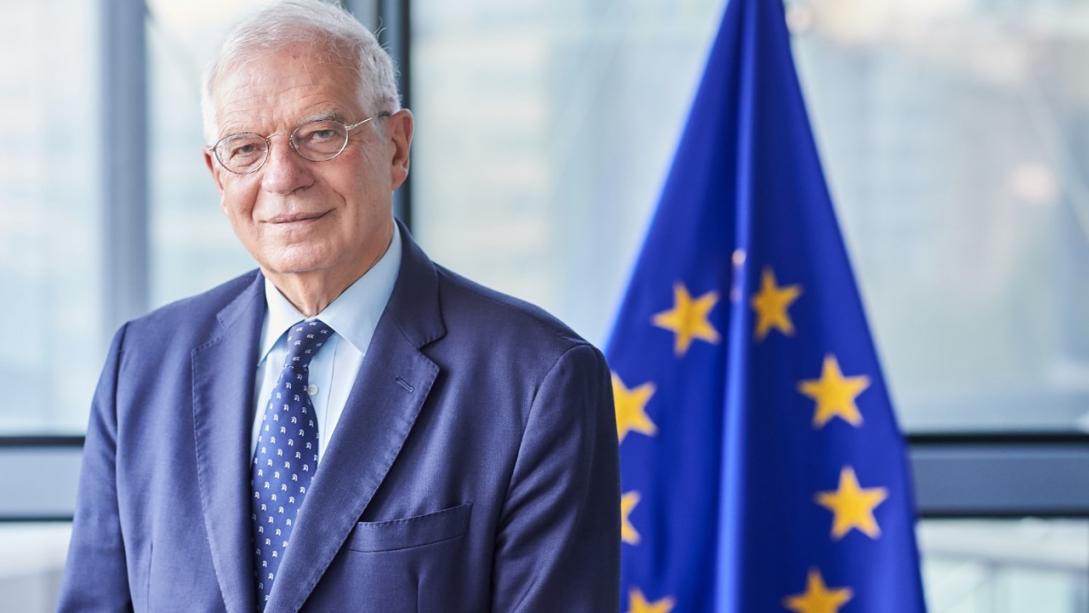 The High Representative for EU Foreign and Security Policy, Josep Borrell, receives the SPIEGEL editors on the twelfth floor of the EU Commission headquarters in Brussels. The Catalan Socialist has been in office for a good six months. Before that, the 73-year-old was president of the European Parliament and Spanish foreign minister.
Borrell says that in the negotiations with Turkey on a new refugee agreement, all issues must be on the table: from gas drilling and maritime law violations off Greece and Cyprus, to support for the nearly four million refugees that Turkey is hosting, to Turkey's role in Syria and Libya.
Borrell is threatening the Israeli Government with consequences if parts of the West Bank are annexed. Under international law, annexed territories could not belong to the state of Israel, the EU chief diplomat said. Borrell suggests that "positive incentives" be introduced to prevent annexation.
SPIEGEL: Mr Borrell, are you a big fan of Frank Sinatra?
Borrell: No. What makes you think so?
SPIEGEL: You recently quoted a famous Sinatra title to describe the EU's China strategy: "My way". What do you mean by that?
Borrell: I could have said: The EU seeks strategic autonomy. But then nobody would have listened to me. What I mean: When dealing with China, we cannot copy the US, we have to go our own, European way.
SPIEGEL: The problem is that this is not so easy to find. Why is Europe finding it so difficult to maintain its position between an increasingly hostile US President and an increasingly aggressive China?
Borrell: We have similar values to the US, but not always the same interests. We can argue about which democracy has greater shortcomings, the one in the US or the one in Europe. What is clear, however, is that in the USA as in Europe, elections determine who holds power. That is not the case in China. And the US is increasingly representing its interests unilaterally and often without informing us allies beforehand. We must respond to this.
SPIEGEL: And how?
Borrell: By effectively representing our own interests.
SPIEGEL: The draft for the multi-year budget - the focus of the current EU summit - provides for cuts in security and defence policy, of all things, in favour of corona support. You might not like that.
Borrell: I have been in Spanish politics long enough to know that in budget negotiations, the first items to be cut are those where the voters' protest is silent - this includes money for foreign policy. I keep reminding the Heads of State and Government that it would be extremely short-sighted to cut the very money that is supposed to strengthen Europe's role in the world.
SPIEGEL: Clout is not just a question of money, but of a common will. So far, the EU foreign ministers have not even been able to agree on coordinated action against the new security law, which allows Chinese authorities in Hong Kong to take tough action against critics.
Borrell: The unanimity rule in the EU makes it more difficult to find solutions. Everybody must always agree, and sometimes there is a lack of incentives to work actively to solve problems. I would not have thought how much this rule hinders us when I took office a good six months ago. The EU countries do not share the same interests with regard to China and sometimes interpret values differently. Some may speculate on Chinese investments if they do not act too strict. We can consider measures such as extending visas for Hong Kong citizens, restricting student exchanges with China, banning exports of tear gas.
SPIEGEL: Do the countries not agree on how to assess Chinese behaviour?
Borrell: Yes, basically all EU countries agree - China is to blame for the escalation in Hong Kong. But almost no member state is demanding economic sanctions. I have to deal with this situation. My Foreign Minister colleagues have a bad habit of sometimes commissioning me with almost impossible missions.
SPIEGEL: Chancellor Angela Merkel says: "Particularly when dealing with a strategic partner like China, it is important that Europe speaks with one voice of all 27 member states. Aren't these hollow words if the trade interests of large EU members like Germany end up keeping the EU tame?
Borrell: My goodness, we trade with countries where human rights are violated even more dramatically. May I remind you where we buy our oil? We are not just discovering today that China is a communist country with an authoritarian regime. What is new is that Beijing now sees itself as a world power and is acting as such. This results in a power struggle with the USA. And the West was naive with regard to China; we thought that with increasing trade there would be change.
SPIEGEL: Change through rapprochement, to quote Egon Bahr.
Borrell: The Germans, in particular, hoped that with increasing trade a middle class would emerge, which would then demand and implement political reforms. That has not happened. China's middle class - contrary to what sociologists in the West have predicted - does not behave in the same way as the middle class in 19th century Europe. China is now saying to the world's face: our system is the best, look at the response to the corona crisis and compare for yourself who has fought it most effectively. We Europeans need answers to this.
SPIEGEL: At the recent German Ambassadors' Conference, you called for a "more robust strategy" of the EU vis-à-vis China. Are you on the right track?
Borrell: Wherever there are problems, be it with China, Turkey or Israel, the EU countries often have different views. We then look for the lowest common denominator, and unfortunately this is often quite small. In the Foreign Affairs Council, we tinker with the grammar of our statements until everyone finds themselves in them at the end. I therefore think it would be better to adopt a strong and substantial position by a majority rather than unanimously adopting a weak position with little substance.
SPIEGEL: The EU Foreign Ministers have instructed you to clarify relations with Turkey. Turkey plans to drill for gas off the coast of EU members and is interfering in the civil war in Libya. Is Ankara in danger of losing its status as an EU candidate country?
Borrell: The question of how to deal with Turkey is the EU's biggest foreign policy challenge. Turkey is our neighbour, we cannot change this geography. The country controls the flow of refugees in the Eastern Mediterranean, it causes trouble with EU members Greece and Cyprus. But Turkey is also a candidate for accession, as long as we do not decide to change that.
SPIEGEL: President Recep Tayyip Erdoğan only used the refugees as a means of pressure against the EU at the beginning of the year. Do we need a new refugee deal?
Borrell: If I had one wish for the German EU presidency, it would be this one: Berlin should commit itself to negotiating a comprehensive agreement with Turkey. Chancellor Merkel in particular is in a position to help solve this problem. All issues must be on the table: from gas drilling and maritime law violations off Greece and Cyprus, to support for the almost four million refugees hosted by Turkey, to Turkey's role in Syria and Libya. We have no interest in a ring of Turkish or Russian military bases being built off the Italian coast. But that is what will happen if we do nothing.
SPIEGEL: EU member Greece reacted by rejecting refugees and using tear gas at the border. Is this the right way for the EU to make itself less susceptible to blackmail from President Erdoğan?
Borrell: As a journalist you can speak of "blackmail", but for a diplomat such words are forbidden. As you know, the EU has strongly condemned the fact that the Turkish government has at times deliberately opened the borders with Greece. And Greece, like any other state in such a situation, has a duty to protect its borders. If migrants want to enter a country by force, its security forces have a duty to defend its borders with adequate means.
SPIEGEL: Turkey is in the midst of a deep economic crisis and urgently wants to see tourists in the country again. Would it be conceivable for the EU to relax travel regulations for holiday resorts with few corona infections and for Ankara to hold back on gas drilling and in Libya in return?
Borrell: With respect, your question is misplaced. We cannot risk the health of millions of people for a political deal. Such a decision can only be made on the basis of objective epidemiological data. And these are the way they are in Turkey.
SPIEGEL: Much would already be gained if the EU could agree on a common asylum and refugee policy for its part. Federal Interior Minister Horst Seehofer has recently expressed optimism that an agreement could be reached during the German EU Council Presidency. Do you share his optimism?
Borrell: Let's be honest - we have been behind schedule on this issue for years. I hope that we will come up with a good proposal in September. But the truth is that so far all attempts have failed because the EU states have completely different views. Hungary is pursuing a kind of Japanese approach, loosely based on the motto: we do not want migrants, we want a homogenous society. Other states, such as my own country, Spain, are more open because of their history. But when some member states say that they absolutely do not want migrants, it is very difficult to make a sensible proposal.
SPIEGEL: In order to make a difference in foreign policy, the EU's economic strength remains the most important factor. Should the EU decide to impose sanctions on Israel in the event that the country exposes parts of the West Bank annexed?
Borrell: That's a very sensitive issue. My German friend Heiko Maas told the Israeli Government during his recent visit that an annexation would not be without consequences. I also expressed this in a statement with 25 Member States.
SPIEGEL: But Maas also said on sanctions that he did not think much of making politics by threatening.
Borrell: We must do everything possible to prevent an annexation. We must tell the Israeli government that the annexation plans are counterproductive. There are negative and positive incentives for this. We could offer the prospect of upgrading EU-Israel relations if annexation does not take place. I have also received a letter from Members of the European Parliament calling for this. But annexation would make this impossible.
SPIEGEL: And if Israel's Prime Minister Benjamin Netanyahu is not impressed by this?
Borrell: It is my job to prepare options for all scenarios. All 27 member states have already jointly declared at the United Nations that annexing parts of the West Bank would violate international law. We cannot interpret international law selectively. Illegal is illegal, as is, for example, the Russian annexation of the Crimea. Under international law, annexed territories cannot belong to the State of Israel. Accordingly, European-Israeli agreements would not apply to these territories. This is also the case for the Golan Heights and East Jerusalem. And when we say that an annexation will not be without consequences, it must have consequences. 
SPIEGEL: You have repeatedly referred to the problematic unanimity principle. Do you expect Merkel to work within the framework of the Council Presidency to ensure that in future foreign policy decisions are more often taken by majority vote?
Borrell: I would like that, no question. Of course, the EU budget must also be decided unanimously, but this is about the distribution of money, this is something you can negotiate and find compromises. In foreign policy, on the other hand, it is often a question of yes or no. Either you are in favour of sanctions or you are against them, you are in favour of a military operation or you are against it. But the problem with unanimity is that you need unanimity to abolish the principle of unanimity.
Interview: Markus Becker, Peter Müller, Christoph Schult
---
See Also