EU calls on third countries for more climate action
When discussing climate diplomacy, Foreign Ministers restated the political centrality of climate action for the European Union. Following the discussion, the Council adopted conclusions on climate diplomacy.
The Council recalled that climate change is an existential and global threat to humanity and biodiversity. It multiplies threats to international stability and is one of the biggest geopolitical challenges we face. The European Union continues to lead the global fight against climate change and climate action will be a key priority in the enagagement with partner countries.
The European Council conclusions of 12 December 2019 endorsed the European Green Deal objective of achieving a climate neutral EU by 2050, in line with the objectives of the Paris Agreement. The European Green Deal puts forward proposals for boosting the economy, improving people's health and quality of life, caring for nature, and leaving no one behind.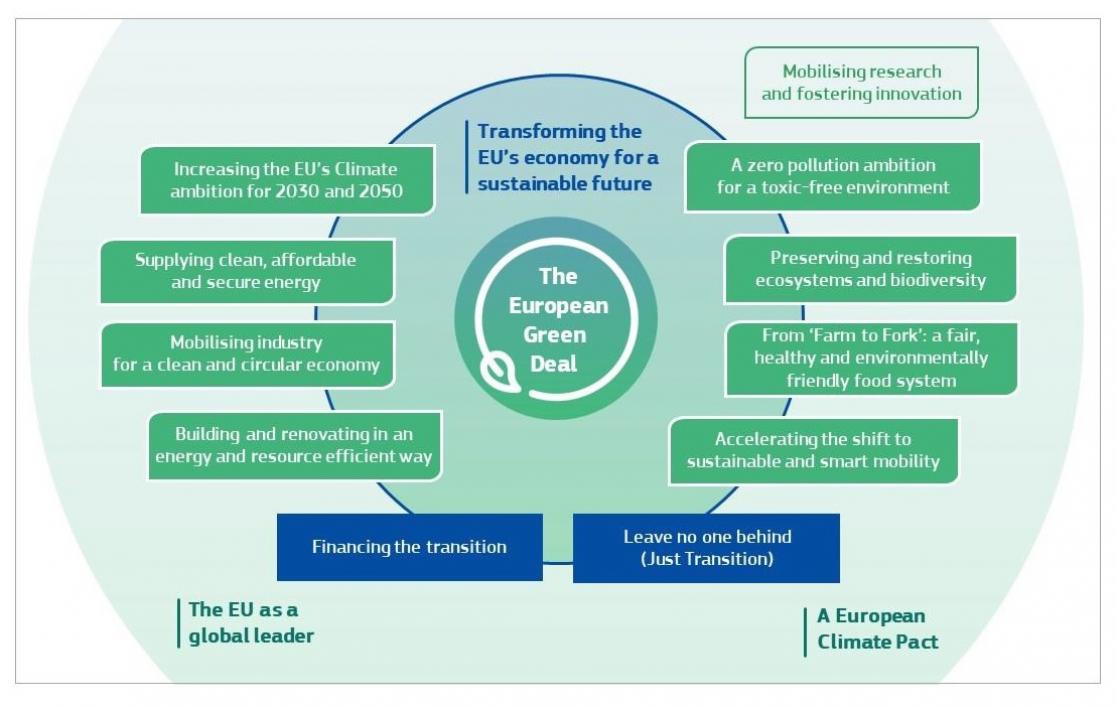 In addition, efforts beyond the EU must urgently be scaled up and third countries need to intensify their efforts.
https://twitter.com/JosepBorrellF/status/1205489414954205184
https://twitter.com/JosepBorrellF/status/1205489499163238400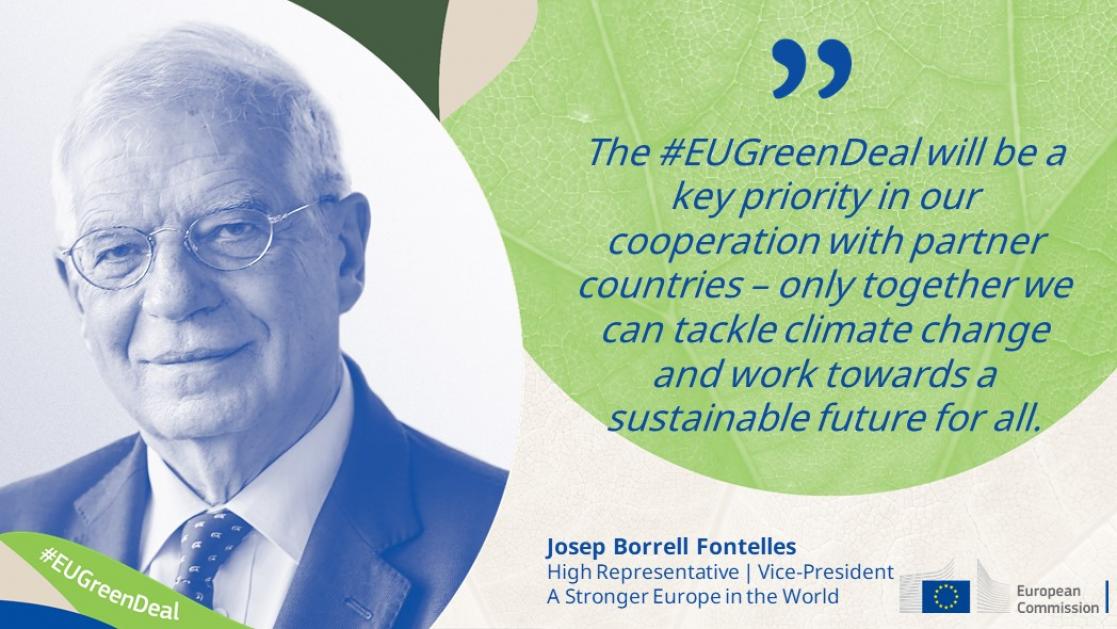 The European Union will continue to act as a constructive partner and strengthen its support for relevant parties in revising and implementing Nationally Determined Contributions, ahead of COP 26 in Glasgow. This will be supported by all EU external policy instruments, including sustainable financial instruments and trade policy, to promote low greenhouse gas emission and climate-resilient development.
With a view to the mobilisation of international climate finance, the European Commission, the High Representative and Member States will strengthen bilateral engagement on climate action with partner countries and regional organisations. In particular with non-EU G20 economies that account for three quarters of global greenhouse gas emissions, as well as with the most vulnerable countries particularly affected by climate change. Tailor-made approaches for cooperation with third countries will take into account the need for a just and socially balanced transition as an enabler of climate action. Actions will involve all sectors of partner coutries' economies, necessitating the strengthening of existing bilateral dialogues and technical cooperation. Member States with existing climate and energy programmes with non-EU G20 countries will share experiences on their bilateral engagement to ensure cohesive and efficient EU Climate Diplomacy.
Upcoming 2020 EU Summits with China, Japan, the African Union and India, and other major international events such as the United Nations Ocean Conference in Lisbon and the Conference of Parties to the United Nations Convention on Biological Diversity in Kunming, offer good opportunities for strengthening alliances and action on climate and environment. The EU will also place increased emphasis on supporting the efforts of the EU's immediate neighbours - in the Southern neighbourhood, the Eastern Partnership Countries and the Western Balkans, notably their regions and sectors most affected by the transition.
What global climate diplomacy actions does the EU already undertake with partners on the ground?
The EU works with partners on a variety of climate activities:
Examples include cooperation under the Strategic Partnership for the Implementation of the Paris Agreement (SPIPA):

In March 2019, an event on sustainable finance was held for Japanese participants to learn more about the EU's technical work on green taxonomies: how to make financial activities green. The EU has also supported a workshop in Japan on preparing a long-term strategy: the idea being to share expertise from the EU's own inclusive, comprehensive preparatory process.
The EU supported the Brazilian Climate Change Forum, a civil society organisation, in developing and implementing an awareness raising campaign to build the necessary momentum for strengthening the implementation of Brazil's commitments under the Paris Agreement. The EU also engages in EU-Brazil city pairings on sustainable development and supports Brazilian cities in developing climate strategies.
In May 2019, also under SPIPA the EU supported a conference in South Africa on just transitions in coal regions, to share the EU's experience on energy transition (away from coal) and also on water and land-use transitions with a focus on social equity.

Other examples include:

The EU's Clean Energy Cooperation with India, aimed at enhancing India's capacity to deploy low carbon energy production and improve energy efficiency, thereby contributing to reducing carbon emissions. Part of the cooperation is transfer of knowledge and technological know-how from the EU experience to the Indian context. With technical assistance from the EU, India is implementing building codes for energy efficient buildings; and
Cooperation with Least Developed Countries, like Tanzania, where the EU is supporting food security through climate resistant agriculture. Reaching out nationwide to local farmers and households – many of them women - to produce food for their families and increase the country's overall supply of seeds which are more resistant to climate shocks. Due to climate change, water scarcity has been an increasing obstacle to development in many Tanzanian communities. The EU has supported the installation of a rainwater harvesting system in climate fragile primary schools.
When climate disasters strike, the EU is there to help
Due to climate change, the number of weather-related natural disasters, such as cyclones, floods, droughts, and fires is increasing. In the aftermath of climate disaster the EU is also there to provide assistance on the ground. 'When climate disasters strike the EU is there to help' is the theme of an EU campaign providing humanitarian aid to victims of natural and man-made disasters brought about by climate change.
The EU is one of the biggest donors of humanitarian aid in the world, and it has a network of experts based in 40 countries across all continents helping millions of people in need.
Sylvie in Laos
Heavy floods in Laos due to climate change, have affected the country's agricultural sector, particularly crops, livestock, and fisheries. Before the flood season hits, Sylvie provides vaccinations and treatment, medical supplies, equipment and devices for infectious diseases that are associated to these floods.
Noel in the Bahamas
Cyclone Dorian hit the Bahamas in September 2019, causing widespread destruction in Grand Bahama Island and Abaco Island. When Noel arrived after the hurricane, he coordinated the EU response with the Bahamas authorities and humanitarian partners. He visited shelters and devastated communities to ensure people who lost their homes received immediate assistance. According to Noel, "This has been the greatest expression of EU joint solidarity as a response to a disaster that I have ever seen in the Caribbean."
What more will the EU do to foster further ambitious global climate action?
Following the discussion on climate diplomacy with Foreign Ministers on 20 January and the conclusions adopted on the day, EU High Representative Josep Borrell stated "Starting right away, I shall be asking a number of our Delegations to make an in-depth assessment of their host-country's position on the subject,  identifying areas where we can press for more, where we can help, and where EU assistance, cooperation, or pressure, may have most impact. The aim is to better identify and then pursue concrete, operational ways to further the objective of generating more ambition and action among partners around the world."
---
See also